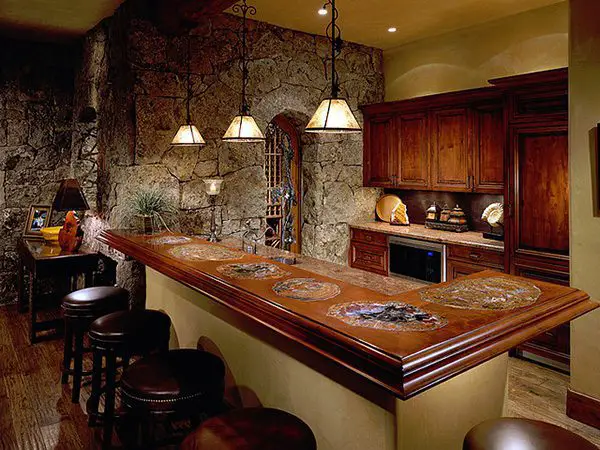 Having a party at home? Do you want to enjoy some drinks in privacy?Go for a wet bar at home. It is very tedious, if you have to mix the cocktails and drinks at the kitchen and then serve it to the guests.converting a part of your home into a wet bar is the ideal soloution. Wet bars will usually have a set of cabinets and shelves for storing liqueur and alcohol bottles. Wet bar will also have a bar counter over which drinks can be mixed and served. A sink and faucet is another must for every wet bars.
Wet Bars are a necessity now days. It is indeed a place where one can relax with family and friends enjoying a drink. An aesthetically designed wet bar will also add to the ambience of the home. Wet Bars range from simple to the most complex ones which have large storage containers like refrigerators. Before constructing a wet bar ,one should decide the place where it has to be constructed. You can choose a basement or a patio for the wet bars.Add a couple of lights to give a beautiful look to the wet bars. Looking for wet bar designs for your home? Then here are some wet bar design ideas which you can try out.
Wet Bars
How about a wooden wet bar at home?Wooden cabinets, hanging lights, coupled with wooden bar counter adds an ambience to the home.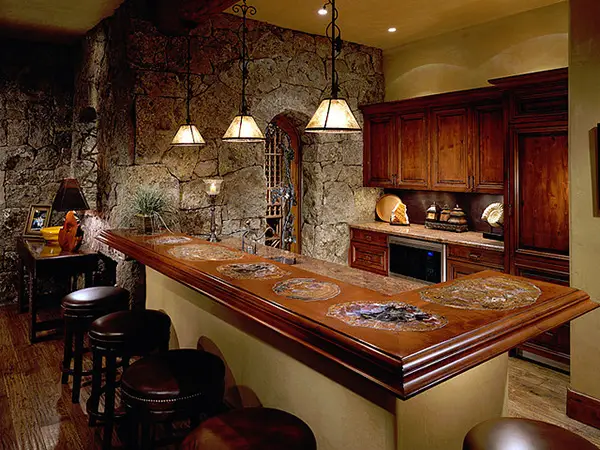 Stained Glass Wet Bar
Give a rich look to your wet bar by opting for stain glassed bar counter and matching interiors.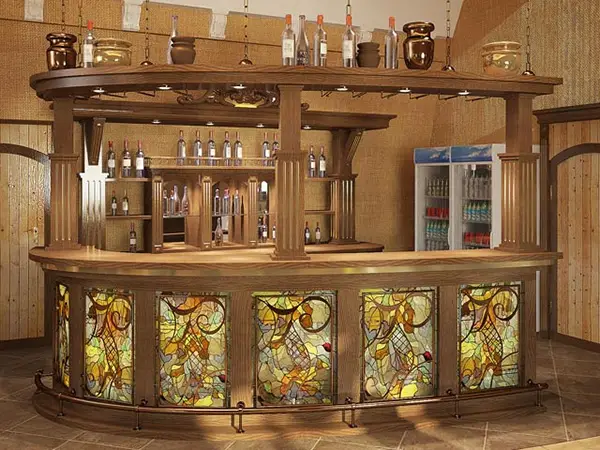 Royal Bar
Convert your basement area into a royal looking wet bar. Go for rich leathered seatings and wooden shelves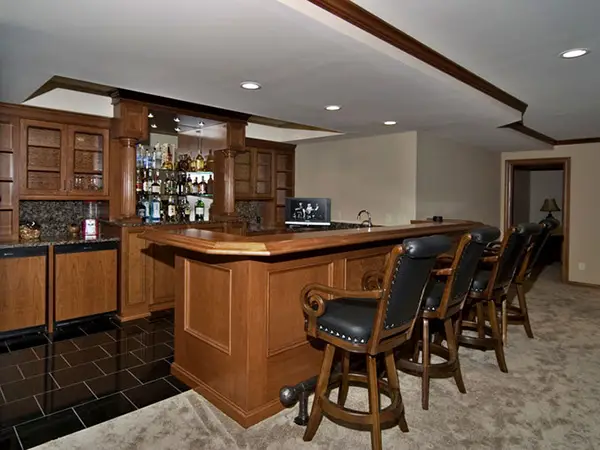 Compact Wet Bars
A compact bar with simple background lights and wooden bar counter goes well with all type of homes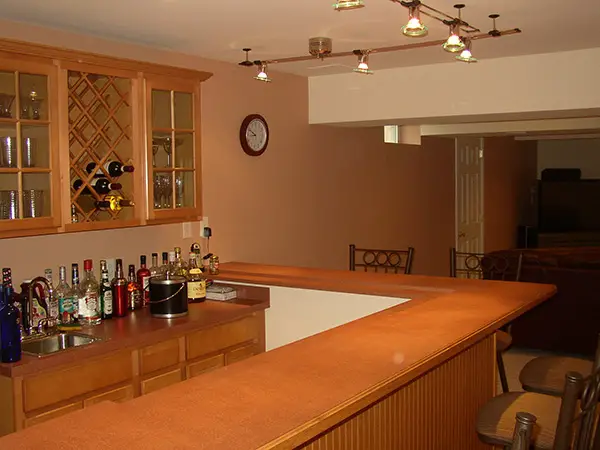 Compact Wet Bars
Maple Cabinet
A wet bar cabinet in maple wood is ideal for storing alcohol and liqeueur. The criss crossed design gives the cabinet an authentic look.p>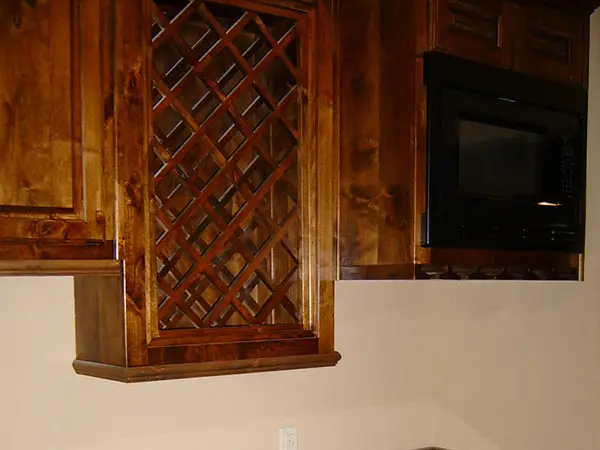 Sweet n simple Wet Bar
Convert a nook in your room into a stylish wet bar using granite bar counters and off white cabinets.Back ground lighting adds up an aura to the simple bars.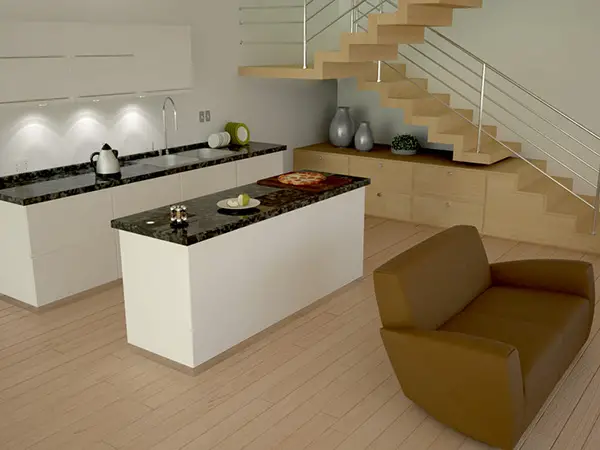 Walnut Bar
Give an elegant look to your wet bar with a black walnut cabinet and checked walltiles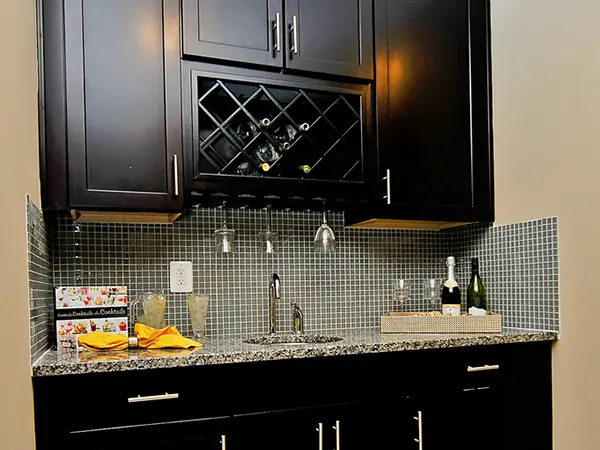 Mix n Match Design
A mix n match design with a black mahogany central area complements with teak cabinets deserves some compliments.Your friends are surely going to enjoy their cocktails here.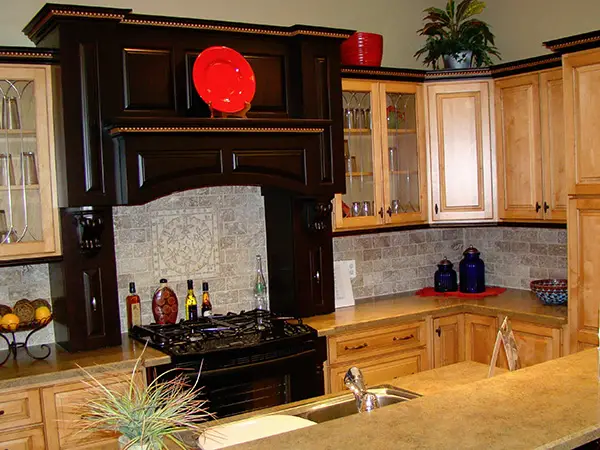 Renovated Wet Bar
Want to utilise some space? Convert your basement to an elegant looking wet bar with a stylish bar counter and background lightings.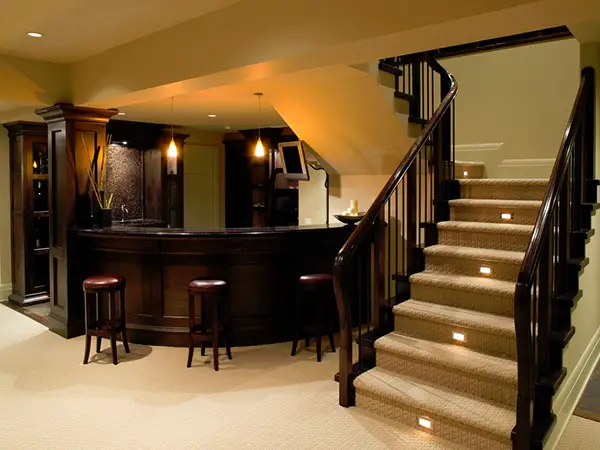 Rustic Bar
Be ready for the party with a rustic looking bar with dim blue lights and custom made bar counter with ethnic designs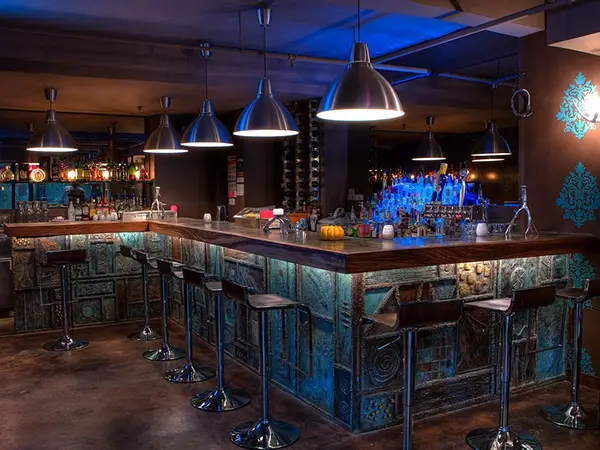 Basement Wet Bars
Black Lacquer Wall cabinets, chequed tiles and wooden floor gives an authentic look to the wet bar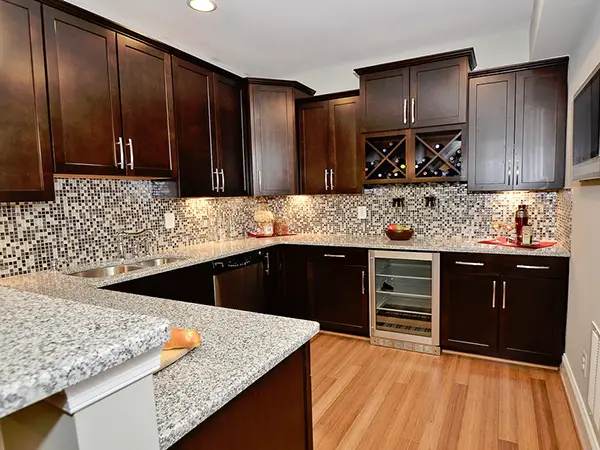 Elegant Bar
An elegant looking bar with caned furniture and a collage of paintings on the wall is sure to bring back some nostalgia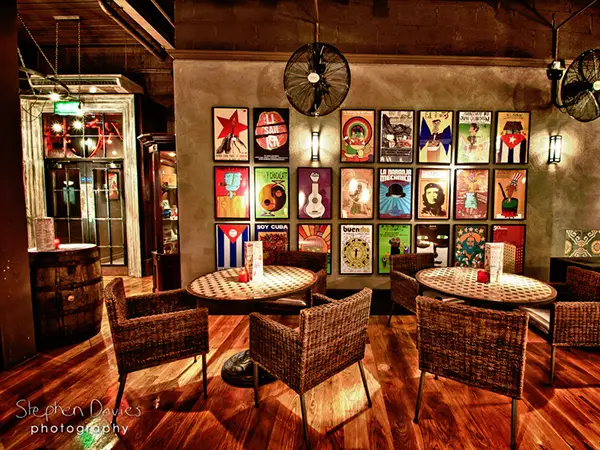 Simple Wet Bar
A traditional styled wet bar with simple maple cabinetry and granite bar counter is ideal for a small family.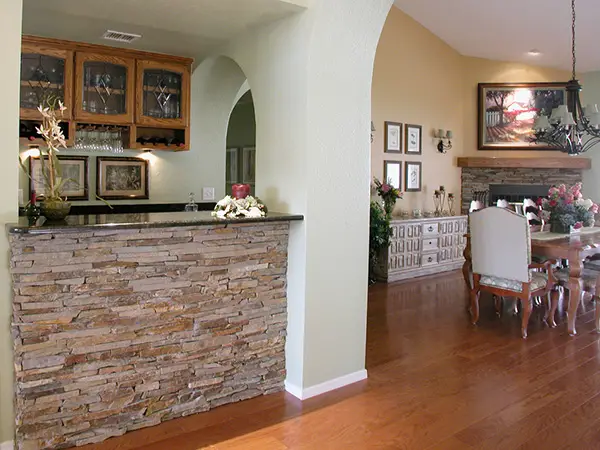 Wet Bar Irish Style
How about an Irish style wet bar at your home ?This one with beautiful interiors, ethnic bar seatings is surely going to impress your guests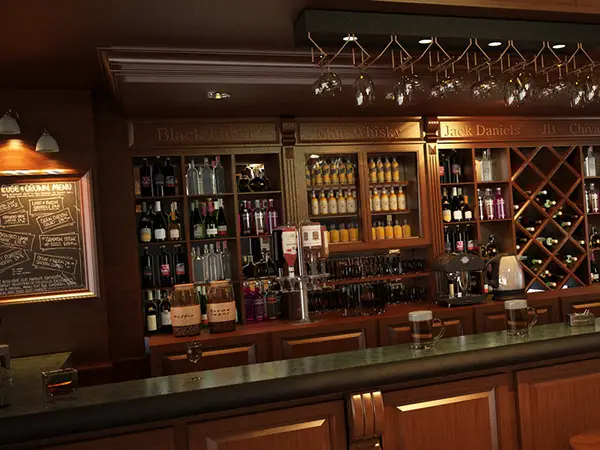 European Model
Go for a rich looking European wet bar with elegant bar furniture and paneled bar counter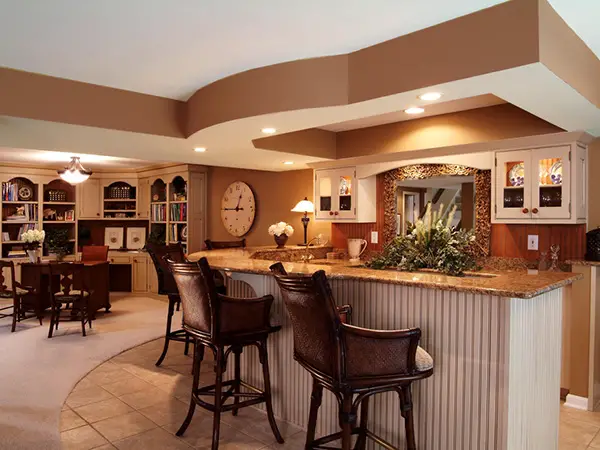 Royal Bar
Guests are surely going to love their cock tails at the Royal bar .Wooden tapestry , mirrors and matching barcounter gives an elegant look.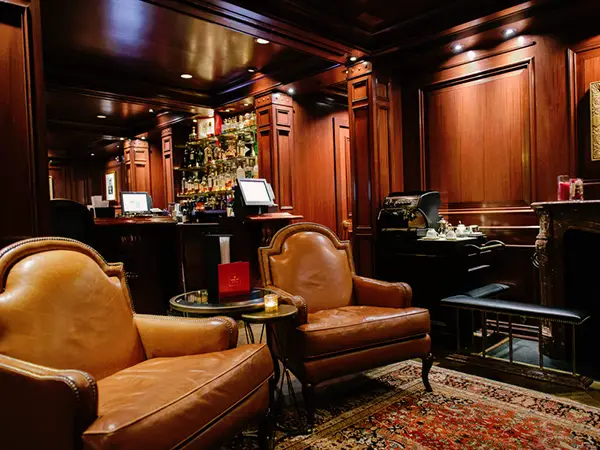 Sleek and Stylish
Here is a contemporary sleek bar with stylish seatings and marble platform. A mix of colors gives it a cottage look.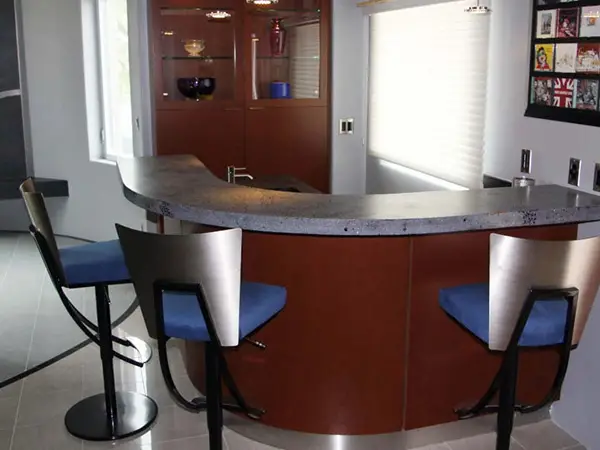 Stylish Wet Bars
A restaurant style wet bar which is quite sleek and stylish for those who love style. center table and lush looking chairs give a grand look to the bar.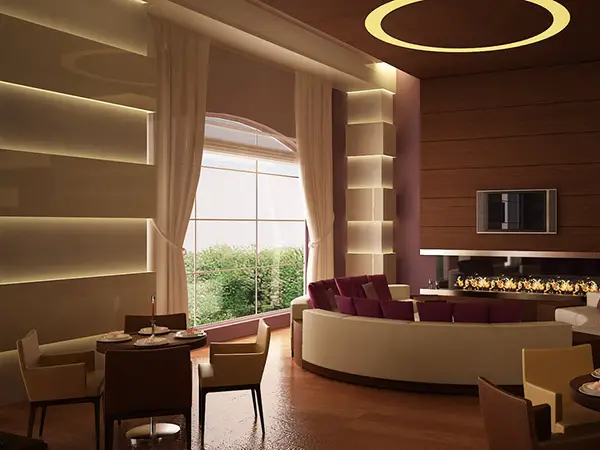 Lights Galore
A well lit wet bar with cream colored bar counter to make the mood brighter. Wooden drawers provide ample space for storage to this elegant looking bar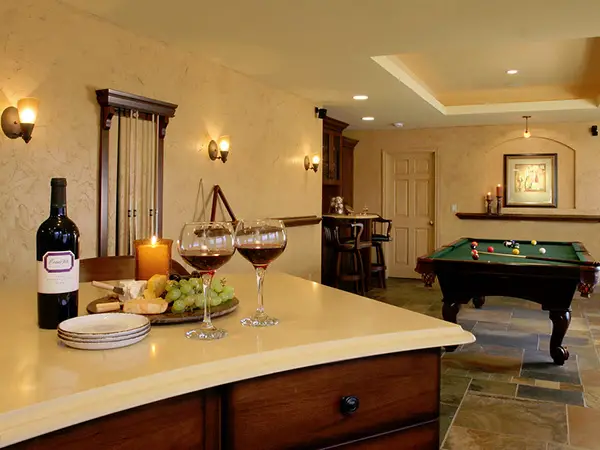 Cool and Trendy bar
A trendy looking bar with wooden paneled cabinetry is ideal for a hang out.Photographs on the wall add a personal touch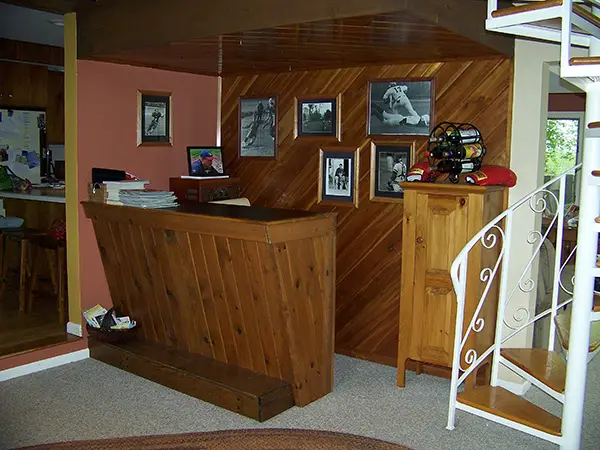 Spanish Style
Convert your basement into a Spanish style Wet bar with traditional cabinetry and paved stone paltform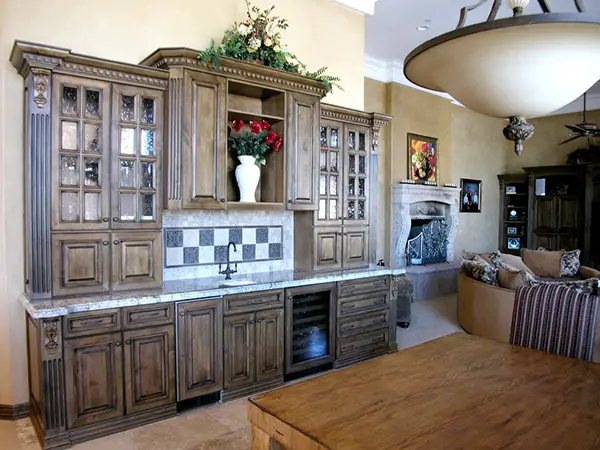 Executive Style//h3>
A cool and trendy looking bar with sleek furniture and shaker style cabinetry is best for an office party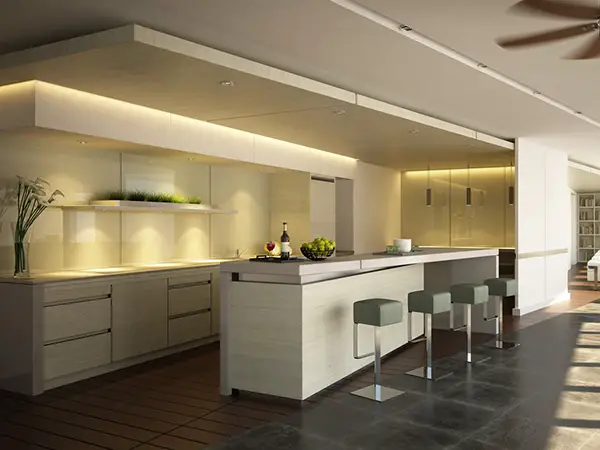 Traditional Wet Bar
A traditional looking wet bar in brown wood finish with wood cabinets and shelves . This style goes wellwith all types of homes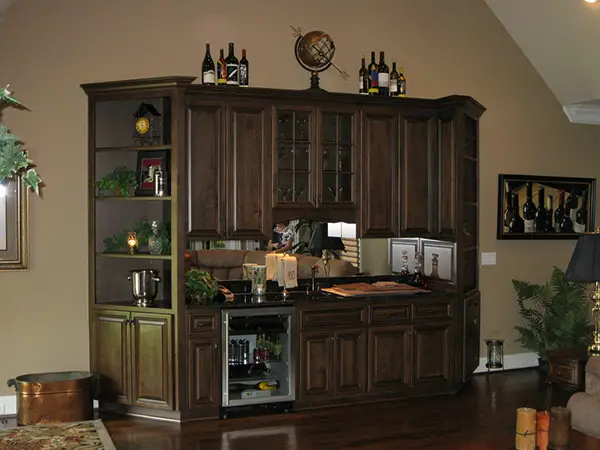 Retro style
A retro style bar for the retro generation.Transparent cabinets and cream colored bar counter adds a magical look to the bar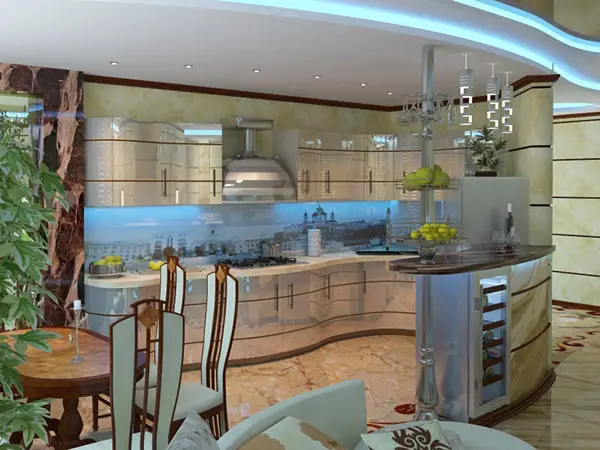 Simple Wet Bar
For all those who love simplicity, here is a simple wet bar with a central wooden table and matching chairs