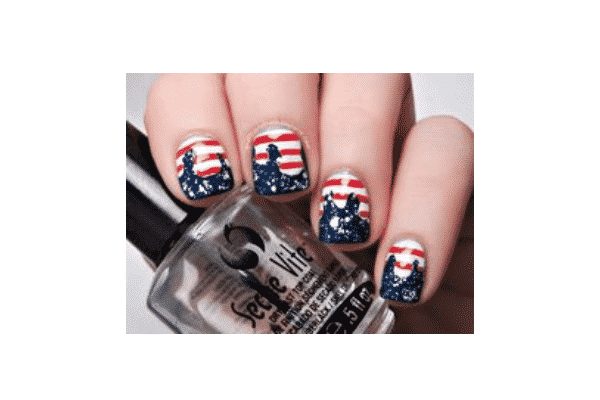 Dripping nail art is a fun nail art design that looks like paint is dripping down the nail. Although it looks complicated and time consuming, dripping nail art is actually much simpler than it looks!
Most dripping nail art designs are created one of two ways. One method of creating dripping nail art involves using a nail art brush to paint on the dripping designs. This method requires a slightly steadier hand than the other method—using a dotting tool. If you don't have a dotting tool, you can improvise a bit and use what you have, such as a toothpick or bobby pin.
Looking for inspiration to try it yourself? Here are lots of great dripping nail art ideas to try!
1. Neon on Black Dripping Nail Art
The black base coat in this dripping nail art makes the neon colors pop!
2. Black on Neon Dripping Nail Art
This dripping nail art still uses neon colors and black nail polish, but they're reversed. Instead of a black base coat and neon drips, each nail has a neon color for the base color and black is used for the drips. I also love the use of the white polish to create a 3D effect!
3. Sparkly Black Over Neon Dripping Nail Art
This next dripping nail art idea is still in the neon and black scheme, but it's slightly different than the two examples above. The neon colors are painted onto the nails in stripes, and the black sparkly polish is used to create drips coming from the nail beds rather than the tips.
4. Strawberry Ice Cream and Chocolate Dripping Nails
Anyone in the mood for a yummy treat? This dripping nail art looks a little like strawberry ice cream with chocolate sauce. Yum!
5. Strawberry Cupcake With Sprinkles Nail Art
Would you prefer some cupcakes? How about sprinkles?
6. Dripping Blood Nail Art
If you'r  e looking for a creepy Halloween nail art idea, take a look at his dripping blood nail art idea. The red nail polish gives the effect of blood dripping down the nails.
7. Rainbow Dripping Nail Art
I love the rainbow colors in this next dripping nail art idea! The splatter detail on the ring finger also adds a fun touch.
8. Cartoonish Dripping Nail Art
The pastel colors in thid dripping nail art example are outlined in black, giving them a cartoonish effect.
9. Colorful Dripping Nail Art on Natural Nails
Dripping nail art on natural nails can look great too!
10. Nude Nails With Lilac Dripping Nail Art
Lilac drips over nude nails add a feminine yet funky touch!
11. Stripes With Dripping Nail Art
Bold black and white stripes in this dripping nail art design add a classic and funky look. The white reflections also give the ink polish a 3D appearance.
12. Dripping Nail Art With Dots
Adding some fun polka dots can really jazz up a dripping nail art design! This would also look cute if the color of the polka dots didn't match the color of the drips.
13. Dripping Nail Art Over Gradient
This blue and white gradient nail design looks even more chic with the addition of dark blue drips!
14. American Flag Dripping Nail Art
The Fourth of July is coming up, and this would be a fun and patriotic way to dress up your nails!
Hopefully these dripping nail art ideas have given you a little inspiration! There are so many different combinations and possibilities with drippy nail art too, so don't feel like you have to replicate these designs exactly. Get creative and put your own spin on it!
If you liked these nail art ideas, make sure you check out  13 2015 Spring Nail Designs, 11 Cool Crackle Nail Designs, and 12 Pretty Print Nail Designs.