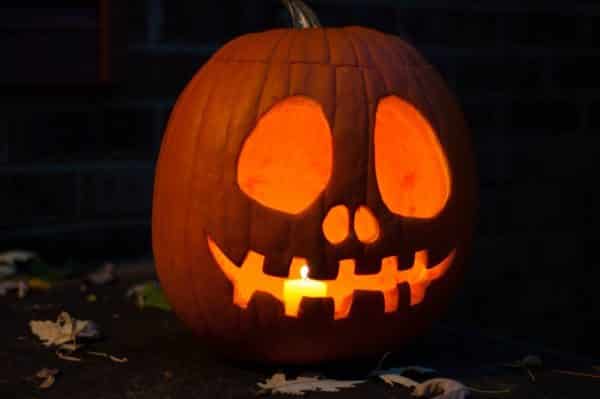 Halloween has seriously got to be my favorite time of year! It even beats out Christmas for me, which is kind of a big deal in our house. One of my favorite parts about Halloween—and there are so many!—is carving pumpkins.
Every year, we love getting creative and carving some unique designs. Over the years, we've come up with some pretty great pumpkin carving ideas! Yes, there is life beyond the typical toothy grin for Jack-o-lanterns.
If you're looking for a few unique and creative pumpkin carving designs, you've probably run across some crazy designs. While these designs can be amazing, many amazing pumpkin carving ideas are simply too complex. They require entirely too much time and too many tools to get just right. Not to mention the artistic talent, which some of us may or may not be lacking.
I could have highlighted some of these spectacular and complicated designs for you tonight, but I chose a slightly different option. Instead, I'm showing you some totally awesome pumpkin carving ideas that just about anyone can do!
1. Skeleton Pumpkin
Instead of the typical pumpkin carving ideas floating around, why not try something a little different this year? A skeleton fits perfectly with a Halloween display, and it's pretty unique.
2. Nosy Carved Pumpkins
I know that traditional pumpkin carving ideas typically involve cutting the top of the pumpkin off to remove the seeds and carving the front of the gourd. But, what if you think a little outside the box, hmmm? You end up with some awesome nosy pumpkins!
3. Spiderman Pumpkin
Some pumpkin carving ideas don't even require carving all the way through the gourd. Removing just the skin in a pattern still allows the candle to glow through in this pattern, like in this Spiderman pumpkin design.
4. Puking Pumpkin Design
Ew! This is one of the grosser pumpkin carving ideas I've seen, but it's definitely interesting! Plus, you can easily do it with just about any carved pumpkin design. Well, maybe except for smiling happy pumpkins; that would probably be weird.
5. Cannibal Pumpkin
Yikes! Using a little pumpkin as a cannibal victim is definitely pretty creepy! It's also one of the more creative and fun pumpkin carving ideas for Halloween, though.
6. Maneater Pumpkin
Nom! Nom! Looks like this scary carved pumpkin needed a little snack! It's definitely freaky, but hopefully not creepy enough to scare away too many trick-or-treaters.
7. Emerging Skull Pumpkin
Need some pumpkin carving ideas for white pumpkins? How cool is this emerging skull pumpkin design?
8. Emoticon Carved Pumpkin
Looking for some nerdy pumpkin carving ideas? Try a cute little emoticon pumpkin. So easy, and so fun!
9. Kitty Cat Pumpkin
An adorable little kitty cat carved pumpkin makes a cute, fun, and unique Halloween pumpkin design! Plus, The design really isn't that difficult.
10. Carved Bats Pumpkin
Wanna know the secret to this awesome bat carved pumpkin? Metal cookie cutters! Just pound them into the side of a hollowed out pumpkin with a mallet. With that information at your disposal, you now have a whole slew of great pumpkin carving ideas that are super simple!
11. Word Pumpkins
You can also skip the traditional pumpkin carving ideas with faces and opt for a fun Halloween message instead. Put one letter on each pumpkin and display them in a series, or use a large pumpkin for your message.
12. Polka Dot Pumpkin Designs
Polka dot designs re probably some of the easiest pumpkin carving ideas out there! All you really need is a fun design and a drill.
13. Pumpkins With Flames
Flames make an awesome carved pumpkin design! Group together several pumpkins with fire designs for an even bigger impact.
These pumpkin carving ideas are sure to get a few compliments from neighbors and trick-or-treaters this year. Who knows? You might even win a pumpkin carving contest! Now, get out there and cut some gourds!