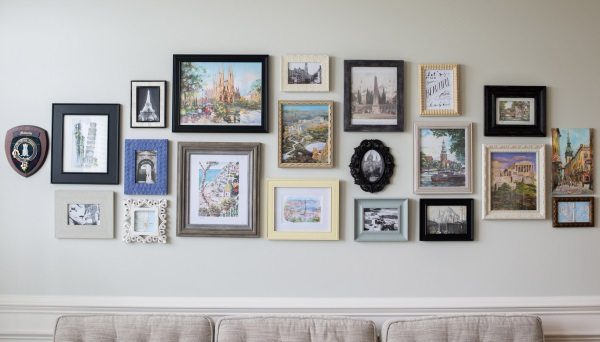 Many of us are constantly looking for the perfect way to display family photos. The typical arrangement of family photos in framed on the wall can get boring at times. Switching up your photo collection is a quick and easy way to change the entire look of a room!
There are a number of unique and creative ways to hang family photos. The photos can be arranged in interesting shapes, for instance, or unique frames. Frames can match or be mismatched, or there don't even have to be any frames at all. The choice is up to you and only limited by your imagination.
If you need a little inspiration for your family photo arrangements, take some inspiration from these awesome ideas!
1. Family Photos in Mismatched Frames
All of your family photos don't have to match perfectly. An expanse of photos in mismatched frames can have a fun little charming look on your living room wall.
2. Family Tree of Photos
A large family tree is a fantastic way to display generations of family photos! '
3. Pictures Arranged in a Heart
A large group of photos in frames can be displayed in several different basic shapes on a wall as well. It seems fitting to display family photos and photos of other loved ones in a heart-shaped arrangement.
4. Quote and Family Photos
Large quote wall decals add a nice little touch to a home. Personalize it even more by adding a meaningful quote where you display family photos.
5. Old Window Photo Frame
Some people prefer to upcycle some DIY photo frames. These old windows are a fantastic rustic way to display family photos!
6. Family Photos on Shelves
Shelves are an excellent way to display family photos. They can also be used to display mementos and knick-knacks.
7. Hanging Photos on Clipboards
For a fun and casual way to display family photos, a group of clipboards hanging on the wall can look pretty awesome! This method of hanging family photos also makes it super easy to change out the pictures.
8. Wall of Family Photos
Matching square and rectangular frames can be used to display family photos on an entire wall. The framed initial adds a nice little unique touch as well.
9. Family Photos in Staircase
A staircase is an amazing place to display family photos. Framed photos lining the staircase wall adds a fantastic focal point to any home.
10. Hanging Unframed Family Photos
Here's a super quick, easy, and affordable way to display family photos. No frames required!
11. Family Photos in Mason Jars
Mason jar family photos are becoming a popular crafty project. The oil in the mason jars gives the photos an interesting and antiquated look.
12. Clock of Family Photos
This display of family photos is both creative and practical! The quote in the center of the clock adds a sweet touch as well!