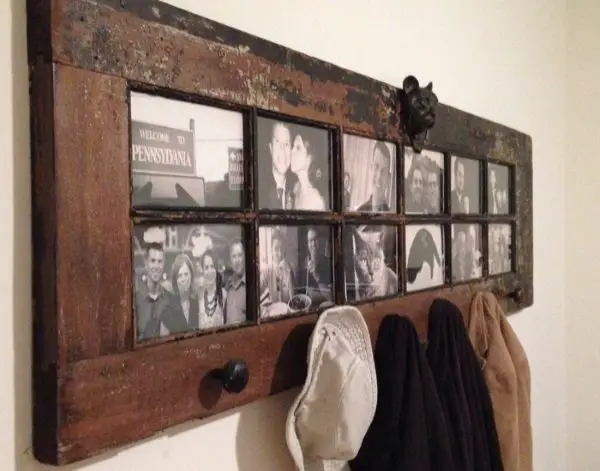 Old French doors are both beautiful and, if you can get them for free or cheap, very economical. They're also very attractive, with a rustic old school charm, which is why many people choose to repurpose them.
There are several things that you can do with old French doors. With a little creativity and a little ingenuity, you should be able to turn an old French door or two into something amazing for your home! If the French doors you're working with have seen better days, you may need to work on them to get them presentable. Cracks in the wood might need fixing, for instance, or panes of glass may need to be replaced. An old French door can also be refinished or painted nearly any color after a little sanding.
Not sure what to do with your old French doors?
Check out these 17 Ways to Repurpose Old French Doors for some awesome inspiration!
1. French Door Coat Rack
Every home needs a coat rack, and this rack from repurposed French doors is a great solution! Not only is it unique and creative, it's also cheap (if you already have the doors) and super easy to make. Just add old door knobs or hooks!
2. Coat Rack and Shelf
Add a shelf to the top of your French door coat rack to display knick knacks and other decorative items. Putting pictures in each window section can also add a nice personal touch to your repurposed project.
3. Shelves From French Doors
Adding shelves to a French door makes a pretty awesome shelving unit for books, baskets, and knick knacks!
4. French Door Picture Frame
Black and white photos look pretty amazing displayed in a French door painted white. Of course, you can use any color you want to match your decor.
5. Matted Picture Frame From French Door
Here's another French door picture frame idea. This one uses colored mats for a little extra pop of color.
6. Stained Glass French Door Table
Homemade tables are great ways to repurpose old French doors! Use stained glass paint to create a colorful stained glass look and add legs.
7. French Door Cabinets
These simple cabinets are nothing more than simple wood boxes and shelves with French doors on the front. They would make beautiful additions to any room in your home!
8. French Door Bed Curtain
Create a canopy bed with a romantic feel in an instant by hanging a French door and some gossamer curtains above any bed. Strings of lights can really add to the romantic feel of this design.
9. French Door Room Divider
Three or four old French doors hinged together can actually make a pretty great temporary room divider! It should also be lightweight enough to move around easily.
10. French Door Partion
For a slightly more permanent room divider, old French doors can also be used to create a room partion to create a small room. This would be a fantastic option of you need a home office but don't have an extra room!
11. Barn Doors With Old French Doors
Old French doors can make a beautiful pair of sliding barn doors across a larger doorway. Who'd have thought you could repurpose old French doors into…well, doors?!
12. French Door Shower Stall Doors
Glass shower enclosures can be insanely expensive! Old French doors can be used instead to save a bundle of money and add some unique custom style to a bathroom. Just be sure to use waterproof paint and seal the edges around the glass well.
13. Towel Rack From a French Door
Remove the glass from a French door for a one of a kind towel rack for a bathroom or kitchen.
14. French Door Hot Box
A small greenhouse can come in pretty handy in most parts of the country, and one can easily be constructed from some old French doors.
15. Greenhouse From French Doors
If you have several old French doors around, you can can construct a much larger greenhouse!
16. Old Door Garden Shed
All you really need to make a DIY garden shed is four doors and a little lumber. The French door on the front allows you to see everything inside.
17. Garden Trellis From French Door
Remove the glass from a couple French doors, and place them in the garden for an easy and cheap garden trellis!
If you don't have any old French doors around, they shouldn't be too difficult to find. Check in antique stores, flea markets, and even home improvement centers. During the summer, you can also check out yard sales and garage sales, which can be gold mines if you're looking for things to repurpose!