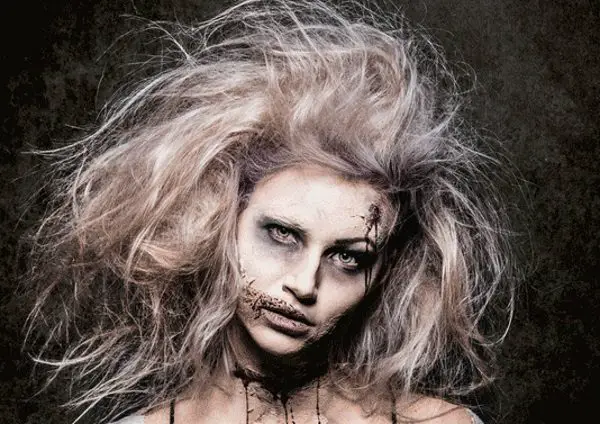 Halloween is just around the corner and many of you are probably busy putting together your costumes or your kids' costumes. Or not? If you're still on the hunt for a perfect Halloween costume idea, why not work backwards? By this, I mean start with a hairstyle and base your costume around that. Sounds weird, but it can work, I swear! Sometimes a hairstyle can make the costume.
There are lots of different Halloween hairstyle for women and girls that you can try. You can even try a different variation of a favorite hairstyle to make it more…Halloweeny. Although these Halloween hairstyles for women and girls look great with certain costumes, some of them can even be worn as everyday hairstyles to change things up a bit.
Ready some great ideas for Halloween hairstyles for women and girls? Keep scrolling for some amazing inspiration…
1. Messy Zombie Hairstyle
Technically, you can wear just about any hairstyle for zombie hair. However, I think that the messier the better if you're dressing up as the undead! Look for Halloween hairstyles for women that are frizzy, knotted, and just generally unkempt.
2. Net Fairy Hairstyle
This complicated looking netted hairstyle is actually much easier to create than it looks! And, it's a great finishing touch for lots of different Halloween costumes, including a fairy, princess, or goddess.
3. Horned Devil Hairstyle
Going as a devil this year? Skip the cheap fake horns and style your own devil horns! All you need is some wire for forms to wrap your hair around.
4. Rolled Queen of Hearts Hairstyle
An old fashioned rolled hairstyle is one of the amazing Halloween hairstyle for women and girls dressing up as queens or other royalty. Plus, this rolled hairstyle is much easier than it looks!
5. Finger Wave Hairstyle
Finger wave hairstyles for women are gorgeous period hairstyles for women. They can be styles the night before and make great Halloween hairstyles for 20's flappers or 40's pinups and everything in between!
6. Rosie the Riveter Hairstyle
A Rosie the Riveter hairstyle is as simple as wrapping a red polka dot around your hair. Add a blue button down shirt and walk around flexing all night, and you're Rosie the Riveter!
7. Spiked Malevolent Hairstyle
Wow! Just…wow. This is one or the crazier Halloween hairstyles for women! This Malevolent hairstyle is created by wrapping long hair around spike shaped forms.
8. Medusa Snake Hairstyle
Although this Halloween hairstyle won't actually turn anyone to stone (hopefully), it's definitely an awesome Medusa hairstyle! All you need are a bunch or plastic toy snakes to pull it off too!
9. No-tease Beehive Hairstyle
Backcombing and teasing is the traditional way to style a beehive hairdo, but that can cause lots of damage to your locks. Instead, lay your hair over a bath poof for an easy no-tease beehive hairdo! Perfect for all sorts of Halloween costumes!
10. Cat Ear Hairstyle
If you're looking for some fun Halloween hairstyles for women and girls, these braided cat ears fir the bill nicely. Add a little kitty cat face paint, and bam—you're a cat!
11. Adorable Orange Pumpkin Bun Hairstyle
A classic ballerina bun hairstyle is the perfect base for an adorable pumpkin bun! Paint it with orange hairspray and add some green ribbon and you have yourself a fun pumpkin bun!
12. Spider Bun Hairstyle
There are lots super cute Halloween hairstyles for little girls, and this spider hairstyle certainly tops the list! Pipe cleaners are used for the legs, and a black pom-pom with googly eyes adds a cute little face.
13. Cornrow Spider Hairstyle
Holy cow! This awesome cornrow spider hairstyle must have taken forever, but the final results are totally worth it!
Have you gotten a few great ideas for Halloween hairstyles from this list? Remember to practice your Halloween hairstyle before the big night so you can get it just right. It may take a little extra time, but it's a small price to pay for perfect Halloween hair!