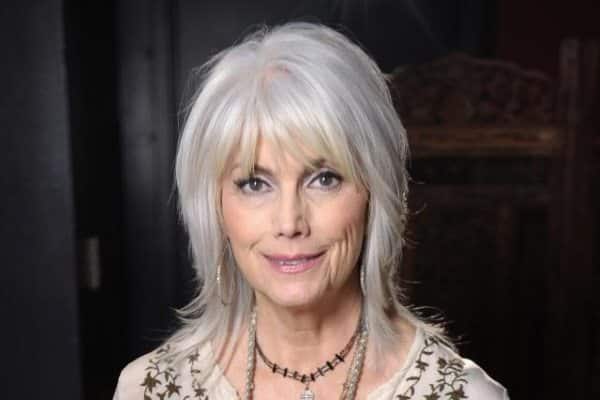 Dying gray hair has become something of a norm in our society these days. Many people, especially women, see gray hair as a sign aging and fear that it makes them look old. Some brave souls, however, choose to keep their gray locks natural. And, gray hairstyles can look pretty awesome too!
Modern cuts look pretty fabulous for gray hair. These include long gray haircuts  as well as short gray hairstyles and everything in between. Many women choose short haircuts for gray hair, because these styles are easier to take care of. Don't shy away from long haircuts for gray hair if you prefer longer locks, though!
Take a look at some of these awesome gray hairstyles that are anything but old!
1. Layered Gray Hair
This layered hair style looks pretty smashing on this gray haired woman!
2. Long Straight Gray Hairstyle
A lot of people think that gray hair means short hair, but long gray hairstyles can look pretty amazing too!
3. Long Curly Gray Hairstyle
Let your curls in your gray locks flow free with this gorgeous gray hairstyle!
4. Shoulder Length Gray Hair
Of long or short gray haircuts aren't working for you, don't forget about medium gray hairstyles, like this straight shoulder length style.
5. Shoulder Length Curly Gray Hair
Curly gray hairstyles can be any length, and this shoulder length curly style is incredibly beautiful.
6. Shorty Curly Gray Hairstyle
Here's a short hairstyle option for gray haired ladies with curly hair that doesn't look too dated or old fashioned.
7. Long Thick Gray Hair
Thick gray hair can look pretty stunning when cut into a long layered style!
8. Short Gray Hair
If you're looking for edgy gray hairstyles, short spiky gray hairstyles might be just the thing.
9. Short Spiky Gray Hairstyle
Here's another great short spiky hairstyle to try!
10. Gray Bob Hairstyle
Shoulder length bobs make beautiful and easy to care for gray hairstyles!
11. Gray Hair With Bangs
This gray hairstyle frames the face quite nicely with layers and bangs.
12. Textured Gray Hairstyle
Lots of texture gives this beautiful gray hairstyle a little edge and a lot of bounce!