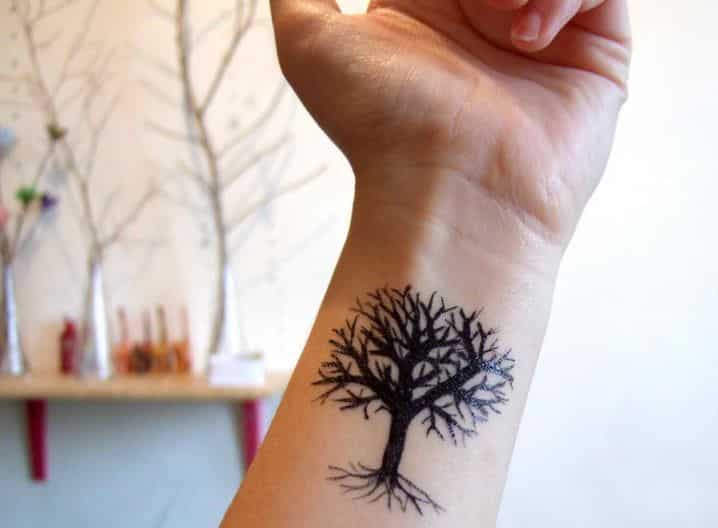 Spectacular Palm Tree Tattoo Designs
Body tattoos are adornments that dispense with the need for accessories. They add to the overall appeal of the ensemble and project the personality of the wearer.
Palm tree tattoos are the most popular form of body accessorizing especially with young girls.
They are small enough to blend well with formal as well as casual wear. Just don the costume that shows off the tattoo to perfection and you are ready for anything.
Big And Small
A palm tree is an example of height and a mushroom is tiny. This palm tattoo shows the two alongside each other as if to say that both tall and tiny are cute. The flowers at the bottom seem to pay homage to the palm tree for its benevolence in sharing space with something so small.
Rising Sun
The beauty if a rising Sun with its bright orange color is an irresistible sight. A deep green-brown palm tree in the foreground adds to the artistic display of nature's bounties.
Exotic Shading
The art work in this palm tattoo is absolutely brilliant. The blue-green shading of the palm tree leaves balance the bright yellow of the Sun and the deep blue of the sea. This is an example of nature at its best.
Unbelievable Bodhi Tree Tattoos
Located in Bodh Gaya and often referred to as the peepal tree, the bodhi tree is very meaningful and incredibly sacred, especially to Buddhists. In fact, this exact line of trees is said to have helped Buddha himself reach enlightenment, and while some people simply enjoy the trees for that reason, others choose to turn them into tattoo designs.
Fortunately, since Bodhi Tree tattoos are so aesthetically pleasing, people of all backgrounds and religions can enjoy their beauty.
A Very Realistic Bodhi Tree Back Tattoo
Not only is the bodhi tree itself very nice, but the moon, stars, and clouds above it look neat too!
A Buddha Bodhi Tree With Green Leaves
Placed on the upper arm and colored in with brown and green, this bodhi tree is a great choice for anyone interested in buddhism.
A Small, Dark Colored Bodhi Tree
Despite it's lack of color, this tree looks nice and is a great choice for anyone not wanting to get too much ink.
Artistic Cherry Blossom Tree Tattoo
The cherry blossom is known for its very short life. But in that small time span it looks extremely beautiful and makes all those who see happy. It is used very often in Japanese art form. These cherry blossom tree tattoos have capitalized on the popularity of the tree to present you with a fantastic collection of classic examples. The cherry blossom flower, when in full bloom, has vibrant pink petals and a yellow center that combine to make it very beautiful.
Each of these cherry blossom tree tattoos is a masterpiece. The theme of the cherry blossom which is an extremely beautiful flower with a short life span is depicted in the delicate lines of the tattoos. This is a tree that is very symbolic in Japanese art forms and even grown in their gardens. The ephemeral nature of the cherry blossom can be seen in its vivid gorgeous coloring and falling petals that ends life. But all the time, the tree trunk remains steadfast supporting the blossoms throughout the life cycle.
Artistic Display
This is a great cherry blossom tree tattoo with its characteristic pink flowers. But the artistic shading of the tree trunk is what catches your attention in this particular tattoo.
Freehand Modern Art
This is a freehand version of the traditional cherry blossom tree tattoo. Its tree trunk has the usual brown shading but seems to be flying away. But ironically the flowers that normally have a short life span seem to be steadfast and are holding on!
Flowers Of Importance
These cherry blossoms have such a vibrant pink-red color that they make you wish they had a longer life. This tattoo focuses on the flowers and the tree trunk is just a fitting background with its brown shading that looks artistic too.
Terrific Celtic Tree Of Life Tattoo Ideas
The Tree of Life signifies evolution in a scientific sense. But it is also a mythological symbol that implies the happy coexistence of all life forms. As a philosophy it is a sign of how we are interconnected in the cosmos and should learn to live together in harmony. In many religions across the globe the Tree of Life is considered sacred. It has inspired many art forms including tattoos.
These are some lovely Celtic Tree of Life tattoo forms that you will love to imitate. This is a design that can look very trendy and modern despite its traditional concept.
Harmony Of Life
This is a superlative colorful tattoo of the Celtic Tree of Life that shows the harmony and symbiotic existence of life forms.
Black Beauty
The Celtic Tree of Life designed in intricate details makes this a tattoo that is worth copying.
Basket Life Tree
This is an artistic tattoo of the Celtic Tree of Life that looks more like a circular straw basket.