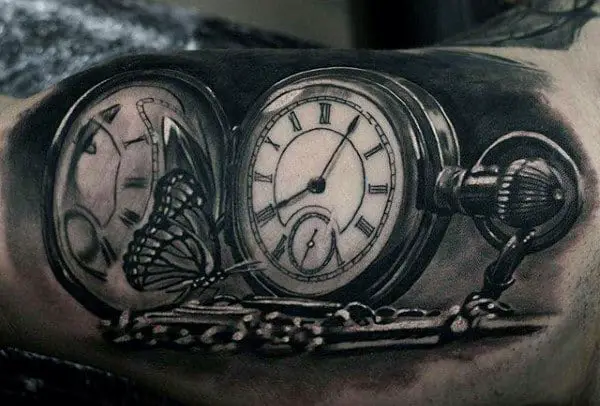 Though they aren't worn out in public as much as they used to be, pocket watch tattoos are still extremely popular. In fact, new pocket watch tattoo designs are thought up on a regular basis. While many designs incorporate roman numerals and old-style symbolism, others are very modern, and feature only new-age details. In order to show readers the wide range of pocket watch tattoos that exist today, we have listed out some of the most interesting, unique, and aesthetically pleasing designs that we could find.
1. This Old-Style Pocket Watch Tattoo Design
Believe it or not, simplistic old-style watches are among some of the most common pocket watch designs. Often including roman numerals and completely free of color, these designs are reminiscent of vintage style pocket watches, worn by many gentlemen, decades and decades ago.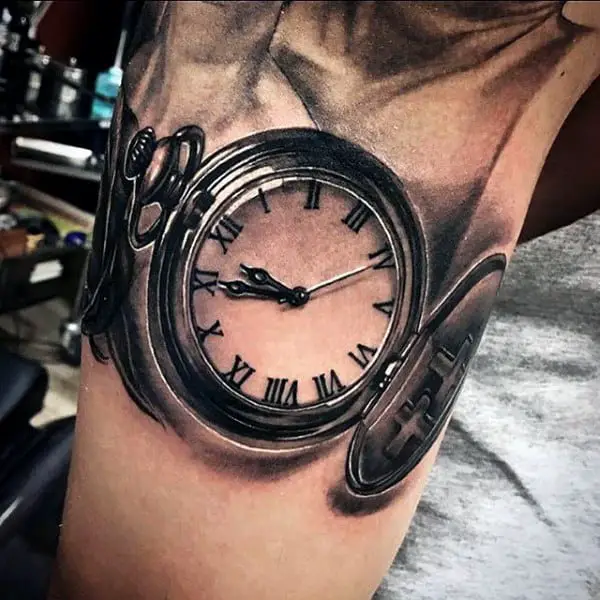 2. An Incredibly Vivid and Colorful Pocket Watch Tattoo
Though colorful is not too common amongst pocket watch tattoo enthusiasts, it does look great when incorporated correctly.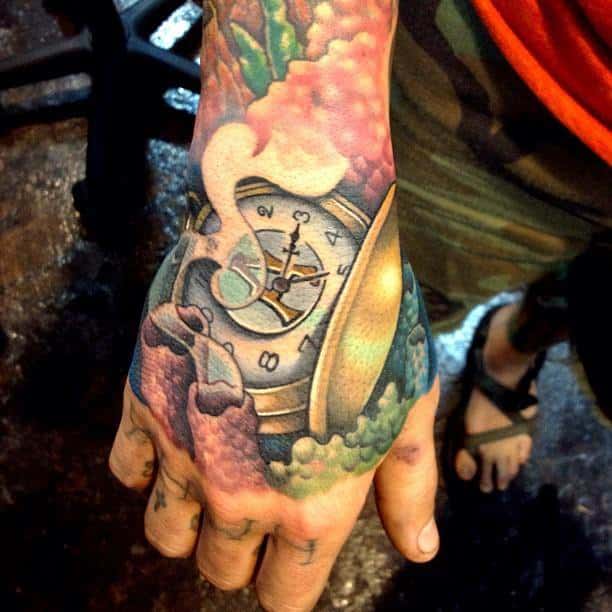 3. This Extremely Realistic Pocket Watch Leg Tattoo
Though the pocket watch itself is just part of this incredible design, it looks great and adds a lot to the overall image.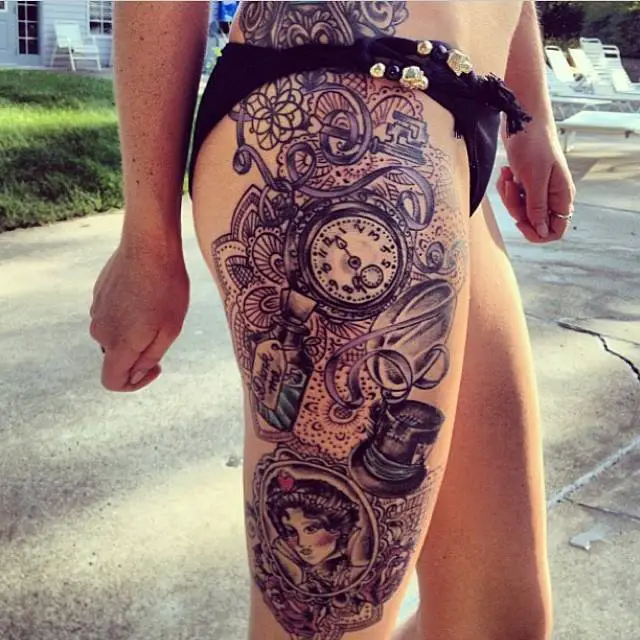 4. This Pocket Watch Tattoo With A Rat and Flowers
Another very uncommon, yet rather unique pocket watch tattoo. Though many pocket watch tattoos include flowers, almost none of them have rats.
5. Pocket Watch Tattoo, With Flowers!
As seen in the picture below, pocket watch tattoos with flowers look great anywhere, even on your feet.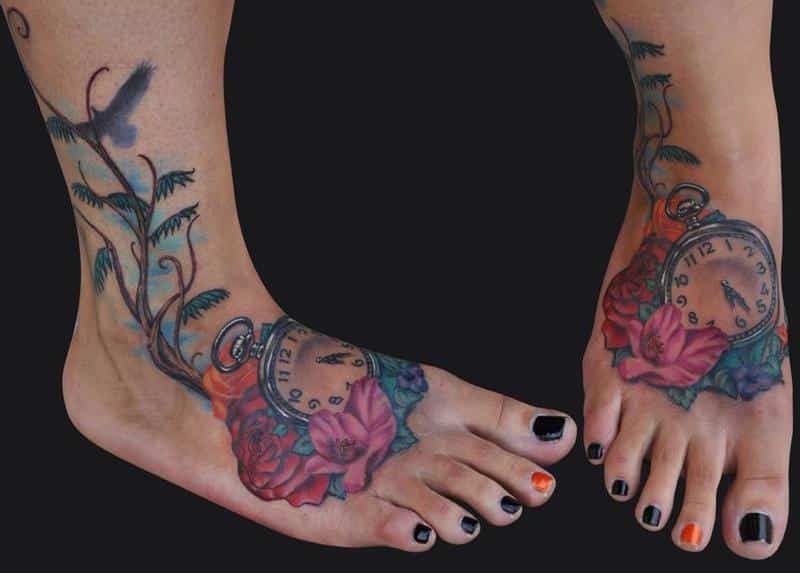 6. This Pocket Watch and Owl Tattoo Design
This owl seems to be keeping guard over the pocket watch itself, holding onto it with his claw.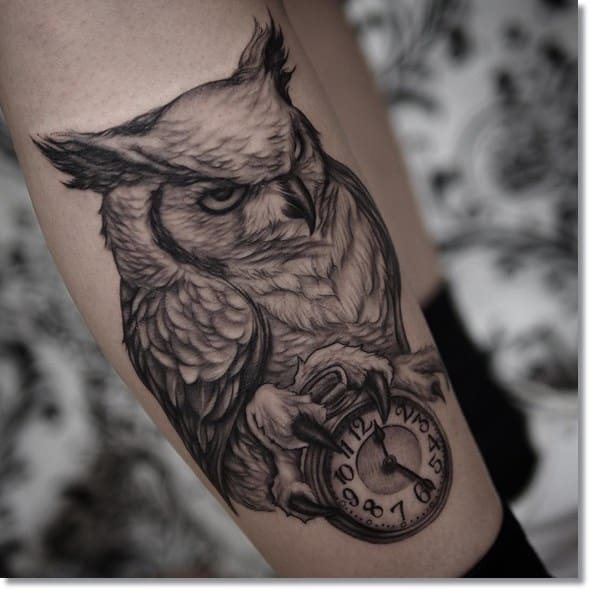 7. Pocket Watch and Skull Tattoo Design
He has got his eye on the time indeed!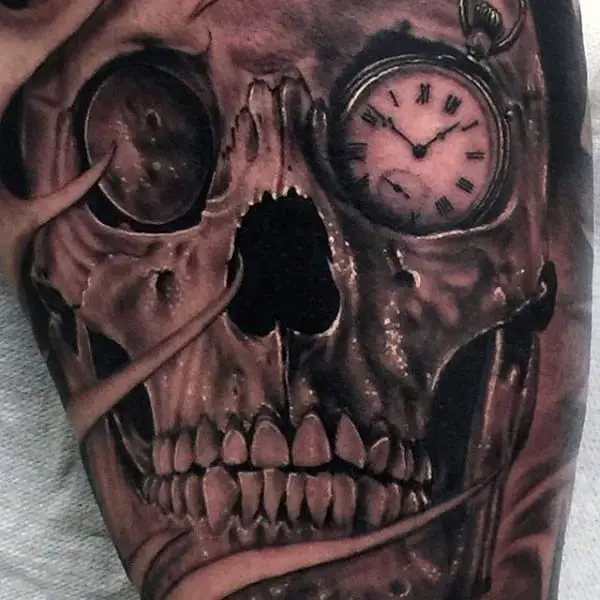 8. This Heart Shaped Pocket Watch Tattoo Design
Though the numbers on the clock are not seen in this specific design, it is still considered a pocket watch tattoo. In fact, pocket watch tattoos that don't show the clock's numbers are not uncommon, and have different meanings than those in which the numbers do show.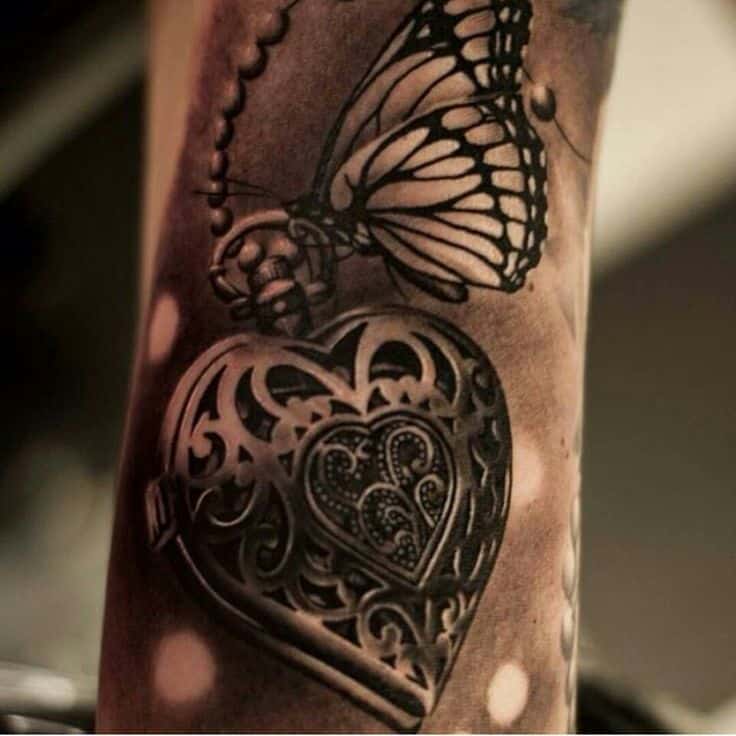 9. Pocket Watch, With A Memorable Date
Pocket watch tattoos with dates. What a great way to keep a memory close by, and with you forever.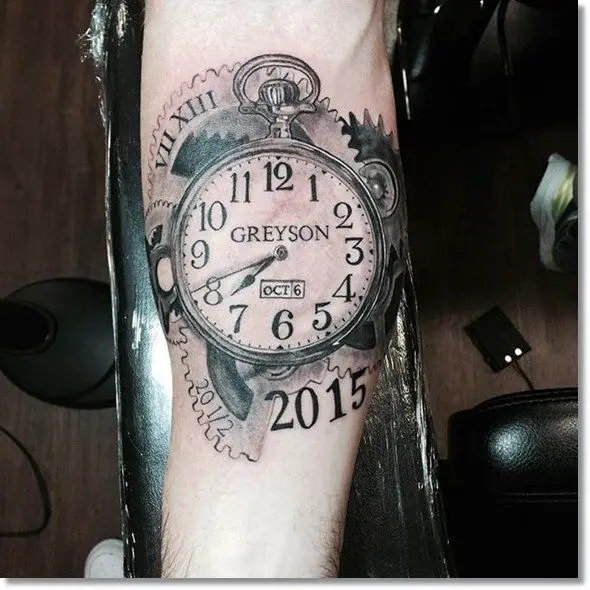 10. Pocket Watches With Quotes Incorporated Into The Design
You can't stop time, and apparently you can't stop her either!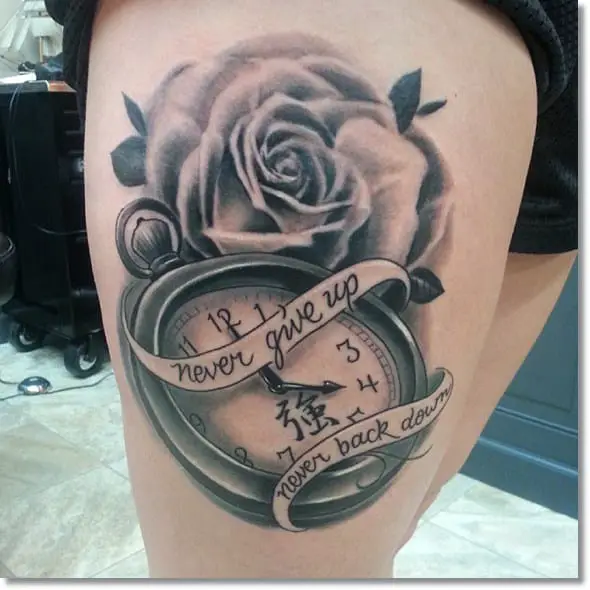 11. This Pocket Watch and Cross Tattoo
As seen in the picture below, pocket watches with crosses look great, even without any coloring.
Many people with pocket watch tattoos often incorporate some sort of religious symbolism.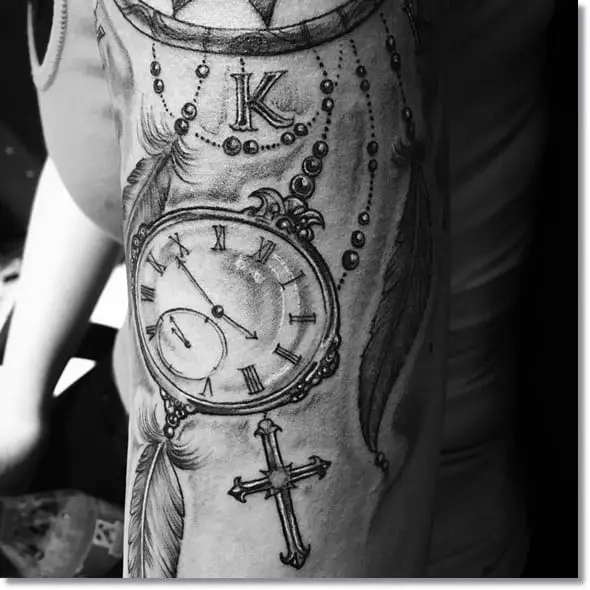 12. This Black and White Pocket Watch and Flower Chest Piece
Who knew that black flowers could be so pretty!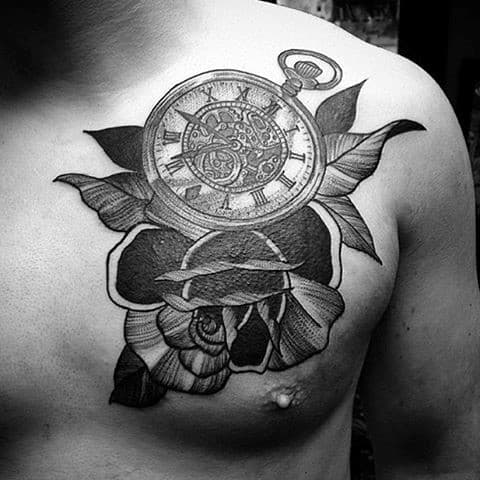 13. The Immortal Pocket Watch Tattoo Design
Known as immortal pocket watch tattoos, these designs incorporate human skeletons. In this design specifically, the skeletons have seemed to fall for each other!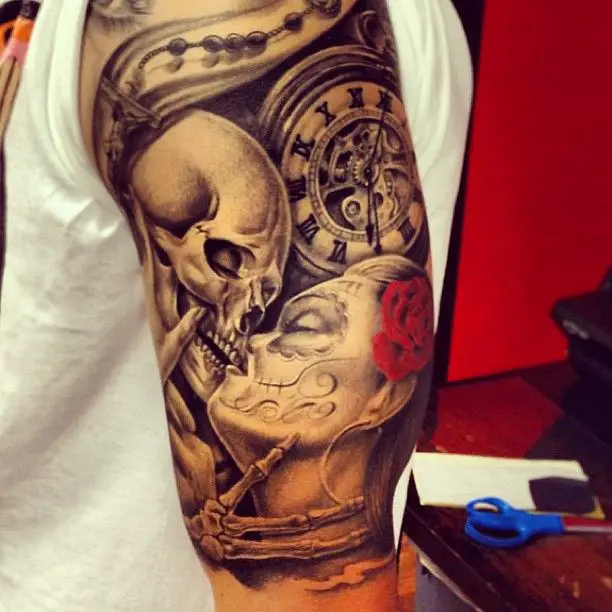 14. The Pocket Watch With Angel Tattoo Design
As seen here, pocket watch with angel tattoo designs come in many different forms, and often have a lot of additional imagery included.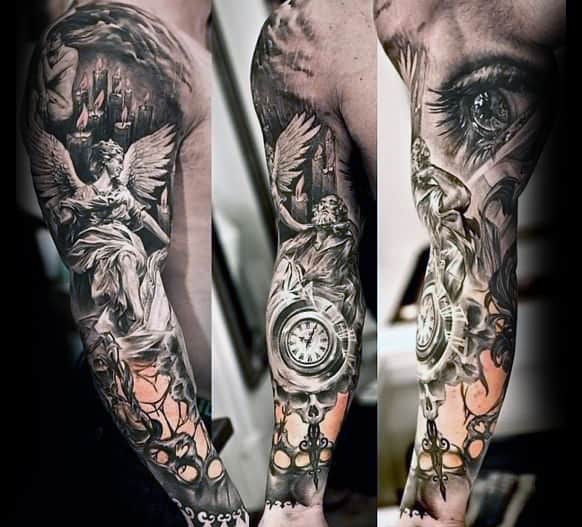 15. This Broken Pocket Watch Tattoo Design
Often used to symbolize a disregard for time itself, broken pocket watch and clock tattoos are rather common.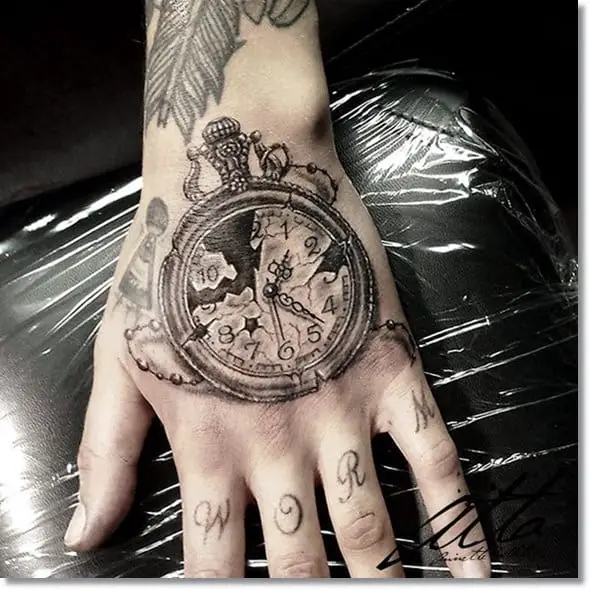 16. A Pocket Watch, With Birds!
These two birds seem to be fighting over time, and also make for a great chest piece tattoo.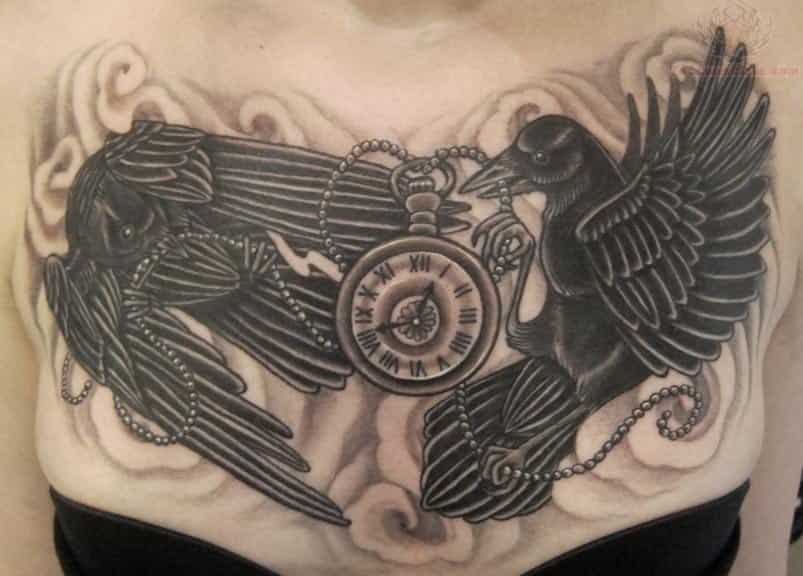 17. The Men's Steampunk Black Ink Pocket Watch Tattoo
For fans of steampunk, these black ink pocket watch tattoo designs should certainly be of interest.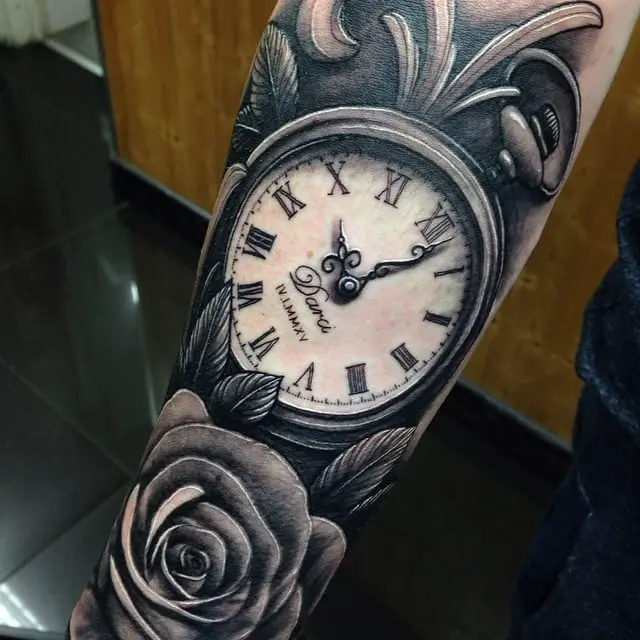 18. This Very Realistic, Antique Pocket Watch Tattoo
Reminiscent of an old vintage, antique pocket watch. You can even see the gears inside of it!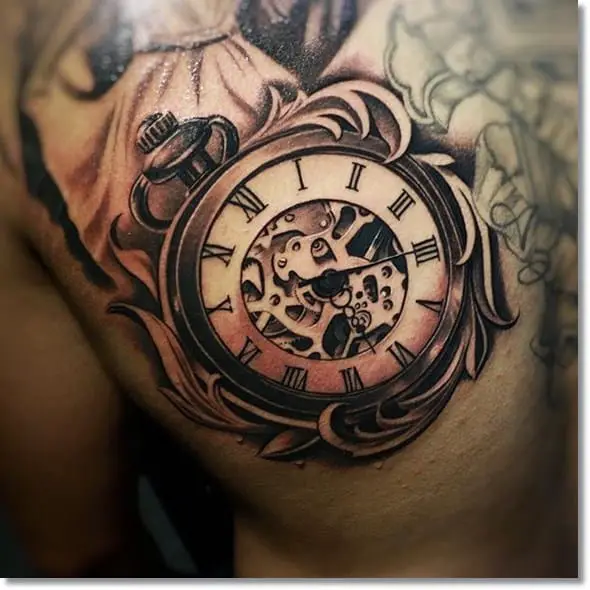 19. The All Seeing Eye Pocket Watch Tattoo Design
Another piece of imagery, often included alongside pocket watches, is the all seeing eye.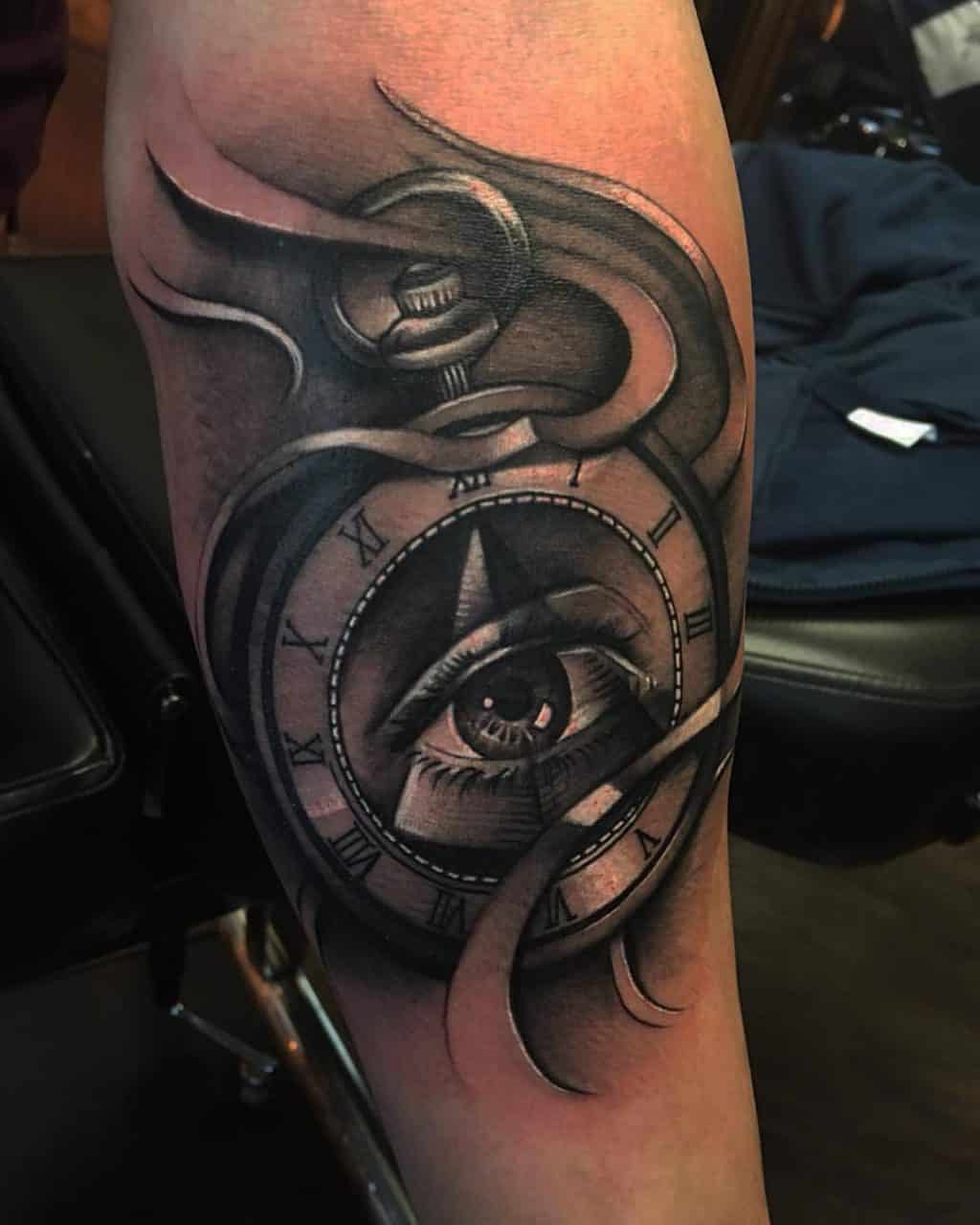 20. Melting Pocket Watch Tattoo
This individual clearly has no regard for time..or money.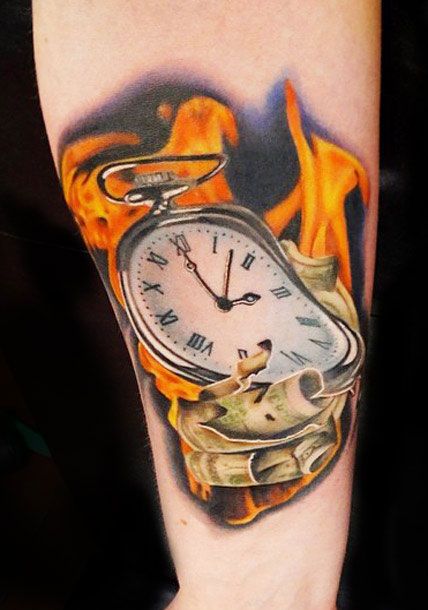 21. Another Incredibly Vivid and Realistic Pocket Watch With Roses
Simple and small, yet very vivid and realistic.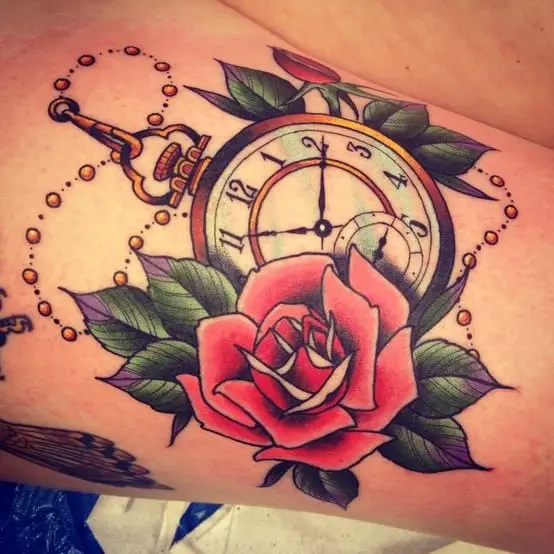 22. This Mirrored Butterfly Pocket Watch Tattoo
You will need to find a great artist in order to pull this one off correctly, however, it looks great and is very original.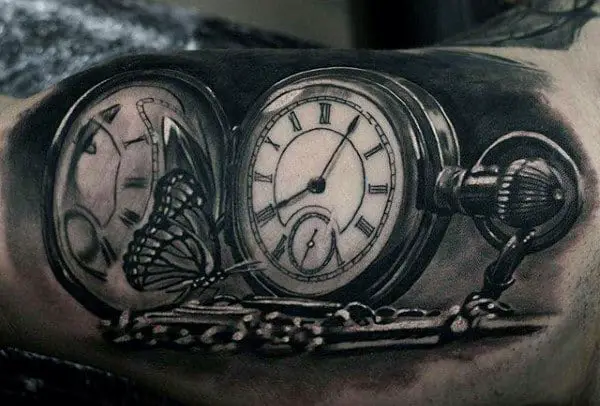 23. The Traditional Pocket Watch Tattoo Design
For fans of pocket watches, and traditional style tattoos as well.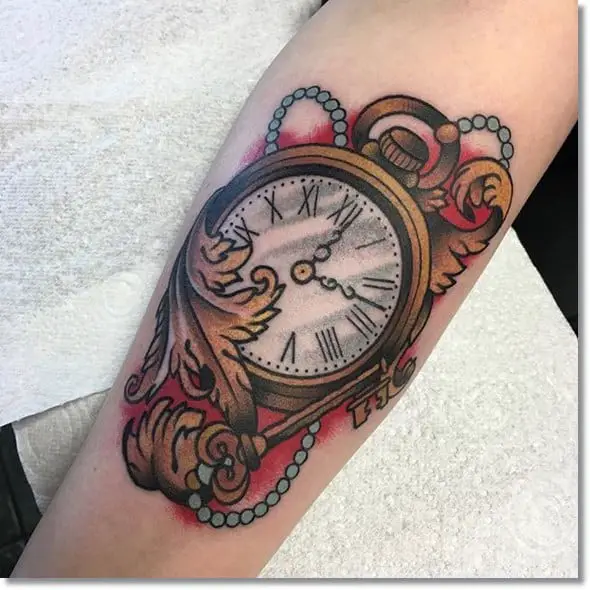 24. This Roman Numeral Pocket Watch Forearm Tattoo
Though there is a lot of additional imagery here, the pocket watch sticks out very well.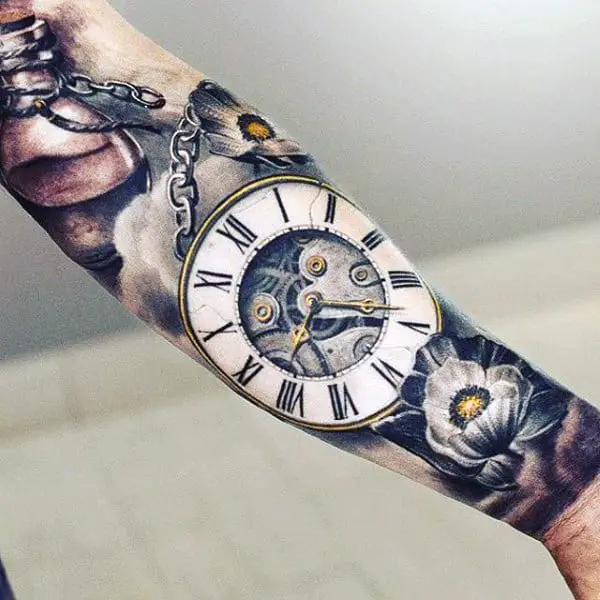 25. Another Vintage Pocket Watch Tattoo, This Time, With A Quote
Great quotes work well on just about any tattoo.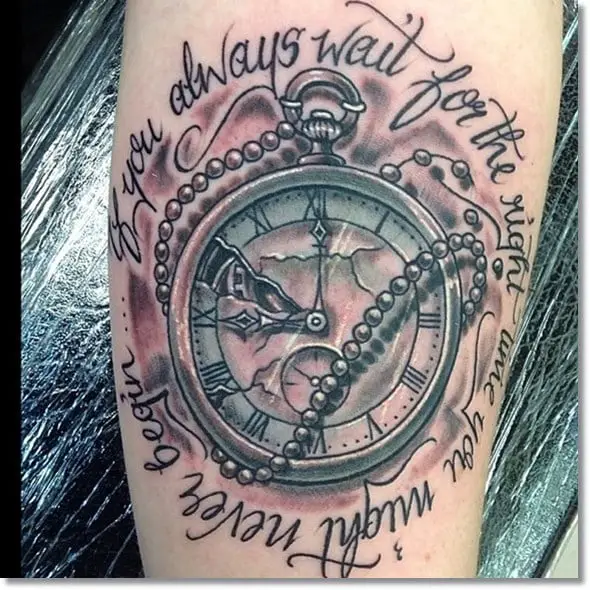 26. Another Great Faith-Based Pocket Watch Tattoo Design
Another faith-based design, this time, with an angel instead of a cross.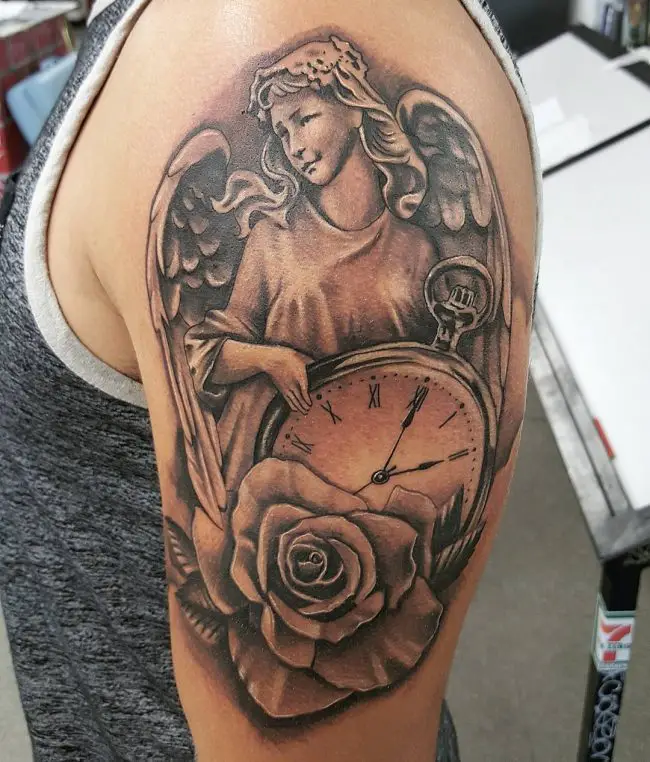 27. Pocket Watch With Hat and Rabbit
Another rather unique idea.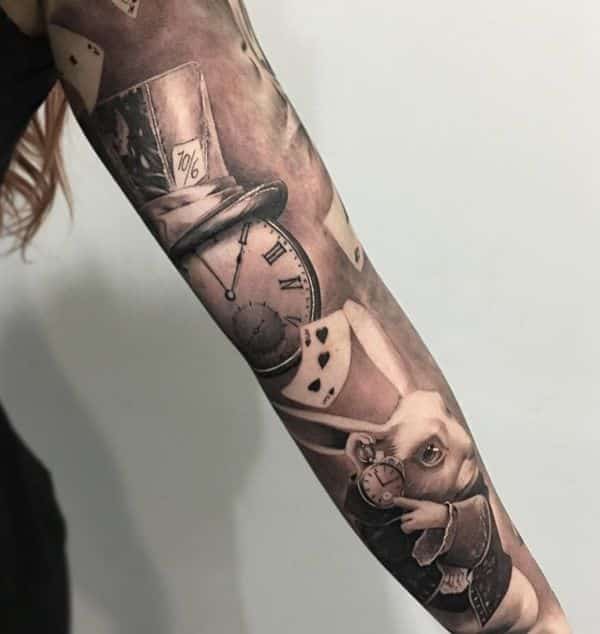 28. Pocket Watch With Gears Tattoo
Also incredibly common amongst pocket watch tattoos, gears allow for the inner-workings of the watch to be seen by all.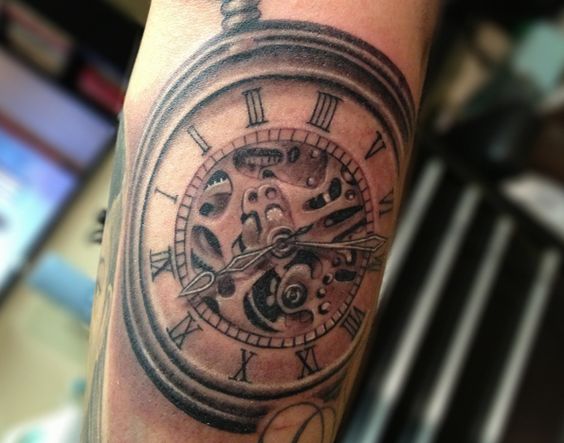 29. This Pocket Watch and Hand Tattoo Design
Another common pocket watch theme, often used to symbolize a control or hold over time.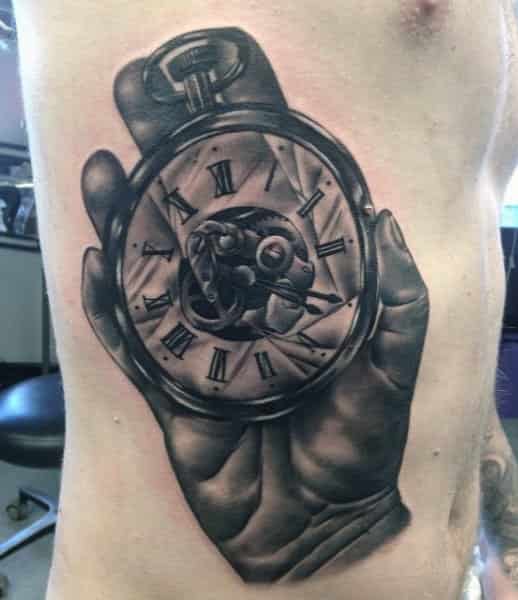 30. This Pocket Watch Tattoo Design, With Dollar Signs For Numbers
Time is money!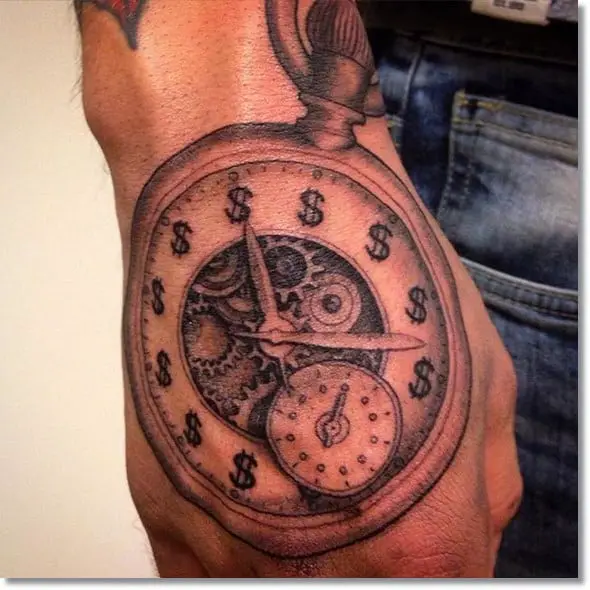 Conclusion
No matter what pocket watch design you choose, it is likely that there will be significant meaning behind it. Therefore, it is highly recommended to research the meaning of each design before making your decision. However, if you are not quite ready for a tattoo, and just enjoy looking at the different designs, then all of them should be of interest.