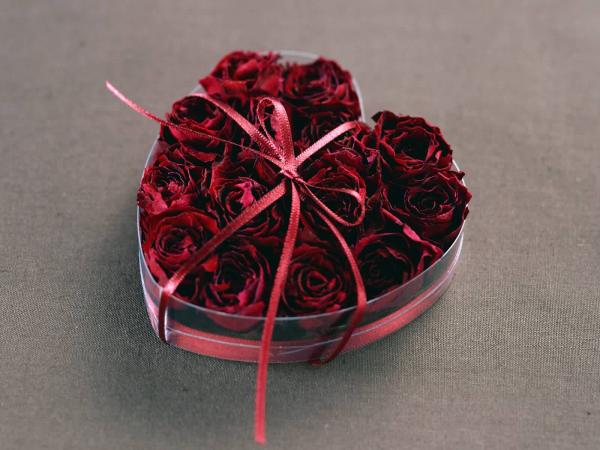 Brilliant Pictures Of Hearts And Roses
If you are looking for love and flowers, we have collected some lovely pictures of hearts and roses in this list. Beautiful hearts and roses create a perfect romantic setting to share love matters. The tender shades of white, pink, purple and red roses with hearts will certainly make you wanting to fall in love.
You do not need any special day to express love, but you can celebrate the emotion each day with little gestures of love. These hearts and roses pictures may give you interesting ideas to gifting hearts and roses to your beloved in different styles.
Heart Necklace On White Rose
A ruby and gold necklace adorning a white tender rose.
Heart Of White Rose With Red Rose In Centre
Heart shape arrangement of white roses with a vibrant red rose spark in the centre with a black shaded background.
Valentine Day Gift Heart Of Roses
A grand Valentine's heart full of beautiful red roses and fragrance of love.
Lovely Pictures Of Hearts
Hearts are strength and a weakness to many. There have been many legendary stories to support this fact. Heart can rule you and take you to a direction unknown that might be of some benefit to you.
There are many lovely pictures of hearts that will leave many wondering on the capabilities of the maker and the art content used in.
Rocking Heart
A Natural Beach Heart
Intriguing Heart
Pictures Of Broken Hearts To Make You Feel The Pain
Broken hearts are hard to rebound, but it is not impossible. If any image or sight can help mend your broken heart, you should welcome it. Broken heart pictures with creative concepts say many unspoken tales of pain caused because of maybe failing in love.
However, these cute innovative ways of representing broken heart will instead make you feel light. Interesting concepts actually motivate you to celebrate the experience and welcome a fresh heart flings. Why sit and write sob songs if you are heart-broken, fall in love with these creative visuals.
Broken Hearts On Fingers
Little distances may come in between them but they will always remain inseparable.
Broken Hearts Holding Hands
Extend your loving hands to rebound a broken heart and give it a new life.
Broken Hearts Of Apple
Take a bite of love, but live in no misconception that your heart will escape pain of separation.