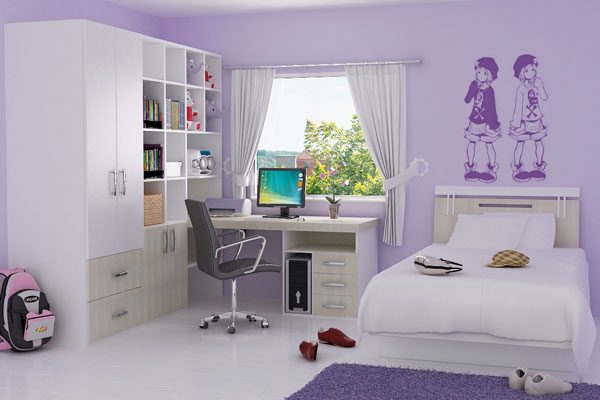 Awesome Small Bedroom Ideas
These days finding a spacious house is quite a task. The growing pressure on land due to population growth has not left, most of us, with the option of having a big house, like the ones people had in olden times. Today, it is a luxury that very few can afford. However, this does not mean that we should stop dreaming about having cozy and elegant rooms. With some smart thinking and cool ideas one can easily create a nice living place. In every home, the bedroom has a special place and no one wants to compromise on its look and feel.
Every house owner desires to have a bedroom that is comfortable and cool so that one can relax calmly but many feel that size can become a constraint in the way of their wish which is not true. Small bedroom ideas hold the solution key to all your worries. Below we have showcased 30 of them to give you tips as to how you can style your small bedroom to give it a king size, royal look. Check them out and decorate your bedroom the way you want. We are sure you will be delighted with the outcome.
Girl Small Bedroom
The pretty wall stickers and the white cabinets with a small, light purple rug create a sweet bedroom.
Calm And Relaxing
White and yellow theme of the bedsheet, pillows and curtains bring out a solemn and calm look.
Latest Small Bedroom
The large window that gives a cool and green view along with the simple decor make this bedroom stand out.
Sober Small Bedroom
Great Bedroom Ideas For Women
Your bedroom is your cozy nook that takes away all the stress of the day. Hence, it deserves as much attention as the other rooms where décor is concerned. Making it the most habitable and cozy part of your house is what you should aim at. These are some great bedroom ideas for women that most of you are bound to find interesting. Some bedrooms have ornate and expensive furniture. But there are also ideas in this lot that would suit a limited budget too. Here, the bedroom décor focuses on making the best use of minimum available space to the maximum with it looking cluttered.
A cozy and comfortable bedroom is something you look forward to at the end of the day. It is your haven that you retreat to when you want to be alone. These are a few ideas for women's bedrooms that you will surely like. The styles differ from neat and serviceable to ornate and classy. There are some in-between styles that use classy furniture but which would not be prohibitive as far as cost is concerned. A little imagination is all that needed to incorporate these ideas into your bedroom.
The Feminine Touch
The matching brown wallpaper and delicate knick knacks gives this bedroom a lovely feminine touch.
Bedtoom Ideas: Bedtime Tales
This woman loves to relax on her soft double bed while she reads bedtime tales to her soft toys!
A Show Piece
This woman's bedroom is a showpiece. There is a multitude of personal knick knacks and decorative pieces.