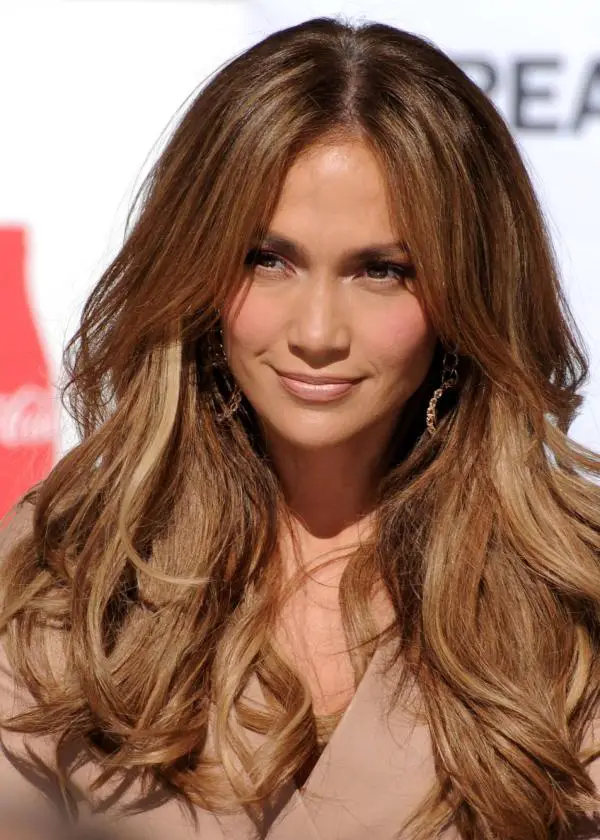 Sexy Brown Hair With Caramel Highlights
Caramel highlights come out best on brunette or brown hair than blonde hair. The golden undertone color looks fabulous on brown hair. Caramel highlights can make an ordinary haircut look very stylish. That is why so many women decide to go with caramel highlights if they are a brunette or have darker hair. Even celebrities decide to go for this look and they pull it off quite nicely. It is a style that will definitely turn heads and attract the opposite sex. It's no wonder why so many women are going to the hair salon and asking to have this type of hairstyle.
If you have long brown tresses you can give a nice dimension to your beautiful hair with caramel accents. Combining caramel with blonde can look spectacular if you pair it with a chic hairdo. A lot of women out there hate being a brunette, because they feel as if its dull and they also feel like they don't have many options to stand out from the crowd. If you decide to go with some caramel highlights, you won't have to worry about this problem. Therefore, we have combined a ton of pictures of sexy brown hair with caramel highlights for you to check out.
Jennifer Lopez Sexy Brown Hair
Gorgeous J.Lo with her centre parted light brown hair with caramel highlight
Emma Watson
Natural waves of beautiful Emma Watson highlighted with brilliant caramel tone.
Katherine McPhee
Caramel highlights giving a dimension to lovely straight mane of Katherine McPhee.
Pretty Ways To Wear Punky Pink Streaks In Brown Hair
Pink streaks in brown hair add a fun and trendy splash of color to normally drab hair. Pink highlights can be bright and eye catching, or subtle and sweet. There are lots of different shades of hue that can be used for pink streaks in brown hair, from pastel to neon to dark pink.
Pink highlights in brown hair generally show up best in lighter brown hair. However, the hair might still need to be lightened or bleached for the color to show up well. Dark brown hair will most definitely need to need to be lightened for pink highlights to be very visible. Some pink dye, though, might show up in the right light without bleaching or lightening the hair.
Subtle Pink Streaks in Brown Hair
Pink streaks in brown hair don't have to be obvious and front-and-center to be pretty.
Pink Peek-a-Boo Streaks in Dark Brown Hair
Pink peek-a-boo highights in dark brown hair are subtle and perfect.
Wide Pink Streak Under Brown Hair
One or two wide pink streaks in brown hair underneath is really all you need to turn a few heads!
Magical Dark Brown Hair Color Ideas
Do you have dark brown hair and want to give it a new touch of color that makes it look more exciting? Are you looking for Dark Brown Hair Color Ideas that give you a great style? You can get amazing effects by playing with shades that are lighter or darker than your dark brown hair. You can also go for dramatic looks by coloring some of your dark brown hair a totally contrasting bright shade.
You can choose the effect you want to create for your dark brown tresses. Brown is a color that is full of warmth and life, and you can use touches of gold to give a shimmering effect to the hair. If you want to keep the look of your hair toned down and quiet try light shades of brown or a sandy hue to highlight some of your hair. For a hairstyle with bangs or braids coloring these parts of the hair can draw a lot of attention. For a thick side braid a touch of golden can at once add a whole new appeal. You can also use a shade of red to bring out the deeper fire feel of your rich brown hair. When you use a shade of red bordering on brown you get an auburn look for your hair. Bright red shades can look really magical on dark brown hair, and a touch of golden can make for a radiant hairstyle statement. For a bold and funky look try going wild with your choice of hair color. Since brown is a warm using cool shades of blue and mauve can really add drama to your hair. You can have the front strands of your hair touched up with cyan to get a punk look. Whether you have thick curls, light waves, or straight hair, a touch of hair color can totally transform how your deep brown hair looks.
A Gold Idea
Dark brown hair tumbles over the shoulders in thick waves while a gentle touch of gold subtly shades a front strand in this hair color idea.
Hot Dark Chocolate
The shade of auburn nearly borders on black making for a dark chocolate look in this shiny brown hair color picture.
Sun Delicate Hair
Pale and brown this hair color looks magical in the fresh light of the sun. You can see the light sand like shades adding their delicate beauty to the hair color.