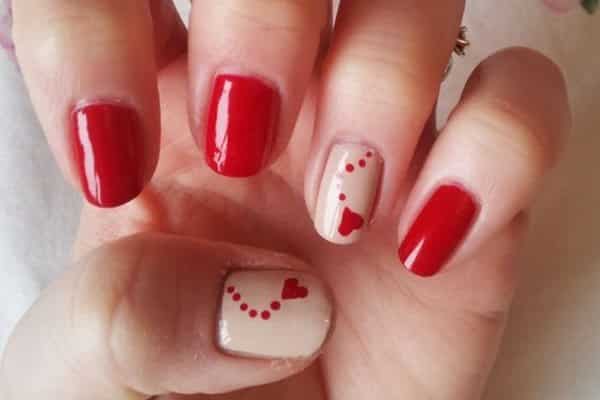 Sweet And Romantic Nail Design Ideas
Some days just call for some sweet and romantic nail art designs. Whether you're celebrating a special day, like an anniversary or wedding, or you're just in a lovey mood, a romantic nail design is just the thing!
Romantic nail art is usually created with colors like red, pink, and white. Of course, you can use any colors you'd like for your own romantic nail art. You can also use several designs, but symbols like hearts and flowers are usually quite fitting for romantic nails.
Red Heart Nails
Small red hearts add some sweet and romantic accents to nude nails alongside bright red nails.
Pink Bubble Heart Nails
Stripes and polka dots don't clash at all in this bubble heart nail design!
Modern Microbead Heart Nail Art
Microbeads outline this negative space nail art design beautifully in this more modern romantic nail design.
Sweet Cherry Nail Art Designs
Cherry nail art is a fun and cute nail art design to try! Cherry nails are also pretty simple to create, so they're a good choice for just about anyone who wants to paint nails in a fun design, from novices to experts. To create cherries on the nails, use a dotting tool to create the fruit with red nail polish. Add some green stems with a thin nail brush. A tiny dab of white can also be used to create a reflection on the cherries.
Cherry nail art can be placed on several different background colors. White is a classic color and can really make the red cherries pop. However, black can also be used for a darker look. Pastels, like blue and pink can also make for some sweet and feminine cherry nail art.
Big Cherry Nail Art
Paint some big cherries on a couple of nails for a big bold statement!
Striped Cherry Nails
Striped tips give cherry nails a little something extra.
Cherry Nail Art on Natural Nails
Cherry nail art goes well on natural nails too!
Totally Tasty Chocolate Nail Designs
Want to see fingernail designs that look good enough to eat? We have searched far and wide for these Totally Tasty Chocolate Nail Art Designs to show you just how talented and tasty fingernail art can really be! Ready to take a look at these chocolate fingernails?
We promise you that one look at these lovely nail art designs, and you will be heading for your nearest nail salon wanting to get a set of chocolate nails of your very own! So, ready to check out the chocolate nail art? Well go ahead and scroll down then!
M & M Nails with Black Polish and Colored Tips
These nails are painted to look like M & M candies, but they have a twist because the nails are black. However, they are so cool because the tip of each nail is colored to look like the famous candies.

Chocolate Mint Nails with Chocolate Syrup and Rainbow Sprinkles
Who does not love mint because it is so refreshing to eat? Well, in this case, you can have your mint, and wear chocolate too thanks to these nails with the syrup and lovely rainbow sprinkles.

Chocolate Dipped and White Chocolate Drizzled Nails
Anything dipped in chocolate is automatically better when it comes to food, but the same can be said for fingernails! Take a look at these lovely chocolate dipped and drizzled nails!
Cute Cupcake Nail Designs
Fingernails can be so much fun if women decide to do something unique like have cupcakes painted on their nails, or they can do it themselves if they have the talent. We have searched high and low for these Cute Cupcake Nail Designs, and we want to share them with you!
We promise that the moment you look at these adorable nails, you will want cupcakes painted on your nails, or then again, you may just want to eat cupcakes. Okay, enough of talking now, are you ready to check out the list of gorgeous nails? If so, you can go ahead and scroll down now.
Pink Cupcake Nails with Blue Striped Tips
Pink is often a color used on cupcakes, and these nails feature pink and blue stripes too, and the color contrast really makes for some visually striking nails!

Grey Nails with Pink Polka Dots and Pink Striped Cupcakes
Pink might be too wild for some women, so these nails use grey coloring on the nails, but there is pink used for the cupcake paper!
Clear Nails with Purple Striped Cupcakes
Some women may decide not to color their whole nail in a separate color, but just create little cupcakes on it like these adorable cupcakes with purple stripe papers.
Pointy Nail Designs
Often referred to as stiletto nails, pointy nails are a growing trend, worn by many different celebrities. Though they may not be suitable for all occasions due to their extreme point, stiletto nails are fun to wear and can turn into a hobby as well. Whether you are looking for a solid color or a complex design for your pointy stiletto nails, the list below should certainly give you a few ideas.
Full Glitter
In between solid colors and complex designs, is full glitter.
If you've had enough of solid colors, but don't have quite enough time to incorporate a complex design, full glitter provides a rather happy medium.
Stripes
Fortunately, if you burn yourself out on one stripes design, there are still many more to choose from. Some of the different stripe variations for pointy nails include vertical stripes, horizontal stripes, diagonal stripes, and multi-colored stripes.
Bright Yellow
If you are really wanting to show off your pointy nails, but it's late and the sun is no longer out, then bright yellow is the way to go.