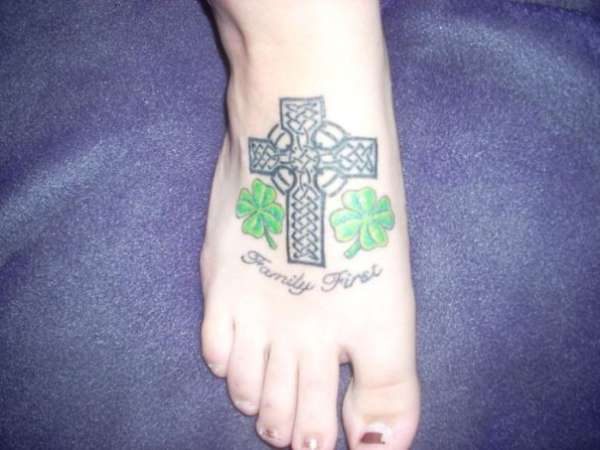 Great Celtic Tattoos For Women
Celtic tattoos have a very ancient origin. These tattoos are very well-known for the deep and meaningful interpretations that one can always draw from these. Celtic tattoos for women come in several designs and shapes. These can be drawn depending on the requirement of the individual. These tattoos can be a knot, a cross or several wavy images of birds and flowers. Celtic tattoos have a very elegant approach and are very appealing at the same time.
Celtic tattoos have very interesting designs that add another level of beauty to the personality of women. These tattoos come with several designs like knots that are a symbol of two identities being bound together for eternity. Then we have the never-ending loops that very prominently emphasize on the vicious circle of life and death that never ends and we all have to play a part to that. Then there are the circular rings that depict the belongings that one always has to the ultimate power of the almighty. These tattoos belong to a very native tradition and the Celtic culture.
Celtic Family
A Celtic cross on the foot that says that family comes first.
Celtic Knot Tattoo
a Celtic triangular knot that does not have an end.
Thigh Piece Celtic Tattoos
A red and black Celtic dragon tattoo that looks amazing.
Celtic Birds
Celtic tattoo showing two birds tied in the never ending bond of love.
Arresting Celtic Cross Tattoos
Tattoos present you to the outside world. The people around you get a glimpse of your personality by looking at the tattoos that are inked on your body. There are a lot of themes to choose from while going for a tattoo. The Celtic cross is a nice concept that has surfaced in many traditional and modern tattoo designs, redefining their meaning and significance.
Usually the Celtic cross is depicted (in its most basic form) as a cross with a ring around the intersection of the stem. It's is believed to have been originated in Gaelic Ireland and was introduced to England by Christian missionaries. The meaning of the ring stands disputed. Some believe it represents the Roman Sun-God Invictus, while some argue it is a deliberate attempt by early Christians to combine contemporary Pagan beliefs into their symbols. Whatever might be the fact, today, the Celtic cross is seen as a spiritual symbol, something that connects our world to a metaphysical existence. Celtic cross tattoos usually employ dark colors and highly interwoven patterns (that were traditionally carved out in stone) to create artistic beauty. If you want something serious and spiritual to adorn your body, check out these richly designed Celtic tattoos.
Catchy Celtic Cross
The green and yellow patterns present a special touch to the cross. They present it in a lighter sense.
Exclusive Meaning
The ring in this Celtic cross has a unique meaning and that's why all Celtic crosses do not contain rings.
Ankle Celtic Cross
Small tattoos fit nicely around the ankle, a general rule which is not usually applied on Celtic tattoos.
Hand Tattoo
A Celtic cross tattoo could be used to recall and respect the deceased loved ones.