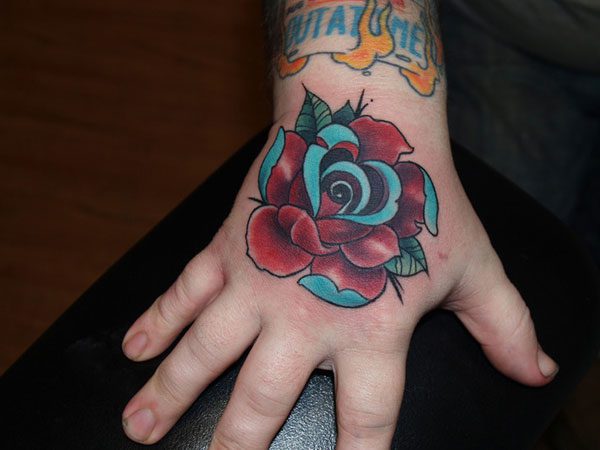 Astounding Rose Tattoos For Men
A rose is a symbol of love all over the world. The perfect petals as they spiral around the heart of a red rose express the themes of passion, romance and sexuality. When men get inked with this deeply passionate symbol, they may have different personal reasons. In the earlier times, sailors used to get tattooed with roses as a reminder of their true love on the shore.
Rose Tattoos For Men vary from designs with religious symbolism, to designs that combine love and death themes, to designs inked in memory of a special someone.
Renewing Rose
The color tone of this rose tattooed on the hand resembles dried blood, and the inner part of the petals is a rich cyan shade.
Give Love And Peace A Chance
A pair of praying hands sits at the center as splendid red roses bloom on the forearm. A passionate prayer for love and peace.
Rose Tattoo For Men
The rose is styled with bold lines in a graphic design fashion, with a sprinkling of stars alongside the tattoo.
Masculine Rose Tattoos For Men
Rose tattoos are most often thought of as being tattoos for women. After all, they are flowers, which are associated with being delicate and feminine objects. Roses, though, aren't only reserved for the ladies. With their sharp thorns, deep colors, and symbolism, roses can also be used to create some amazing and powerful tattoos for men!
Rose tattoos for men can have many meanings and symbolic references, with love, honor, strength, sacrifice, elegance, and remembrance.
Skull and Rose Tattoo
Combine a skull with a rose for a masculine rose tattoo. The detail in this skull also makes it just that much more stunning!
Pistols and Rose Tattoo
This isn't your typical guns and roses tattoo! The antique pistols combined with the crimson roses give it an old-fashioned feel, and the minute details truly take it to the next level!
Black Rose Tattoos for Men
Many guys will find black rose tattoos for men more appealing than their colorful counterparts. This black rose tattoo for guys has a large black flower and black and green stems and leaves, so it's not completely absent of color.