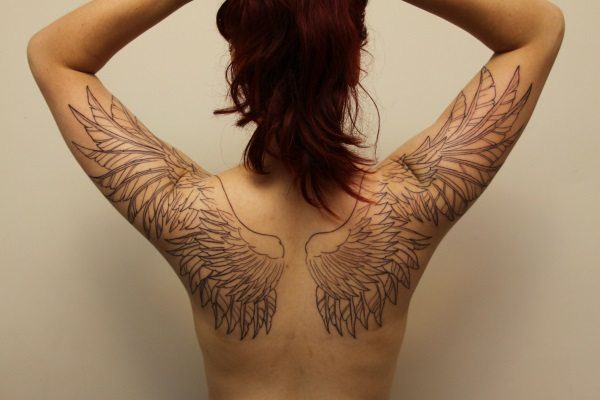 Back tattoos for women can be graceful and very pleasing to the eye. One of the most beautiful back tattoos for women is a pair of wings.
Breathtaking Wings Tattoo Design Ideas For Women
A wing tattoo design usually consists of two wings, one on either side of the back. The most common placements for a set of wing tattoos are on the upper back, shoulder blades, and arms. Larger tattoos of this sort can even extend all the way down the back.
Angel wings are probably one of the most common wing tattoo designs for women. They're feminine and pretty. Some women, however, prefer more unique designs, including demon wings, dragon wings, and even butterfly wings.

The type of wings you choose for your own tattoo is a completely personal choice. If you're looking for ideas, though, take a look at this list of amazing wing tattoos for women!
Outlined Wings Tattoo Design
I simple outline of wings as a tattoo across the upper back and shoulders still leaves a pretty lasting impact on anyone who sees it!
Spreading Wings Tattoo Design
A properly designed and placed wings tattoo design on a woman can create the illusion that she is spreading her wings to fly!
Wings Tattoo Design in 3D
The detail and shadows in this wings tattoo design make it seem as if the wings are coming right off this woman's back.
Stunning Wing Tattoo Designs
Wing tattoo designs are extremely popular among today's generation. Wings are a symbol of flying high, inspiration and aiming for the sky. Wing tattoo designs hold a special place in tattoo lovers hearts as it gives them a sense of freedom. It makes them feel as if there are no restraints and nothing can hold them down. In other words, they can accomplish and achieve anything that they put their minds to. They feel as if they are truly fee and have no bounds.
But choosing the right tattoo design for yourself is very important, because tattoos are more or less permanent and you surely don't want to go under the laser to get the tattoo erased. Moreover, wing tattoos can be very detailed so you should be ready physically, mentally and financially to visit your local tattoo parlor at least a couple times.
Phoenix Wing Tattoo Designs For Guys
In reality wings are soft but in body art world wing tattoo designs are for guys too. If you think that only girls can flaunt a wing tattoo, you are sadly mistaken.
Angel Devil Bloody Wing Tattoos For The Back
When wing tattoos are placed fittingly on the back, nothing can stop you from getting the admiration of the onlookers. This list has some stunning designs of wing tattoos for the back.
Tribal Wing Tattoo Designs
Tattoo art is not a new thing. We can find the traces of tattoo designs 5000 years back too. Although the purpose and symbolizm may vary from one period to other, but the craze for tribal wing tattoo designs is same. Check some of the best tribal wing tattoo designs here.
Glorious Cross With Wings Tattoo Designs
Cross with wings tattoo designs symbolize freedom, free-spirit, and faith in the eternal God.
The angel wings tattoo with Cross represents your confidence in your religion. It is a sacred symbol, which people often wear as a memorial piece in memory of someone whom they never want to forget. Wing tattoos are one of the more popular tattoos to get right now.
Cross with wings allows very artful design options that may range from a tiny back neckpiece to a full-back or a massive chest tattoo. You can choose from tribal, traditional or classic Cross designs with a feel of different textures like iron or wood. Wing Tattoos are usually rendered with meticulous dark shade work; however, you may also use colours for a different looking custom design.
Cross And Wings Foot
Memorial foot tattoo of a Cross with wings in commemoration of a special date. This cross tattoo is a celebration of the wearer's Christian faith. This arm tattoo allows the wearer to show off their religion.
Heart Cross And Wings
Heart and Cross wings tattoo with a scroll carrying the wearer's children names. The colors represent the birthstones of his kids. This colorful tattoo is a great tattoo design to show your love towards your kids.
Giving Up Was Never An Option
Awesome chest piece of a Cross with wings tattoo. The Cross has been designed in tribal style. The strong winning spirit quote makes it a very impressive piece. We are all familiar with the everyday struggles of life and you would feel like giving up almost regularly. However, this angel wings tattoo will remind you that giving up was never an option.