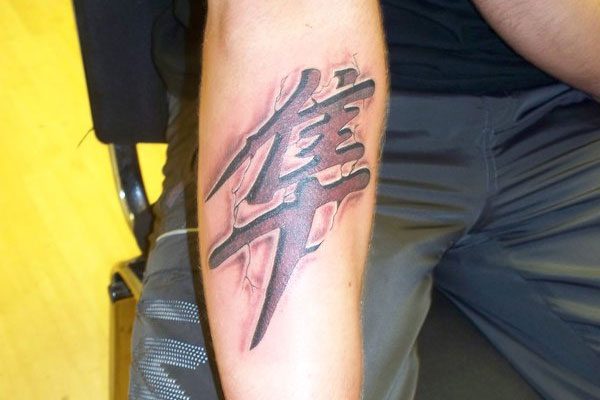 Tattoos bearing symbols are a cool and graceful design option for the tattoo wearers. Most of the people who do not want to look flashy and over-the-top wear such tattoos. Such people look for designs that are meaningful and wield some positive influence and the symbol tattoos fall into this very category.
Sensational Chinese Symbol Tattoos
There are various kinds of symbol tattoos that utilize different languages. One such tattoo is the Chinese symbol tattoo. The Chinese script is quite distinct and pictorial in nature and therefore, even the symbols created in Mandarin have a semblance of beauty and design.
The Chinese symbol tattoos are full of deep meanings and motivational messages. They are not only famous in China but people from other countries also like to sport them. Their elegance and charm is favored worldwide. The Chinese language is replete with age-old knowledge of its rich civilization and the symbol tattoos reflect those very gems in the form of a modern artwork.
Mystic Tattoo
Another symbol tattoo engraved on the side of the forearm in red shade arouses curiosity.
Universal Change
Gandhi's teaching carved along with a bike rider on his bike indicates that the great man's message must be reached across the world.
Music Is Life
Music uplifts the mood and makes one happy, this is the meaning of this Chinese symbol carved on the neck.
Elegant Chinese Letter Tattoos
Chinese letters are a source of wonder for the world at large because they form such attractive but complicated shapes. As tattoos, Chinese letters are very popular among the youth. There are tattoos with letters that imply a lot of themes like love, affection, power, strength, etc. Those who know the language would go for the one that expresses the correct theme that fits the wearer. But for those who don't, the letters can be a wonderful and novel form of tattoo art that would be a trend setter.
Tattoos are adornments on their own. They eliminate the need for any accessories and stylish jewelry.
Chinese letter tattoos are very popular for this very reason. They are simple so they suit any outfit or occasion. They are artistic and complicated so they make a style statement like nothing else can. They can be tattooed small or big as one desired but with equal impact on those seeing the art work. The letters are usually tattooed only in black, but if you are looking for something really out of the ordinary, they would look if different letters are tattooed in different colors on the same person.
Lines And Spaces
This little wrist tattoo does not boast of any sublime meaning or philosophy. It just looks adorable on a slim wrist, that's all. And what more do you want? If you are looking for a small yet perfect tattoo, then this is just right for you.
March Past
This back tattoo looks very smart. The Chinese letters look as if they are marching in formation down a path. The letters are formed in medium thin lines so that each line can be seen clearly and the shape stands out.
Simple And Glorious
The wearer's body language speaks of pride in the neck tattoo. The two simple Chinese letters are designed in an artistic manner with straight line being perfectly parallel and the curved being perfectly curved.