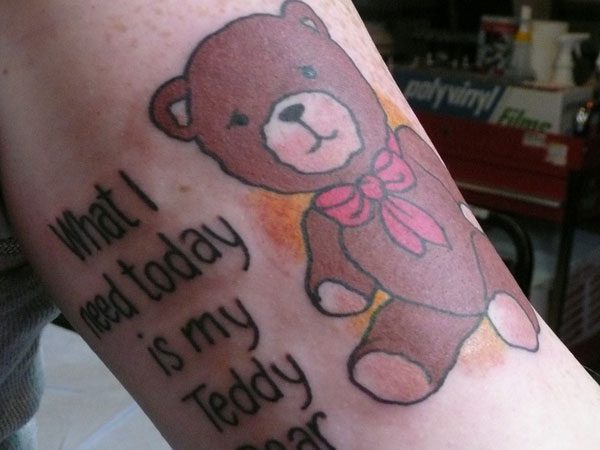 There is something perfectly soft, furry, and adorable about teddy bears. Hugging one to sleep can be a great comfort for people who love holding on to something when they sleep. Gifting people teddy bears can be a warm gesture of friendship and mushy feelings. Teddy bears also find their way into the world of tattoo artists for whom all the beautiful things become a part of creative designs.
If you are looking for cute and sweet tattoo ideas Teddy Bear Tattoos can be a great choice.
Having a tiny bear with a cute expression and round ears inked on a part of your body can give you warm and fuzzy feelings, especially when you're feeling down. Look at a teddy bear tattoo design, and it seems to be saying, 'Every little thing's gonna be alright', much in the manner of Bob Marley's famous song. Teddy bears in a pair to show friendship, a tiny teddy bear in sports gear to show you're a sports lover, or even a precious teddy bear to celebrate the memory of a loved one who's left the earth, can be awesome tattoo design ideas. Cute and colorful, fun and radiating happiness teddy bear tattoo designs bring a smile to the face of anyone who sees such a tattoo. You can also have two teddy bears within a red rose as your tattoo design to show your special bonding of love and friendship with your partner. If you have been wounded in the past and are now giving yourself tender loving care an old and shabby but perfectly sweet teddy with patches all over the fur can express your bright new look at the world.
If you like this article, you might be interested in some of our other articles on Girl Shoulder Tattoos, Girl Back Tattoos, Sleeve Tattoos For Girls and Motorcycle Tattoos.
I Want Tattoo
This small brown teddy bear tattoo is just for those very personal times when all you want is something kind and comforting.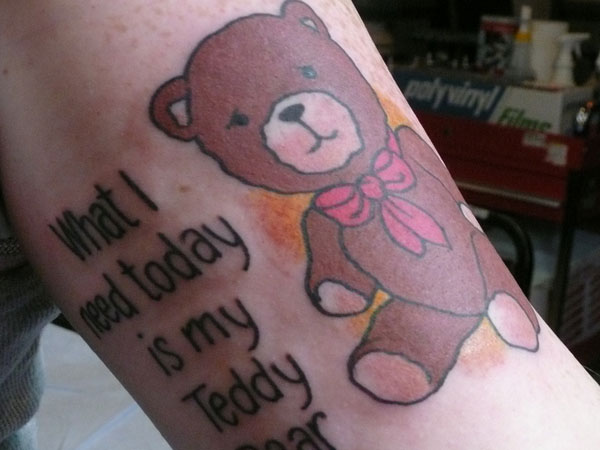 Shine On Tattoo
The bold black outlines give a happy feel to this smiling delicately designed teddy bear tattoo in black.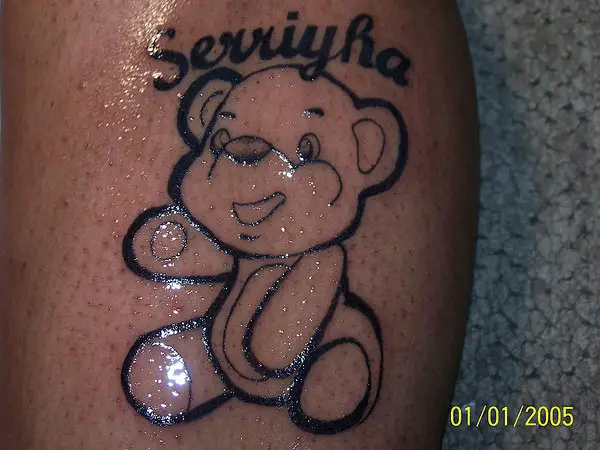 Teddy Bear Memoriam
This woman has inked a soft and furry teddy bear with a halo on her upper arm to honor the memory of her mother. Note the dates inked in the tattoo design.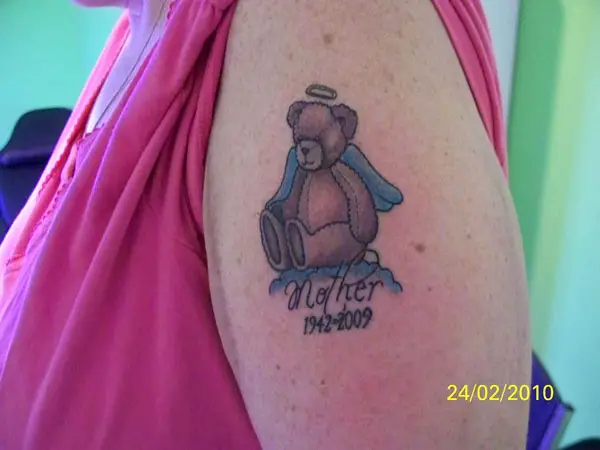 Arm Teddy Tattoo
With the stitch in its lining showing right through the middle this teddy bear tattoo seems to be saying, 'Pick me up'.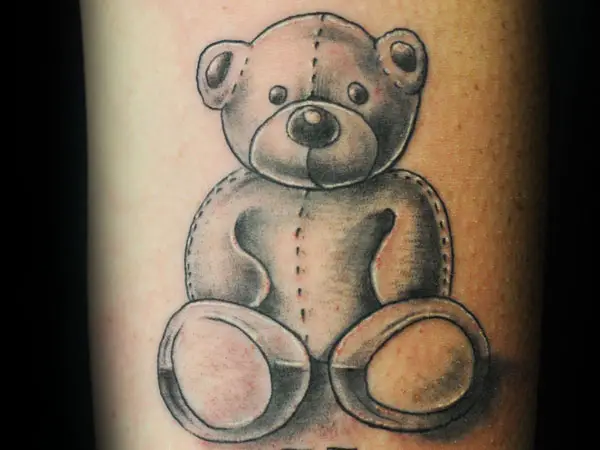 Teddy Foot Tattoo
The foot tattoo shows an unusual looking teddy bear with round black eyes, an upturned heart nose, and a yellow gift ribbon.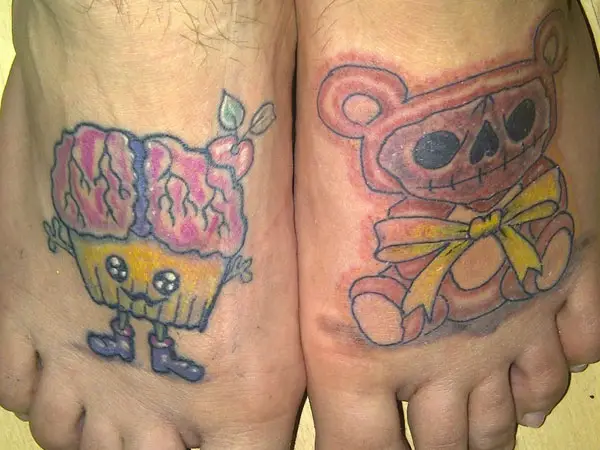 Colors Teddy Bear
Sports is all about taking challenges and risking bad falls, as this injured sporty teddy bear blue tattoo seems to be saying.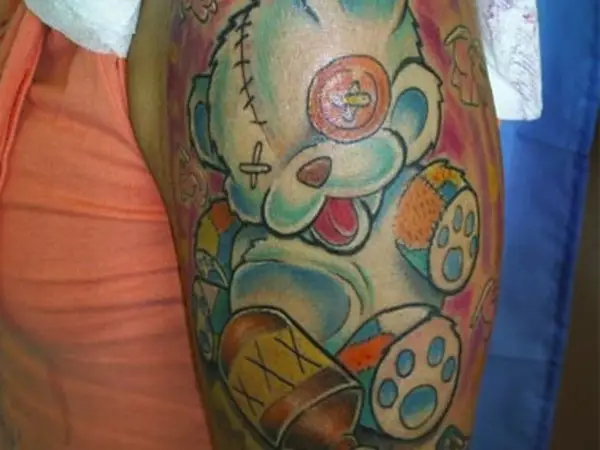 Leg Teddy Bear Tattoo
The tiny ink strokes that have gone into this furry realistic looking green-eyed teddy bear tattoo makes it feel completely alive.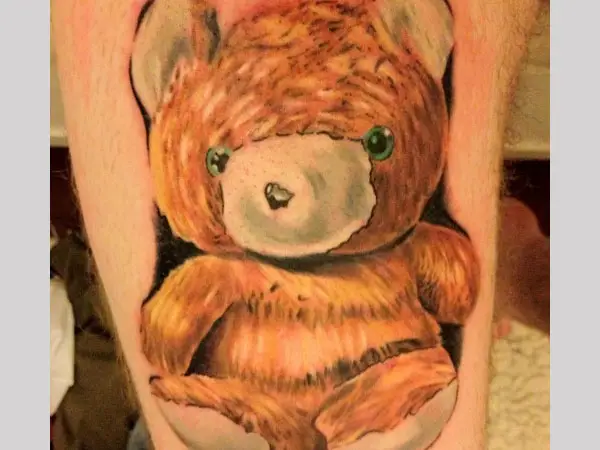 Leg Teddy Bear Tattoo
My Bear Tattoo
This beautiful teddy bear tattoo is detailed in its eye expression. See how the highlights shine in the eyes while the blue sky shades the background of the design.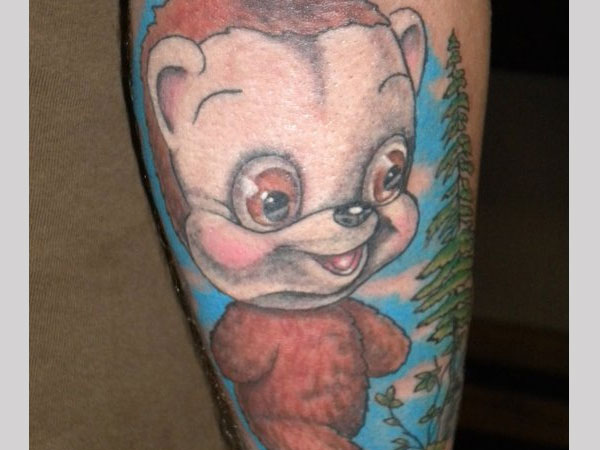 Unusual Teddy Bear Tattoo
This 3D style teddy bear tattoo has some of the features of a baby lion. Take a look at the tiny fur-tipped tail.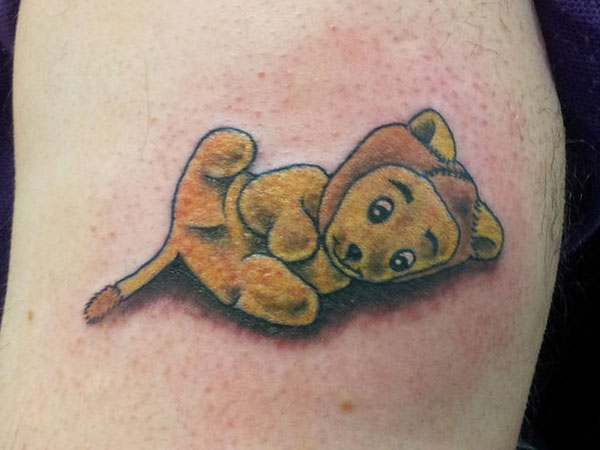 Teddy Bear Love Tattoo
Two little teddy bears sit happily inside a giant red rose in this mushy and colorful tattoo celebrating romantic love and friendship.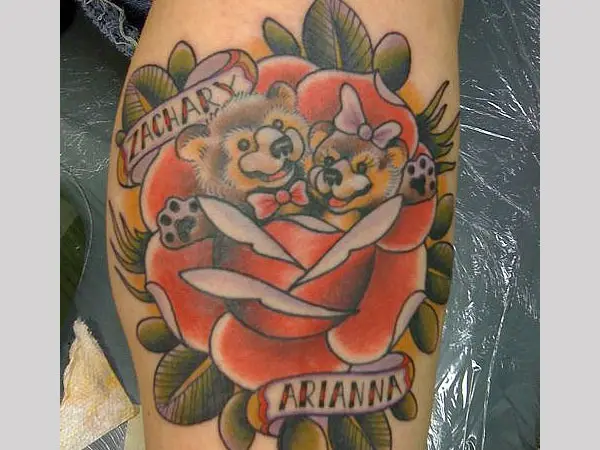 Weird Teddy Bear Tattoo
Shiny red bows around the neck of this soft teddy bear in yellow makes it look like one adorable gift package. Check out the teeny pink heart peeping from the paw.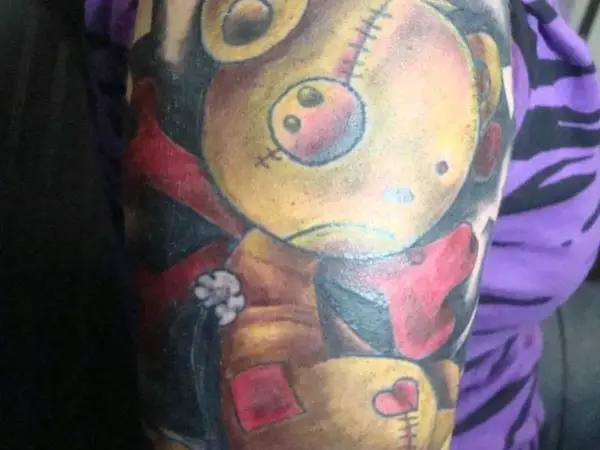 Forearm Beary Tattoo
With a noose around its neck this small teddy bear seems to have given up nearly on life, though not quite. A pretty disturbing tattoo idea.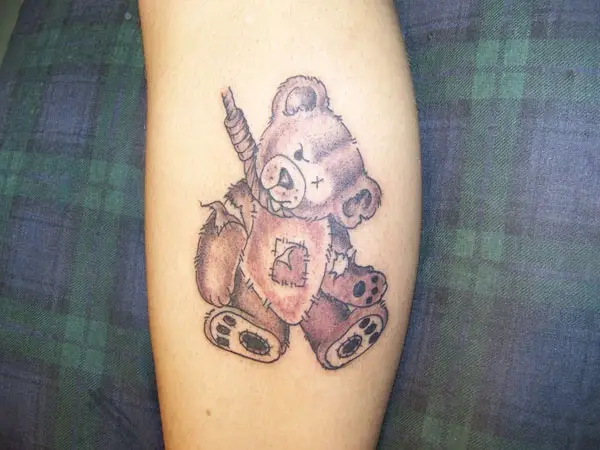 Teddy Bear Favorite Tattoo
Check out the soft blue sparkle in the eyes of this black outlined teddy bear 'I Love You' tattoo.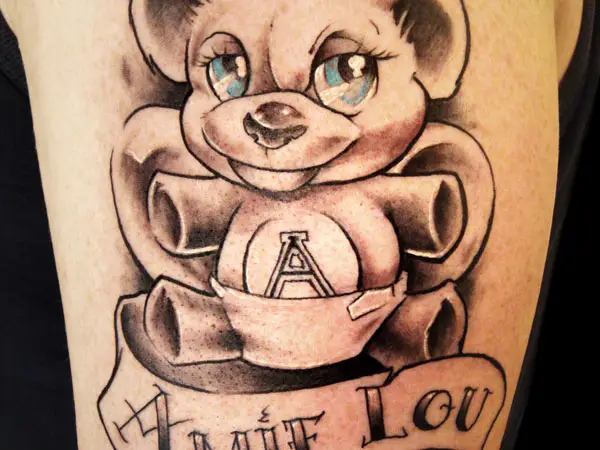 Intense Bear Tattoo
This is a sinister look at a teddy bear showing its parts all wounded and put in place with safety pins. A truly dark tattoo design.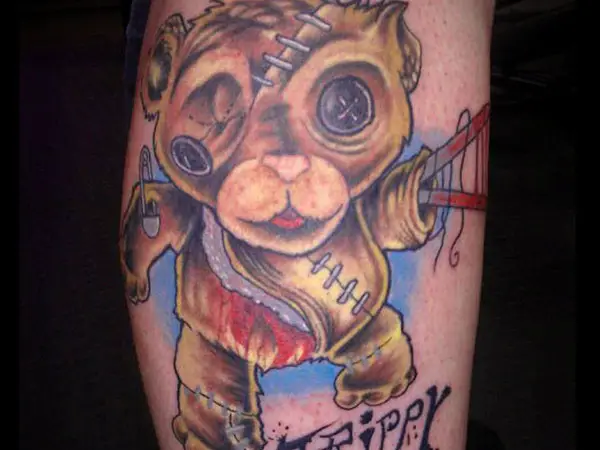 Calf Beary Tattoo
If you love sports you can easily get a leg tattoo showing this small blue sporty teddy bear wearing a red cap.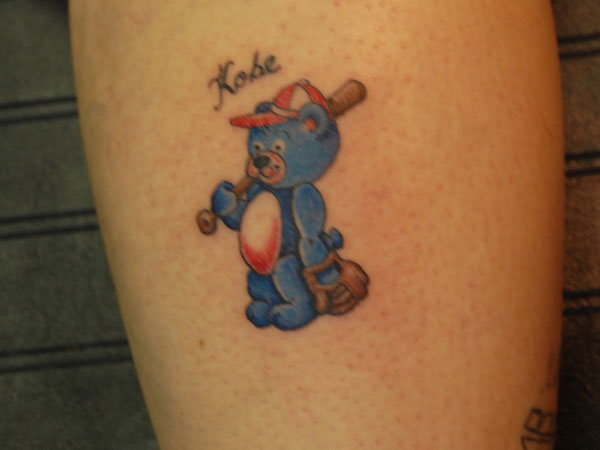 Teddy Bear Design
This artistic teddy bear tattoo is inked with sharp and curby lines with a touch of red to look like fire around the mouth.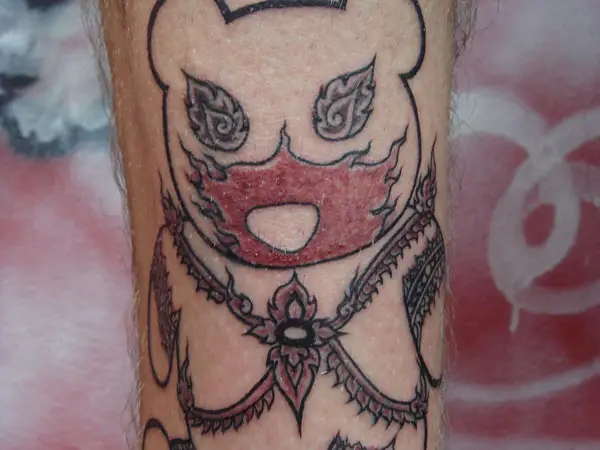 Wounded Teddy Bear
The large round ears look a lot like saucers above the head of this cute teddy bear with one eye.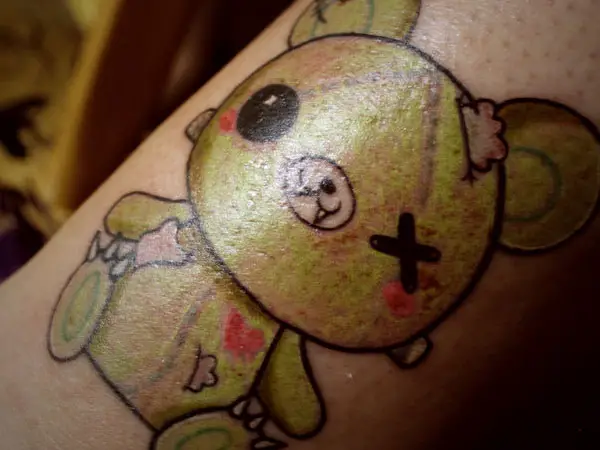 Real Teddy Bear Look
Take a look at the fine detailing of this single colored teddy bear tattoo. The eyes look so real with their highlights and expressiveness.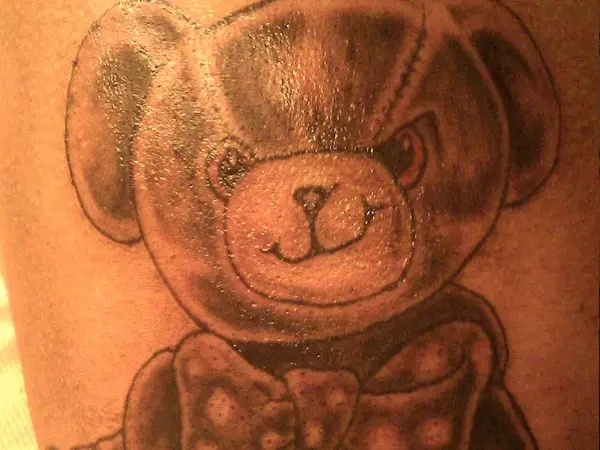 Teddy Bear ILU Tattoo
This mushy and perfectly detailed teddy bear rose tattoo is just the right way to celebrate your love for someone special. The red rose shades and fur effects look very real.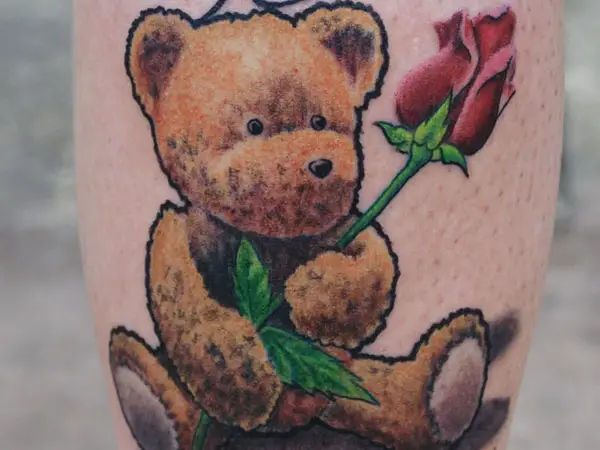 Balloons Teddy Bear
Blue is the color of this pretty teddy bear's heart as it sits among blue stripes with colorful balloons flying overhead.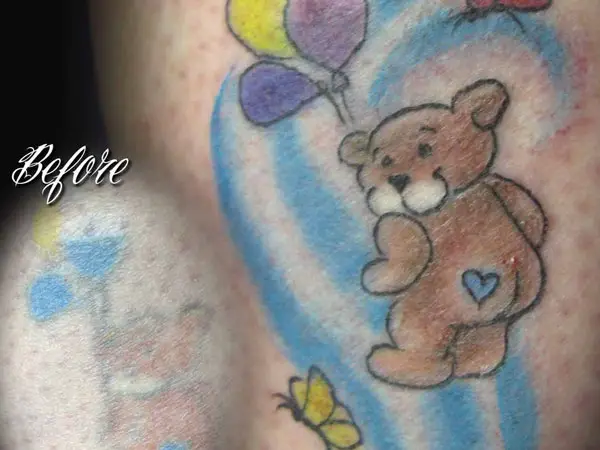 Teddy Bear Tattoo
This teddy bear tattoo is done in delicate shades. In a smart hat this no-nonsense bear looks just like a man of the world.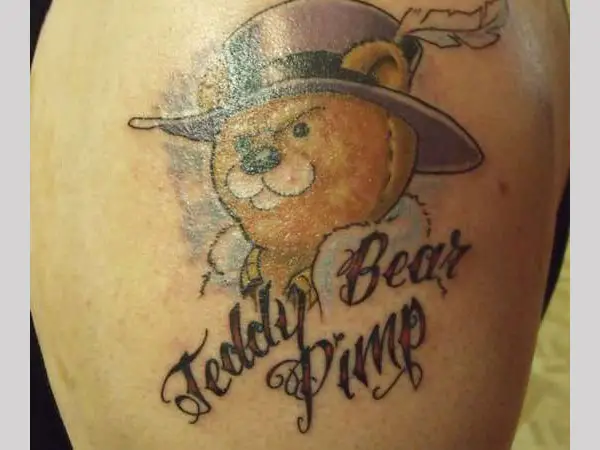 Angel Bear Tattoo
What happens when you combine cute little angel wings and a teddy bear in one tattoo? Perhaps you get a picture like this.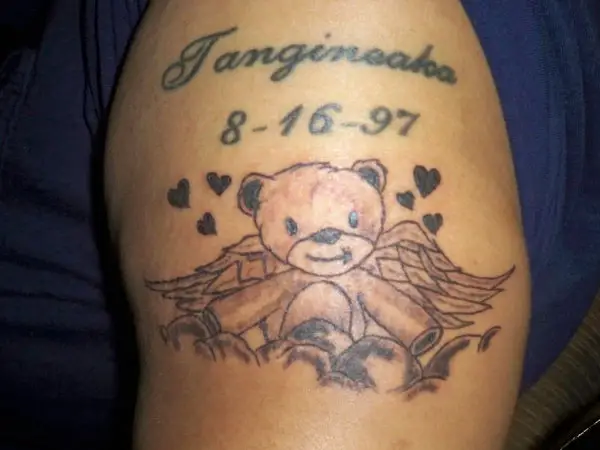 Preggie Bear Tattoo
Wounded and sad, yet this teddy bear tattoo is beautiful as it celebrates the awesome time of being pregnant.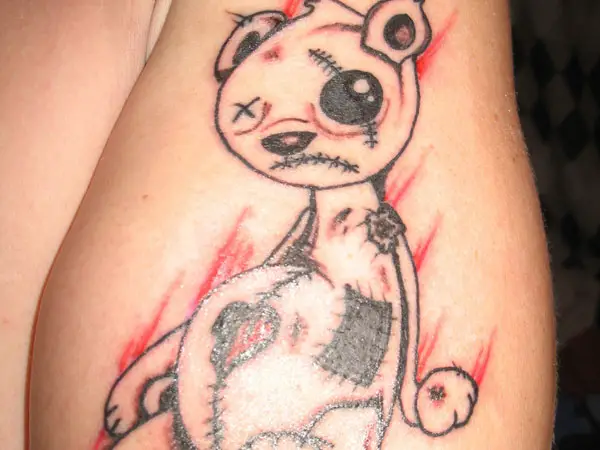 Love Ya Tattoo
This beautiful little teddy bear in purple sits holding a red heart to give to someone special in a love theme tattoo design.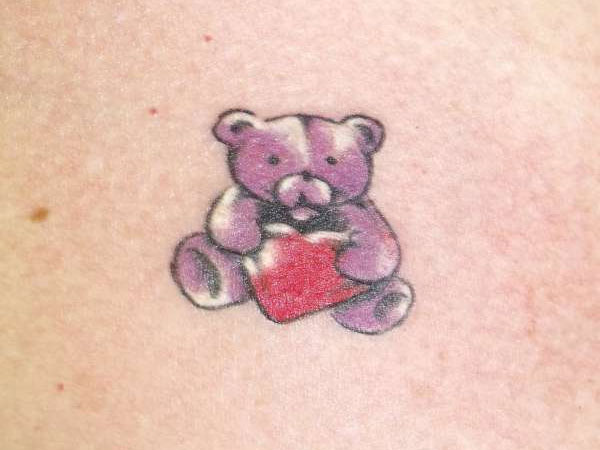 Simply Teddy Bear
Sometimes a simple brown looking teddy bear can make the most awesome tattoo design. Check out the cute round paws and ears.