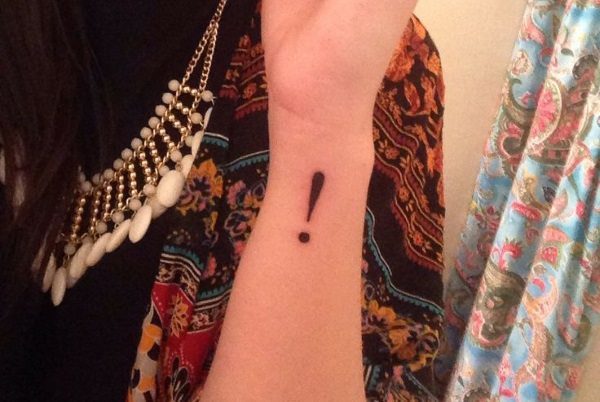 Exclamation mark tattoo designs aren't very mainstream designs. Not everyone goes in search of punctuation tattoos, and some people just want something that not everyone has.
For many, exclamation mark tattoo designs symbolize excitement, enthusiasm, or exhilaration.
These are the perfect tattoo designs for people who have an overwhelming zest for life or are always up for a little adventure. One of the nice things about exclamation mark tattoos is their simple designs and small sizes. Since an exclamation mark tattoo design can be quite small, it can easily be tattooed on any part of the body, including a finger or toe. It can also be tattooed in an inconspicuous, out-of-the way part of the body, if you so desire.
If you're on the lookout for some great exclamation mark tattoo design ideas, look no further, we've rounded up a collection of some great designs!
1. Exclamation Mark Wrist Tattoo Design
Bold exclamation mark tattoo designs fit nicely on the side of the wrist. They can be small enough to conceal here as well.
2. Finger Exclamation Mark Tattoo
If you're looking for small exclamation mark tattoo designs, this finger tattoo might just be exactly what you're looking for. It's small an subtle, but you can make it very noticeable easily, such as by pressing your finger to your lips.
3. Blank Line and Exclamation Mark Tattoo
Some exclamation mark tattoo designs are open to interpretation. This tattoo, or instance, includes a blank line, which can really be anything.
4. Belly Button Exclamation Mark Tattoo
I'm not sure that this is a real tattoo, but it;s definitely one of the more unique exclamation mark tattoo designs I've seen!
5. Semi-colon and Exclamation Mark Tattoo
Pairing an exclamation mark tattoo with a semi-colon tattoo makes a bold statement and an interesting matching tattoo design.
6. Heart and Exclamation Mark Tattoo
Small exclamation mark tattoo designs can also be paired with other little symbols to add more meaning, such as this heart and exclamation mark tattoo.
7. Exclamation and Question Mark Tattoo
Other punctuation marks can also pair nicely with exclamation mark tattoo designs. Like this question mark, for instance.
8. Hybrid Question Mark and Exclamation Mark Tattoo
Or, the question mark and exclamation mark can be melded into one seamless design, for a unique tattoo.
9. Multiple Exclamation Marks Tattoo
I'm thinking that this would be the perfect tattoo for someone who's just really excited about life!
10. Exclamation Mark and Skull Tattoo
Some slightly sinister and badass exclamation mark tattoo designs can also include a skul and crossbones, like this wrist tattoo.