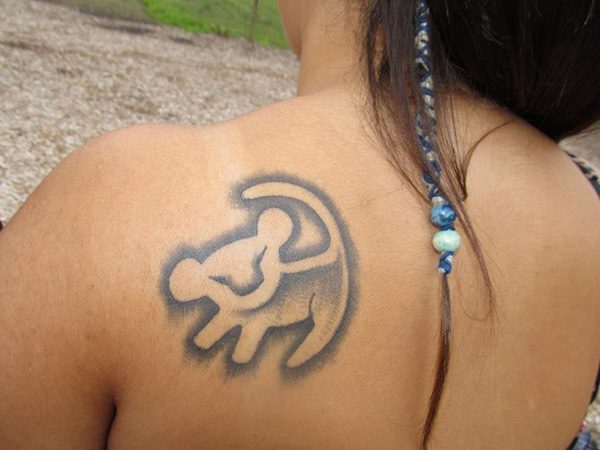 Simba, the Lion King is one of the most adorable Walt Disney characters. Simba epitomizes adventure and fun. He makes mistakes but learns from them. His philosophy of Hakuna Matata, which means "no worries" in the African language of Swahili, gives him a fun-filled life. But when it comes to getting his kingdom back from his demonic uncle, he shows himself as the true King of Kings. His bravery and honesty show themselves in an adverse situation.
Since he is a character loved by everyone in any form, you are bound to like a Lion King tattoo from this lovely collection.
Whenever you think of a lion, you cannot help remembering the movie Lion King. Simba, the protagonist, is the most adorable characters that Walt Disney productions have ever created. As a cub he is carefree and mischievous. As a teenager he is the typical couldn't-care kind of youngster. But as an adult he challenges his cruel uncle and regains his kingdom with bravery. Knowing how much everyone loves Simba, you have a choice of a lovely tattoo of Lion King from this collection. Each one is worth copying. Even the simplest ones of the baby cub Simba look great. In fact those are the most popular ones among all Lion King images.
If you like this article, you might be interested in some of our other articles on Harry Styles Tattoos, Demi Lovato Tattoos, Selena Gomez Tattoos and Justin Bieber Tattoos.
Simple Little Simba
This is a simple little Simba, the Lion King, tattooed to show how much the wearer likes the movie.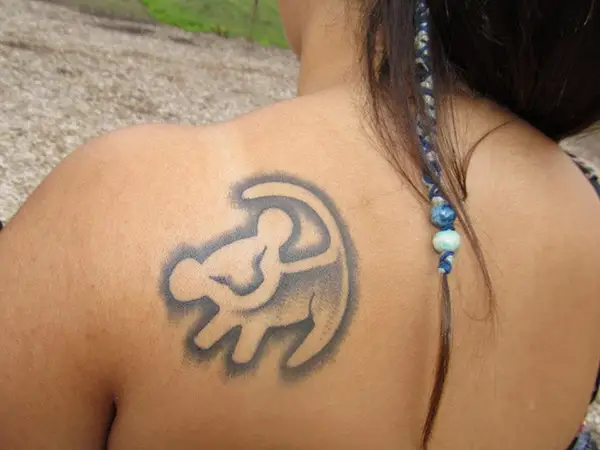 Simple Little Simba
Just A Silhouette
This silhouette like tattoo of the cub Simba, the Lion King looks truly attractive.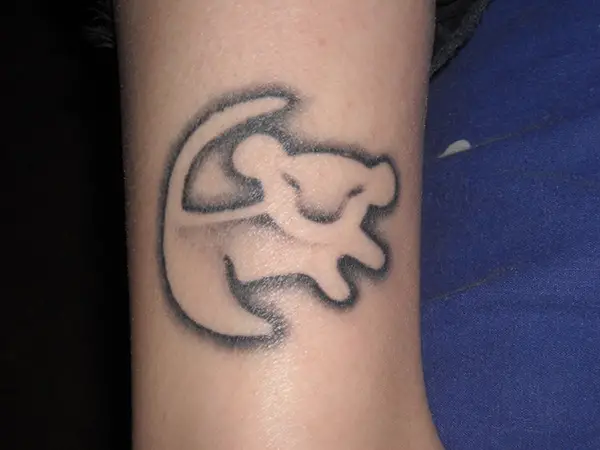 Simba, The Cub
This tattoo epitomizes the design of Simba, the Lion King when he is a cub.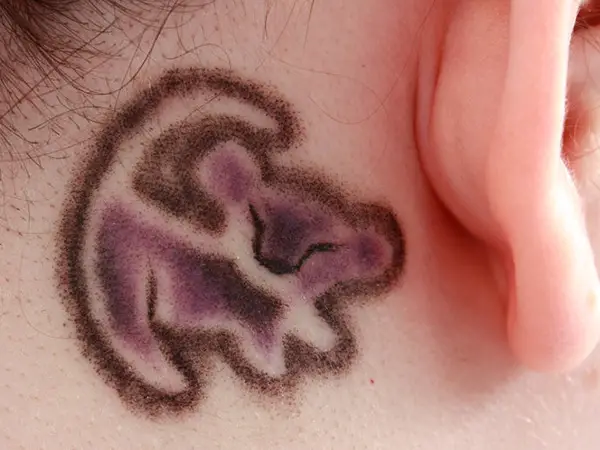 In Full Ceremony
Simba, the Lion King wearing his crown in full ceremony makes a very lovely and artistic tattoo.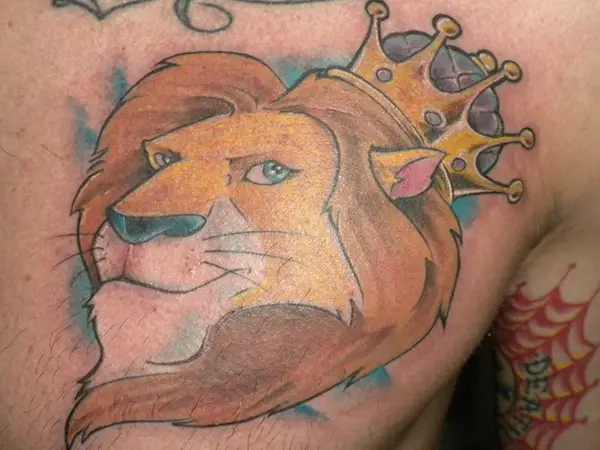 Simple Simba Tattoo
This is one of the simplest tattoos of Simba, The Lion King but is really worth copying.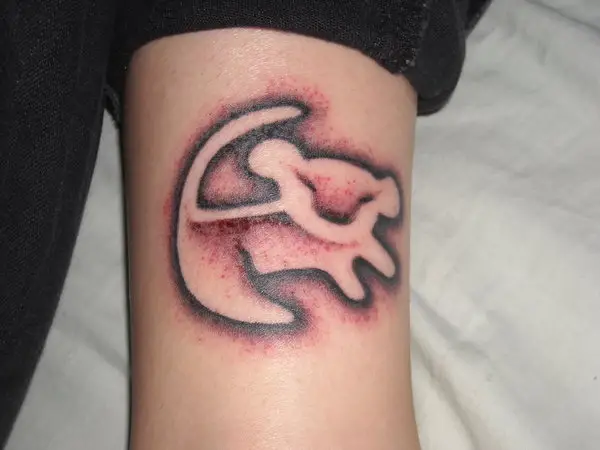 Love Theme
Simba and Nala pose together in a romantic scene in this artistically designed Lion King tattoo.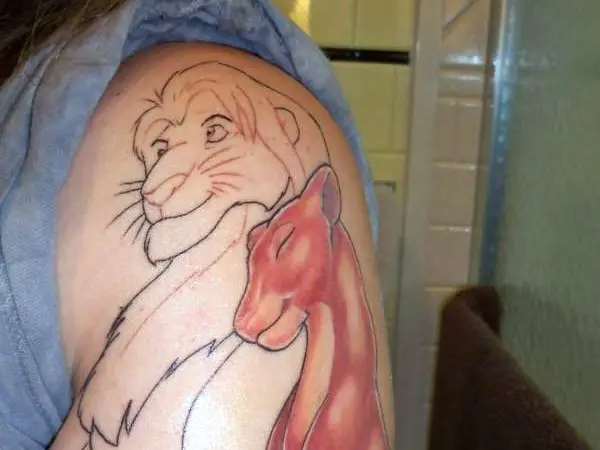 Lion's Crowned Mane
Just the outline of Simba's mane with a crown on top of it symbolizes the Lion King theme in this lovely tattoo.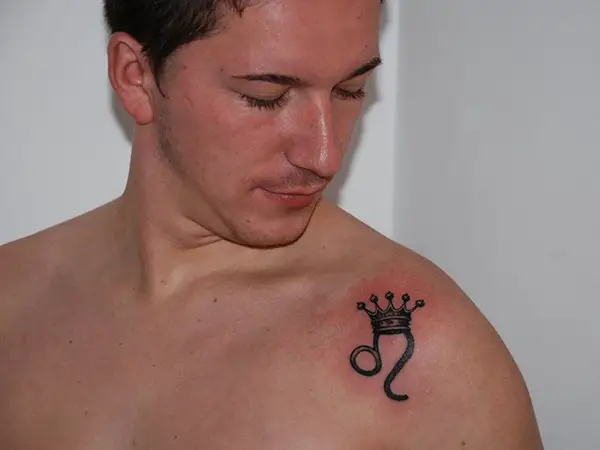 Lion's Crowned Mane
Artistic Lion King
This tattoo is a very ornate and artistic representation of Simba, the Lion King merging with other patterns.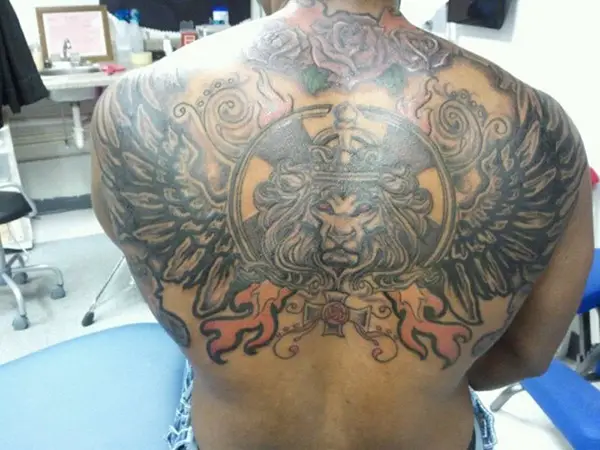 Lion King Cub
The cub Samba looks very cute in this simple yet typical design of the Lion King tattoo.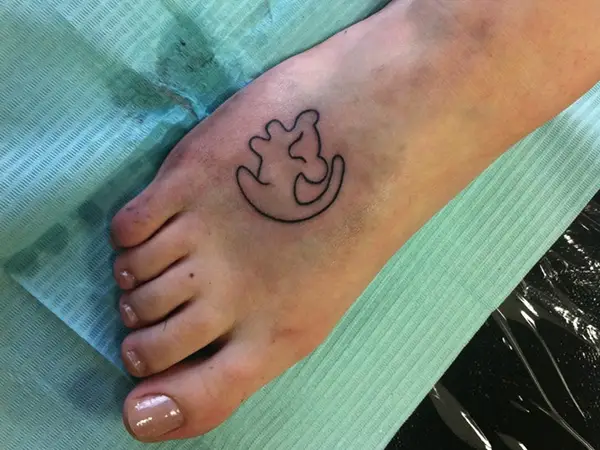 Hakuna Matata
The Swahili phrase meaning "no worries" is a way of life for Simba, Lion King who is tattooed so artistically.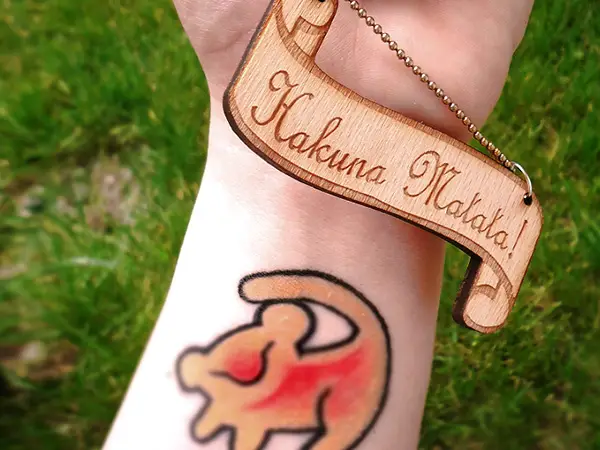 Picture Of Power
The sheer power of a lion can be seen in Simba, the Lion King's expression in this artistic tattoo.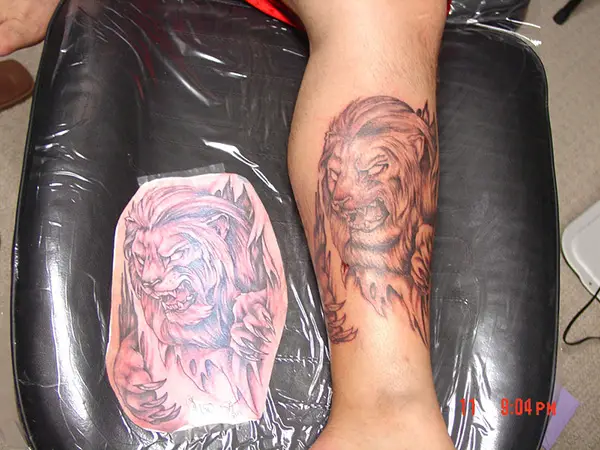 Baby Samba Has No Worries
Samba, the Lion King's sibling has been tattooed very artistically so that it is worth imitating.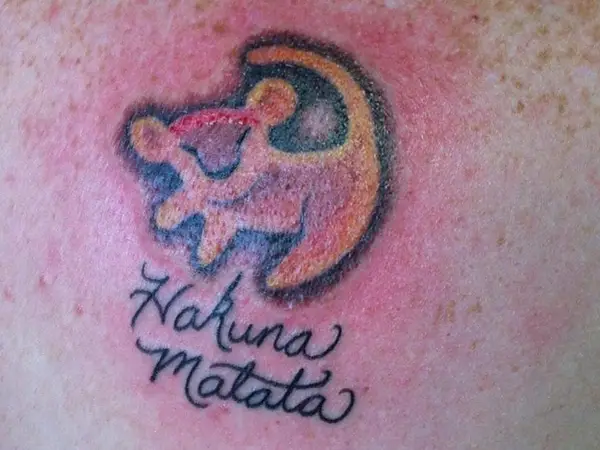 Glorious Lion King
The royal status of Simba, the Lion King with his glorious mane and crown cannot be missed in this tattoo.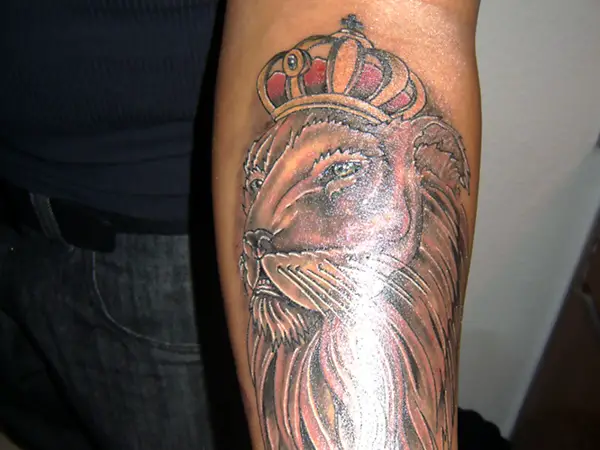 Cub Adventures
The adventurous Simba, the Lion King are tattooed beautifully with the Swahili words that mean no worries.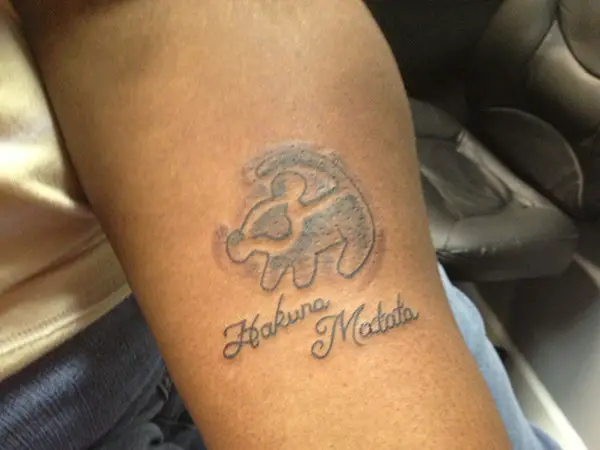 Furry Mane
Simba, the Lion King as a cub with a furry mane makes a very unusual and imaginative tattoo.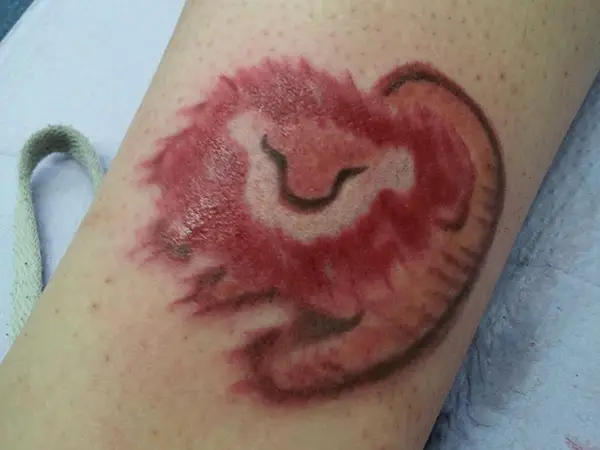 Very Simple Simba
This must be the simplest yet most graphically attractive tattoo of Simba, the Lion King as a cub.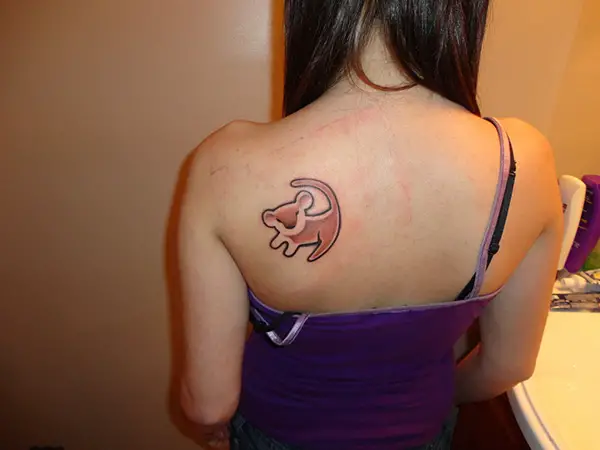 Zodiac Sign Simba
Simba, the Lion King wearing a crown is tattooed very artistically representing the zodiac sign Leo.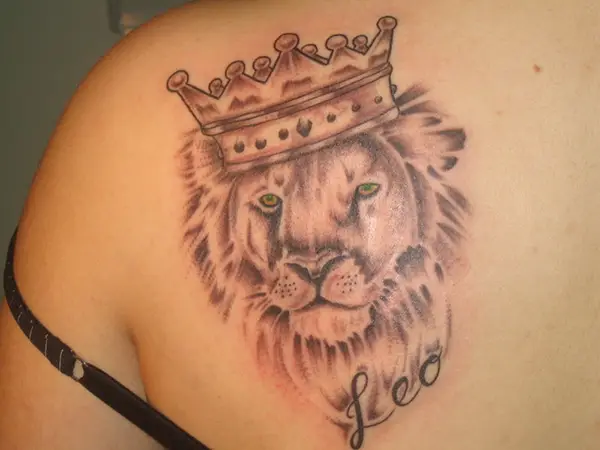 Siblings
Simba, the Lion King is tattooed very artistically with his twin Samba. They look great together.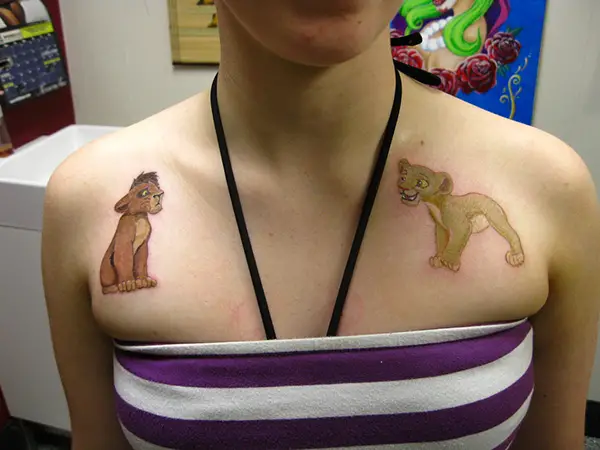 Garlanded Simba
A garlanded Simba, the Lion King, looks very adorable as a cub in this realistic tattoo.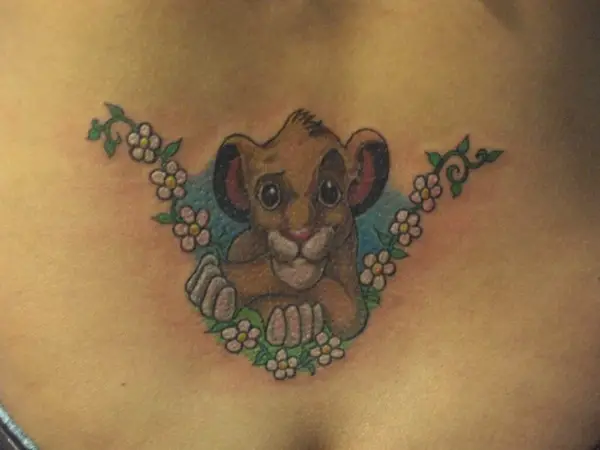 Bright Little Simba
The cute Simba, the Lion King as a cub has been designed in bright yellow and orange making a lovely tattoo.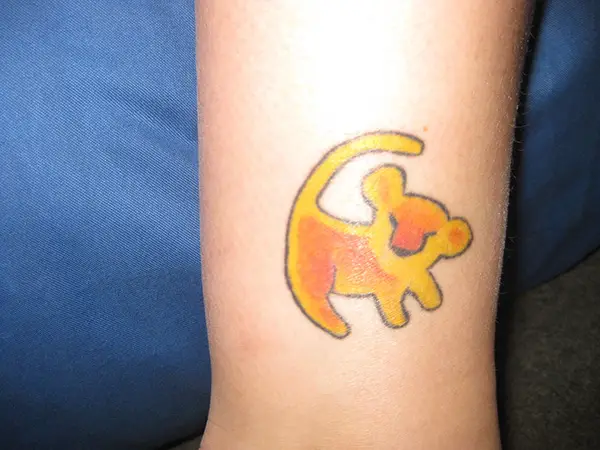 Bright Little Simba
Simba in Repose
Simba watches over his kingdom even in repose in this lovely Lion King tattoo.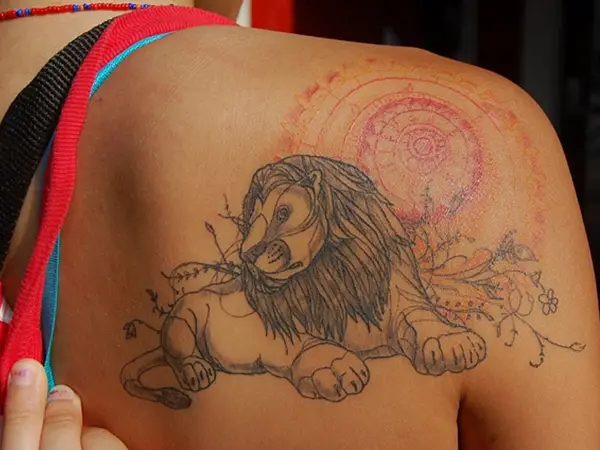 Grey And Red Simba
Simba as a cub looks adorable in this Lion King tattoo in a lovely combination of grey and red.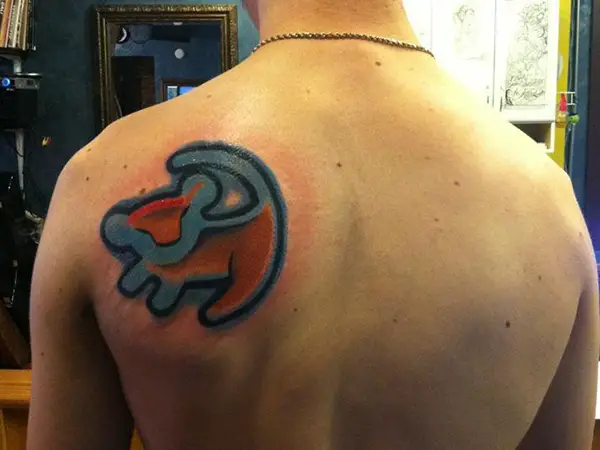 Mischievous Simba
Simba the mischievous cub is playing with a butterfly in this colorful and artistic Lion King tattoo.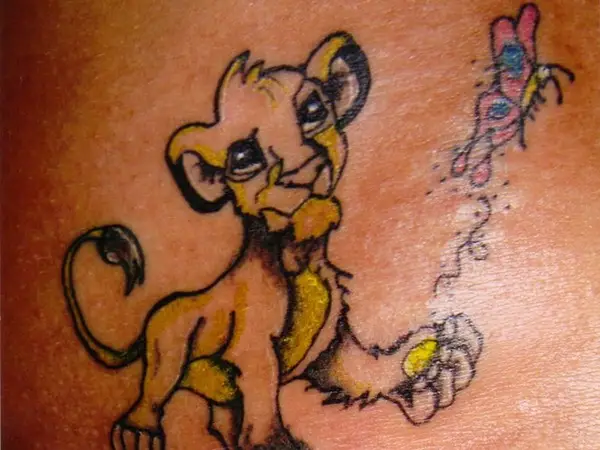 Typical Simba
This design is the typically artistic one of Simba as a cub making it a lovely Lion King tattoo.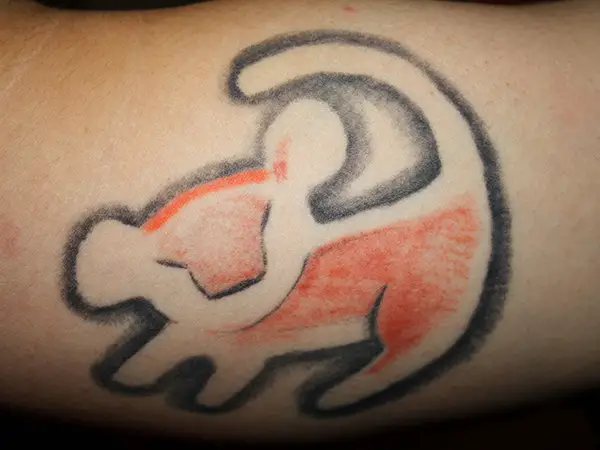 Typical Simba
Just Grey
Black outline and just grey shading may sound simple yet this tattoo of Simba the Lion King looks adorable.