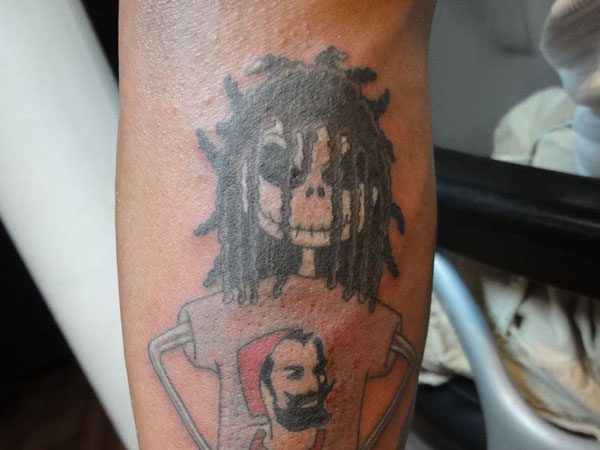 The world of street crime is brutal and fast-faced with many lives lost in gang rivalry. Tattoos often depict the dangerous and ruthless world of street gangs. The designs showcase the exciting and edgy life of gangsters. People, who choose a gangster's life, often get themselves permanently inked with colorful and vibrant designs. Many cover their upper body with tattoos, while some flaunt a stunning tattoo on their biceps. Living on the edge is a common theme depicted in many gangsta tattoos.
Tattoos depicting the life of gangsters range from monochromatic pencil sketch style patterns, to vividly colorful scenes. Many tattoos show urban scenes with a pretty woman often featuring as a part of the design. Tattoos inked by gangsters frequently play with the themes of life and death. In the uncertain life of the gangster, a skull tattoo stands as a permanent reminder of death. Skull tattoos for gangsters often have a fun element. Many tattoos show skeletons wearing formal suits and posing with a cigar in the mouth. The skull is inked with lush red roses, in many gangsta tattoo designs. The tattoo designs also show the many firearms used by gangsters, such as pistols, revolvers, and guns.
If you like this article, you might be interested in some of our other articles on Flame Tattoos, Hibiscus Tattoos, Capricorn Tattoos and Buddha Tattoos.
Kid Skull Tattoo
The skull-faced kid with short dreadlocks wears a casual tee. The big black eye hollows are expressive.
Clown 187 Tat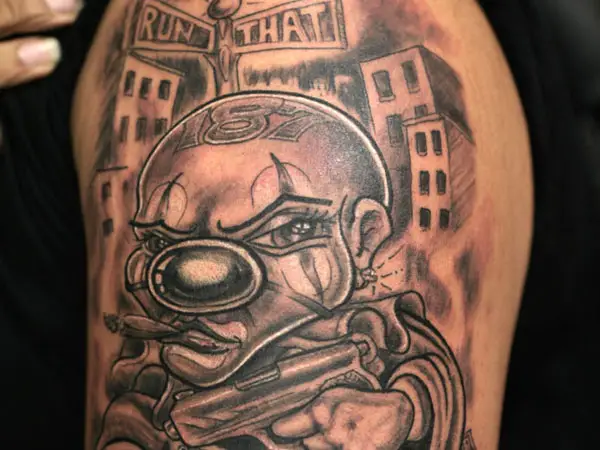 The clown sports a head tattoo showing the number 187. He holds a gun in one hand.
Gangsta Sweetheart Tat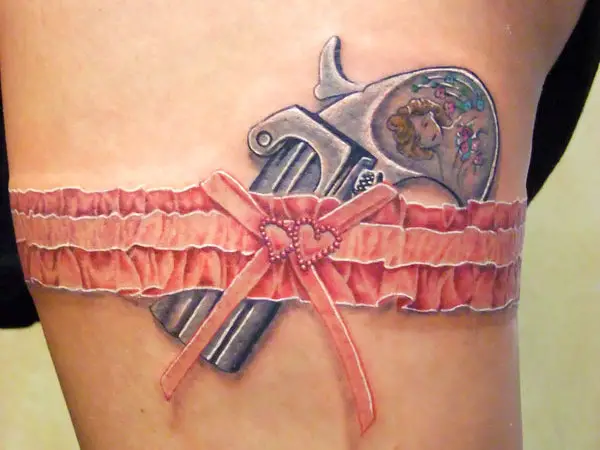 A pistol displays the face of a woman. The pistol is tucked into a cloth strip decorated with two hearts.
Shooter Smoky Tattoo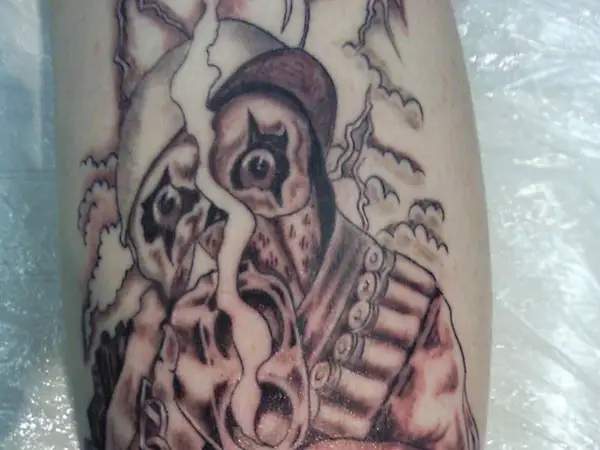 A narrow column of smoke rises from the gun, in this tattoo showing a shooter.
Bandaged Skull Tattoo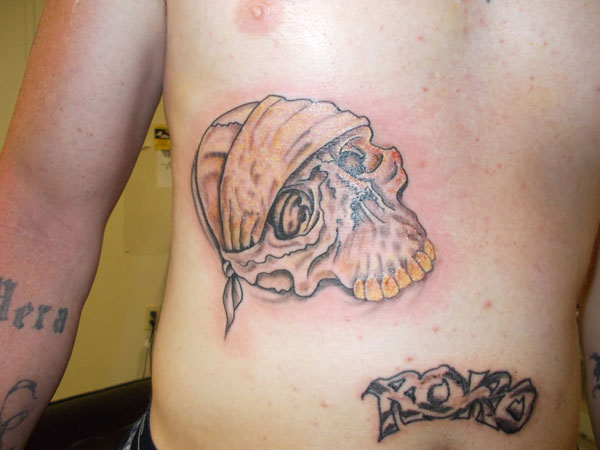 The skull has a broad yellow cloth bandage on its head, in this gangsta tattoo.
Portraits Tattoo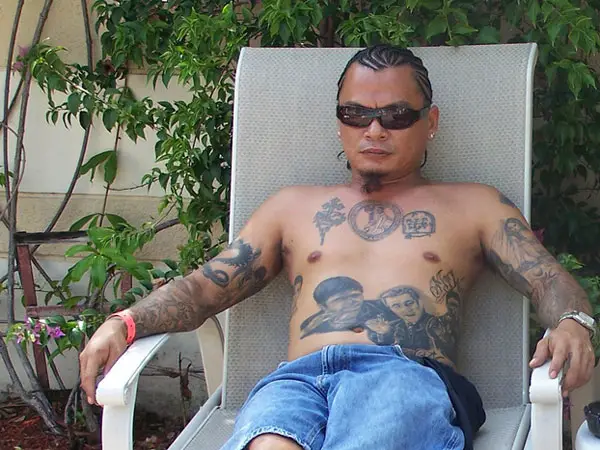 Delicately shaded portraits are the key theme of the body art, in this picture.
Ornate Pistol Tattoo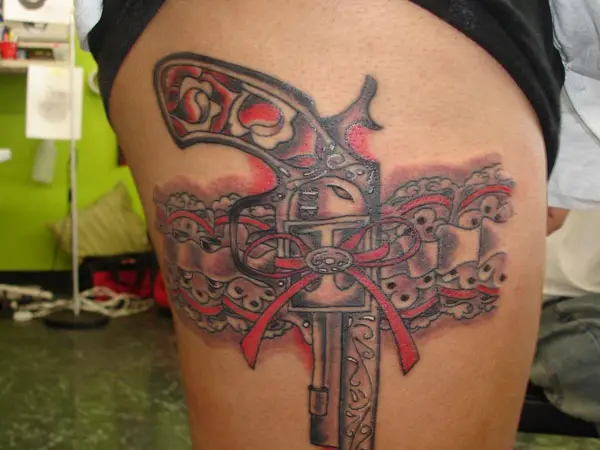 The pistol is designed with delicate carvings, in this red and black tattoo.
M Watching You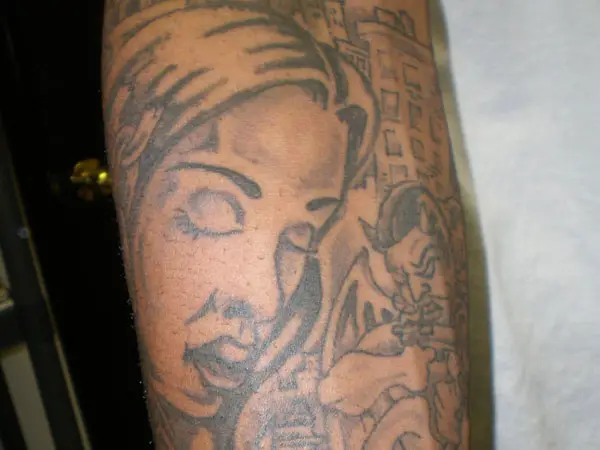 The devil has his eyes on a lady, in this imaginatively inked city scene.
Gangsta Prayer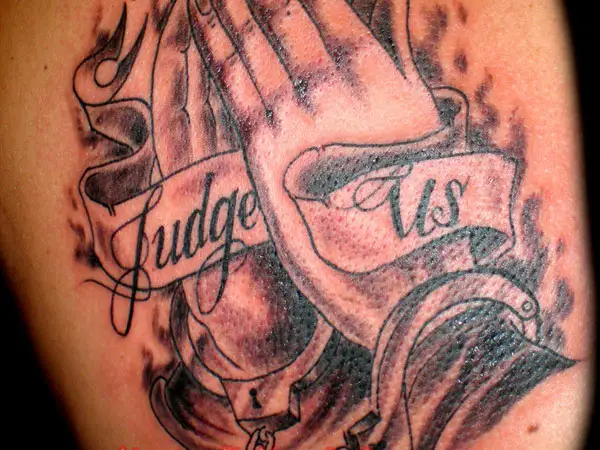 The handcuffed hands are inked in a praying gesture, in this gangsta tattoo.
Big Gun Blazing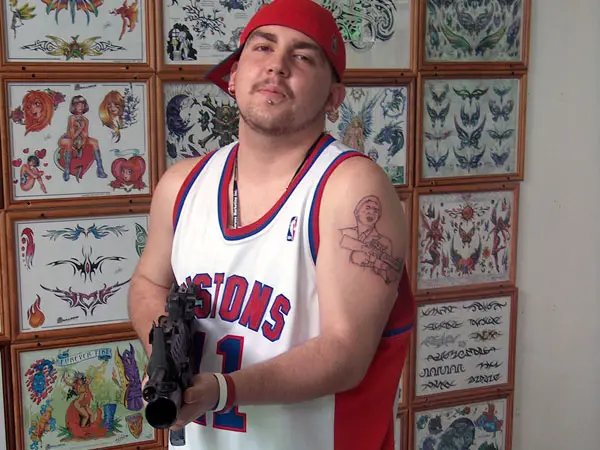 A man holding a big gun makes up this pencil sketch style forearm tattoo.
Gangsta Games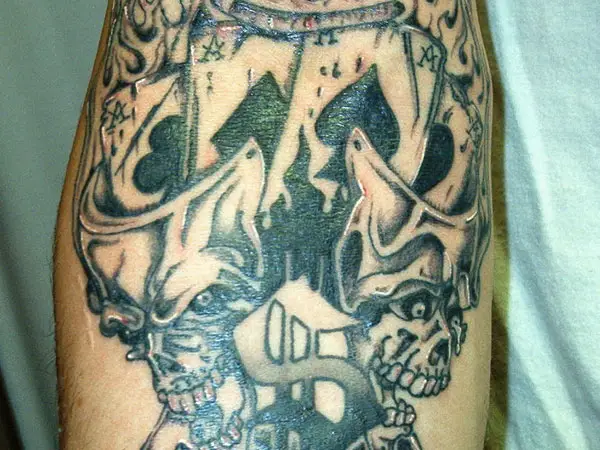 The playing cards and skulls make a stunning combination, in this gangsta tattoo.
Roses Gangsta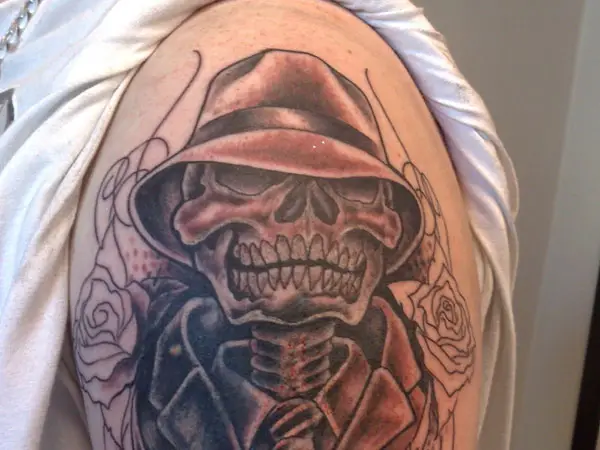 The grinning skeleton is dressed in a formal hat and suit. Roses frame the figure.
Gunman Tattoo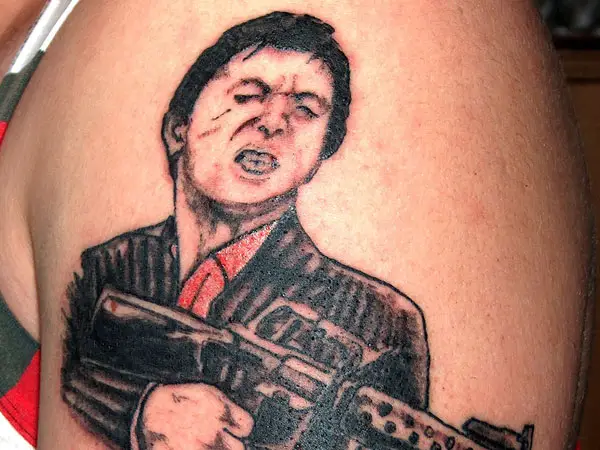 The suited man holding the big gun has a sinister expression. The red shirt strikingly contrasts with the black tones used in the design.
Pistols Pair Tattoo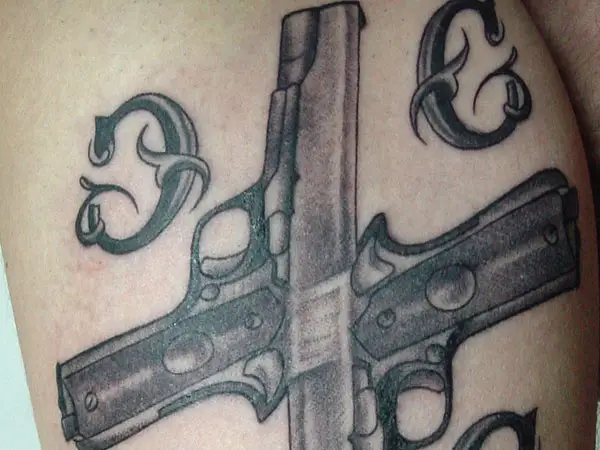 A pair of pistols is kept side by side, in this pencil sketch style tattoo.
Gangsta Up In Smoke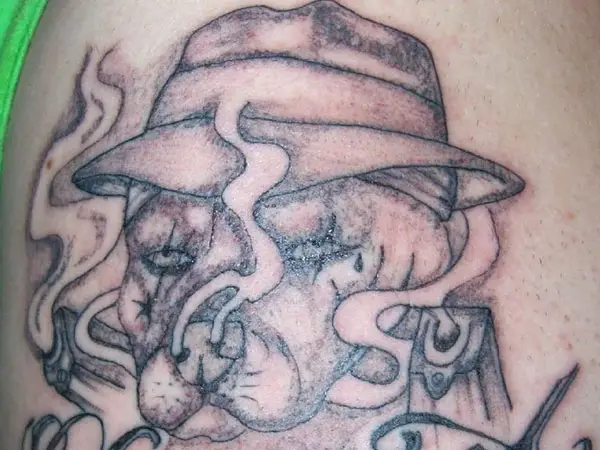 Smoke rises from the nostrils in two columns, in this gangsta tattoo.
Gangsta Sketchy Body Art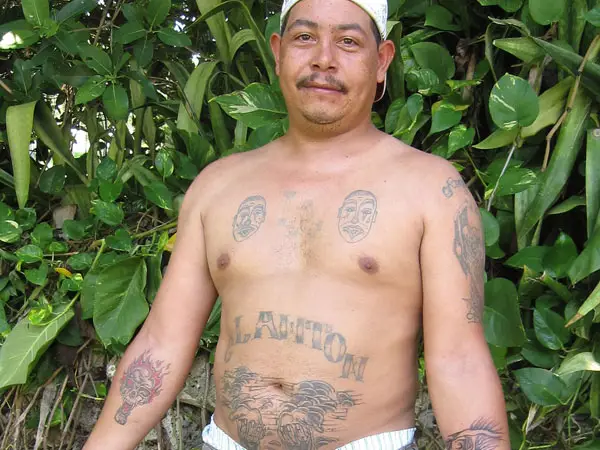 The man's body is covered with delicately shaded tattoos showing faces, text, and patterns.
Gangsta City Tattoo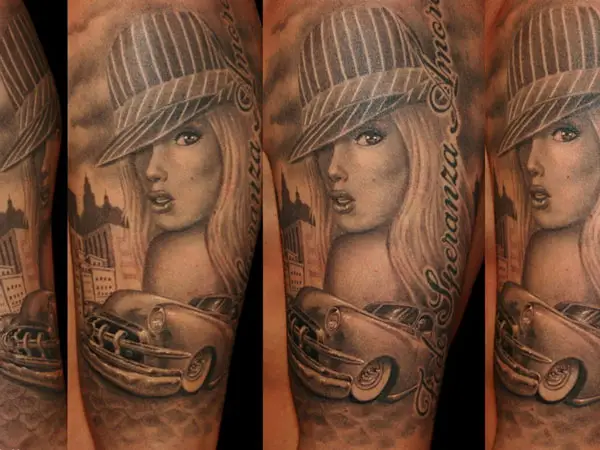 The realistically shaded tattoo shows a sexy woman, a car, and city buildings.
Gangsta Gamble Tattoo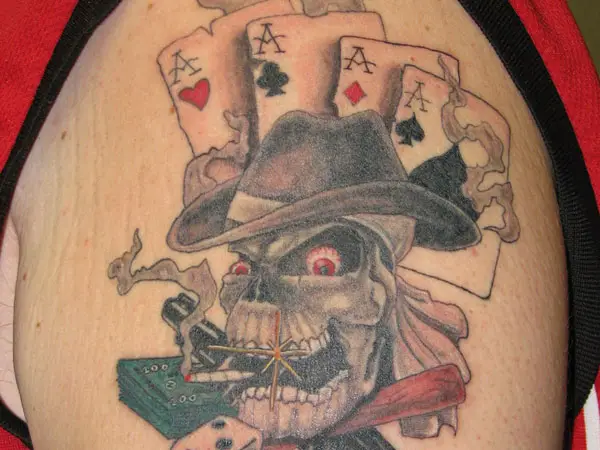 The skeleton has a cigar in his mouth. His eyes are bloodshot, and playing cards frame his figure.
Dollar Notes Revolver Tattoo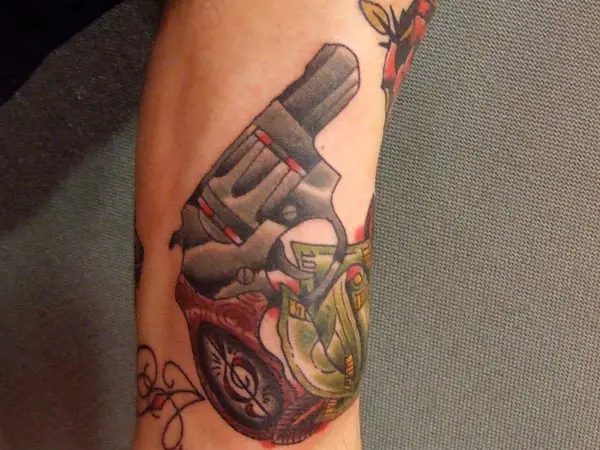 A portion of the revolver is drawn in the shape of colorful dollar notes.
Gangsta Sketch Tattoo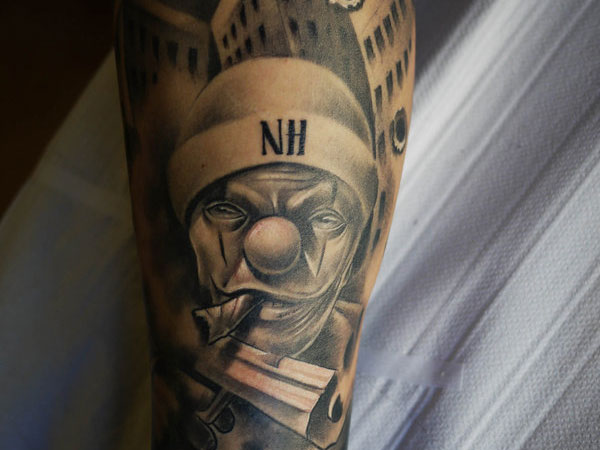 The pencil sketch style gives an arty look to the clown, in this gangsta tattoo.
Bandana Skull Tat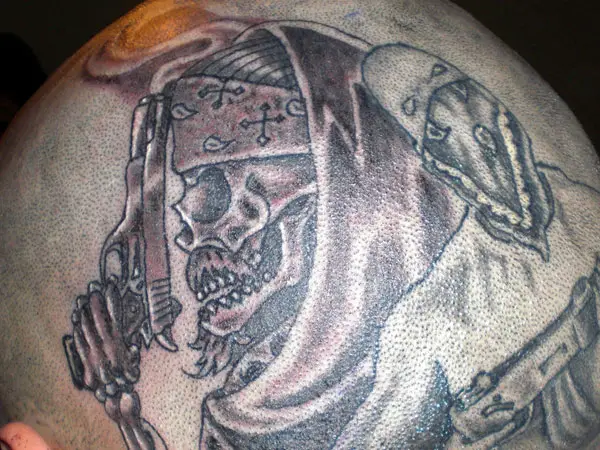 This skeleton wears a fashionable bandana as he holds a gun to his head.
Gangsta Live Fast Tat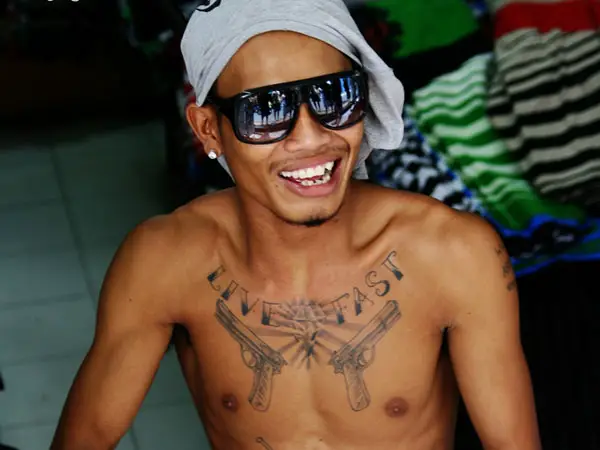 Two pistols frame the text 'Live Fast', in this symmetrical tattoo.
Pistol Snake Tat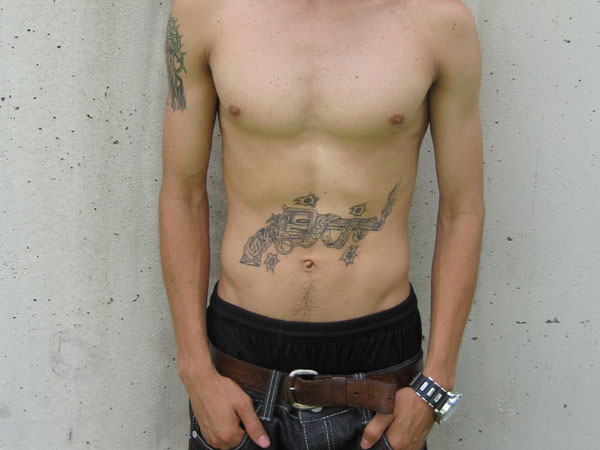 A snake coils along the body of the pistol, in this stomach tattoo.
Pistols Bleeding Rose Tat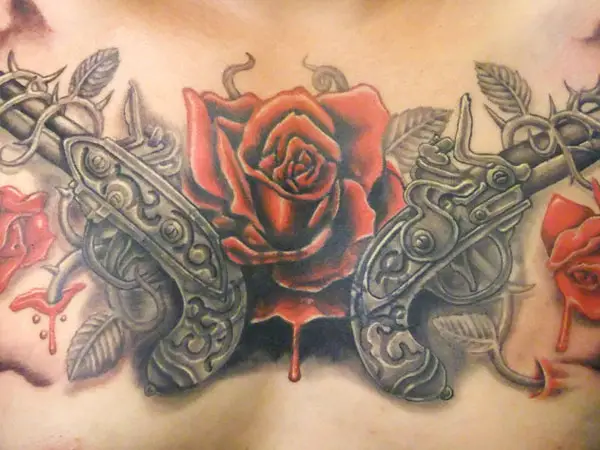 Richly carved pistols frame a lush red rose, in this symmetrical tattoo design.
Pistols Bleeding Rose Tat
Clown Face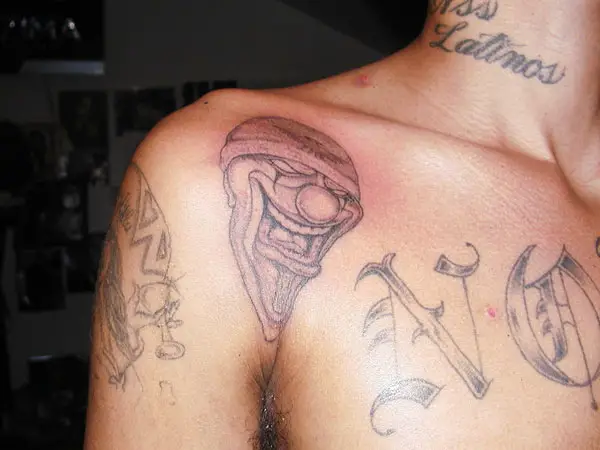 A sinister looking clown is inked above the armpit, in this gangsta tattoo.
Scarf Gangsta Face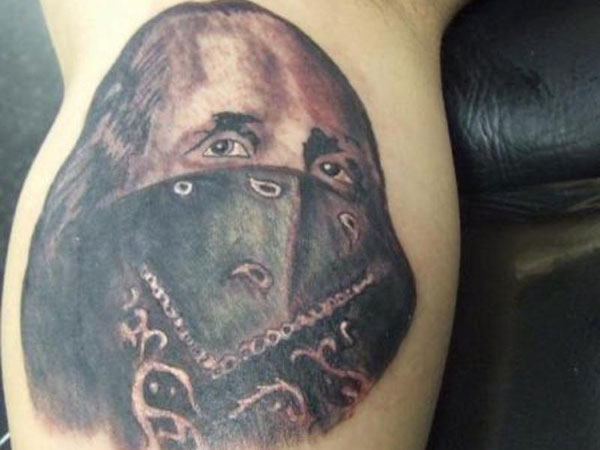 A patterned scarf hides the mouth of the man, in this realistically shaded tattoo.