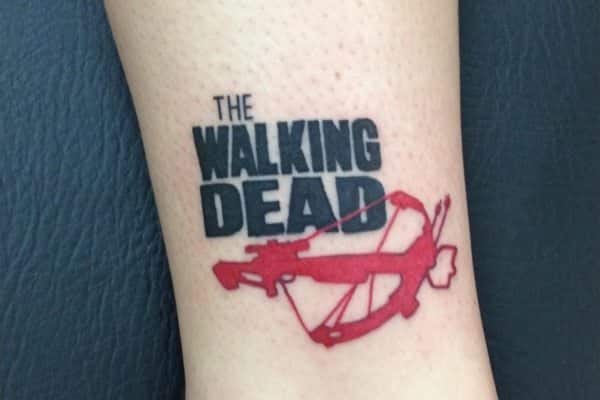 The Walking Dead is one of the most popular shows on television right now. Even those who don't normally get into zombie shows and movies still tune in every season to find out the fates of their favorite characters. Hard core fans may even consider getting Walking Dead tattoos!
Walking Dead tattoos can include any aspect of the show. Some people are happy with a simple logo or quote from the show. Other popular Walking Dead tattoos include portraits of the show's characters. Weapons and, of course, "walkers" also make for some interesting and unique Walking Dead tattoo designs!
If you're looking for a little inspiration for your own Walking dead tattoo, take a look at these awesome designs…
1. Simple Walking Dead Tattoo
Some of the best Walking Dead tattoos are the simplest. This tattoo is nothing more than the Walking Dead logo in black and a red crossbow, but it's still pretty powerful!
2. Tools of the Trade Tattoo
Here's another one of these simple Walking Dead tattoos that only true fans will get. This tattoo features some of the main characters' tools of the trade and weapons of choice.
3. Daryl Dixon Tattoo
You didn't think we'd have a list of Walking Dead tattoos without Daryl Dixon, now did you? He is after all, one of the show's most popular characters!
4. Hunting Daryl Dixon Tattoo
It's not difficult to see why all the young ladies will riot if Daryl dies. Even if he is looking a bit scruffy these days…
5. Daryl Dixon Wings Walking Dead Tattoos
Here's a cute pair of Daryl Dixon wing tattoos for the ladies on Team Daryl looking for some Walking Dead tattoos!
6. Crossbow and Wings Tattoo
This Crossbow and wings tattoo might be more for Daryl Dixon fans, but it's still a great Walking Dead tattoo design!
7. Rick Grimes Tattoo
For the Rick Grimes fans, this Walking Dead portrait tattoo should be enough to make you swoon!
8. Scruffy Rick Grimes Tattoo
Or, if you prefer Sheriff Grimes when he's a little worse for the wear, a darker portrait might be a better option.
9. Carol Walking Dead Tattoo
Love her or hate her, Carol is still a main character in the show. Carol fans can appreciate the amazing detail that went into this portrait tattoo!
10. Michonne Tattoo Design
A tattoo portrait of Michonne, everyone's favorite ornery samurai sword wielding walker killer, makes for an amazing piece of body art!
11. The Governor Walking Dead Tattoo
Ah, The Governor… Another love him or hate him character. As evil as he could be, you have to admit that the guy makes an awesome Walking Dead tattoo!
12. Penny Walking Dead Tattoo
And, we can't forge The Governor's daughter Penny in a list of Walking Dead tattoos, now can we?
13. Gruesome Walker Tattoo
This tattoo might be a little gruesome and macabre for some, but a walker tattoo must be included in this list!
14. Bury the Ones We Love Tattoo
Quotes from the show would make awesome Walking Dead tattoos!
15. Fear the Living Tattoo
"Fight the dead, fear the living." It's the whole idea behind this show, and this Walking Dead tattoo design gets that idea cross beautifully…