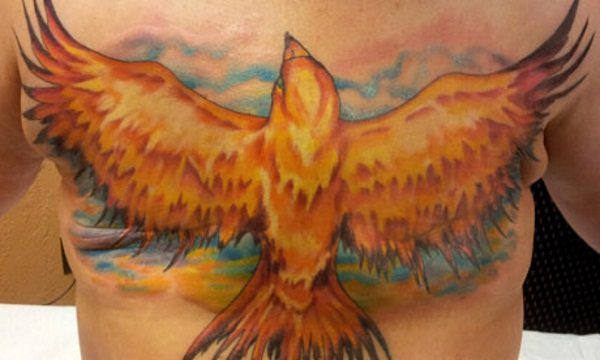 Mastectomy tattoos are becoming more and more common among breast cancer survivors these days. Many women are opting to skip the reconstructive surgery and choose a tattoo to cover mastectomy scars instead.
There's a pretty good reason that mastectomy scar tattoos are becoming so common—they're gorgeous and symbolic! Many mastectomy tattoo designs are very well thought out and undertaken by talented and experienced tattoo artists. The fact that a woman gets a tattoo after a mastectomy in the first place is meaningful enough. But, breast cancer survivors usually choose a subject that's truly personal and symbolic of their own fight, making he tattoos even more meaningful.
Take a look at some of these breathtaking examples of amazing mastectomy tattoo designs!
1. Phoenix Mastectomy Tattoo
The mythical Phoenix seems like the perfect subject for mastectomy tattoos. This legendary bird rises from its own ashes after it's demise, which is a concept that nearly any cancer survivor can relate to.
2. Cherry Blossom Mastectomy Tattoo
Cherry blossoms are not only beautiful, but they may also hold a meaningful symbolism for women with double mastectomies. These feminine pink blossoms are often seen as symbols of good luck, renewal, and life.
3. Daffodil Mastectomy Tattoo
Daffodils are sold by the American Cancer Society to raise money for cancer research, making them fantastic options for mastectomy tattoos! The addition of the word "Life" worked into the green stems of the flowers is just the icing on the cake here.
4. Morning Glory Mastectomy Tattoo
Vines and morning glory flowers are another gorgeous option for flower mastectomy tattoos! A red cross intertwined in this design is a nice affirmation of the faith needed to get through such a difficult situation.
5. Full Lace Corset Mastectomy Tattoo
Feeling beautiful again after a double mastectomy can be pretty difficult. But, a permanent black lace corset can make a lady feel feminine, sexy, and powerful again!
6. Skeleton Lizard Mastectomy Scar Tattoo
A lizard skeleton tattoo design fits perfectly over this mastectomy scar, which helps camouflage it somewhat. It may not be super girly or feminine, but it's definitely pretty wicked!
7. Lotus Flower Mastectomy Tattoo
Lotus flowers represent peace, tranquility, and good health. The fact that they're also strikingly beautiful is also a huge plus when using them in mastectomy tattoos!
8. Peacock Mastectomy Tattoo
It's not uncommon for women to lose confidence and pride in their appearance after a mastectomy. However, mastectomy tattoos like this gorgeous colorful peacock make feeling proud of one's body a little easier again!
9. Owl Mastectomy Tattoo
Mastectomy tattoos are definitely works of art in their own right. This barn owl tattoo covering a double mastectomy, though, is a simply breathtaking and moving piece of art by itself.
10. Celtic Bra Mastectomy Tattoo
An intricate and detailed Celtic, forest, and flower tattoo design makes an amazing and stunning mastectomy tattoo! It even wraps around the back, making it appear to be a bra or short top.
Getting a mastectomy tattoo is not a decision to be made lightly. If you choose to go down this road, take time to choose a meaningful symbol, word, or scene for your tattoo. Most importantly, however, be sure to do your research and choose a capable tattoo artist. car tissue is often a little more difficult to tattoo than healthy skin, and an experienced tattoo artist's touch is often required for stunning results.