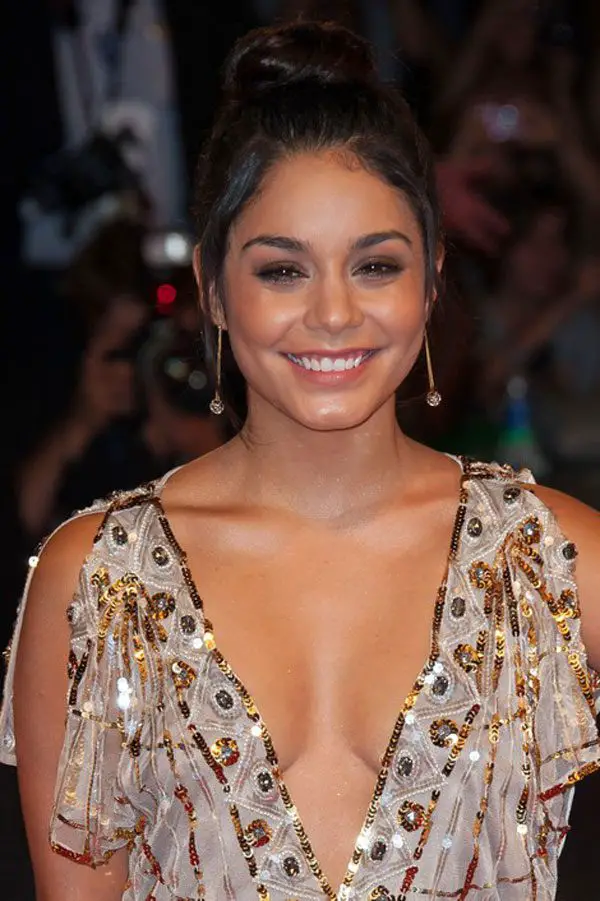 Stylish and chic Vanessa Hudgens is known for her cool and colorful outfits that go well with her long black hairstyle. She usually loves keeping her hair long and open with a touch of layers on the sides defining her face. You can also see Vanessa Hudgens Pictures in which she has hair put up in a formal updo with a few loose hair strands making for a trendy style statement. This beautiful girl loves her danglers so you can see her sporting pretty jewels in her ears in many of her pictures.
Vanessa loves warm and bright colors, and shades of orange and hot pink go really well with her vibrant, outgoing personality. Young and fresh-faced Vanessa also has a huge fondness for bling, so you get to see touches of gold and silver often on her dress, or in her earrings. Vanessa has an eye for interesting jewelry. You can catch her wearing pretty necklaces in metal, or perhaps a small pendant in an intricate tribal design. Whatever the outfit this young American actress wears she has plenty of cool accessories to carry off the look. You can see Vanessa Hudgens wallpapers showing the young actress in a jacket and hotpants,or dressed up and girly in a lacey peasant top. Hats look cool as they sit low on Vanessa's forehead, and she also covers her wrists with jangly metal bracelets. Colors, shimmer, and casual dresses are what she loves wearing when she is in the mood to be a bit dressy. Check out these fun stylish pictures of Vanessa Hudgens.
If you like this article, you might be interested in some of our other articles on Halle Berry Pictures, Lady Gaga Pictures, Jennifer Aniston Pictures and Kate Beckinsale Pictures.
Vanessa Hudgens Bling
A white and gold blingy deep-cut top looks really gorgeous on Vanessa Hudgens as she dazzles with her smile in this picture.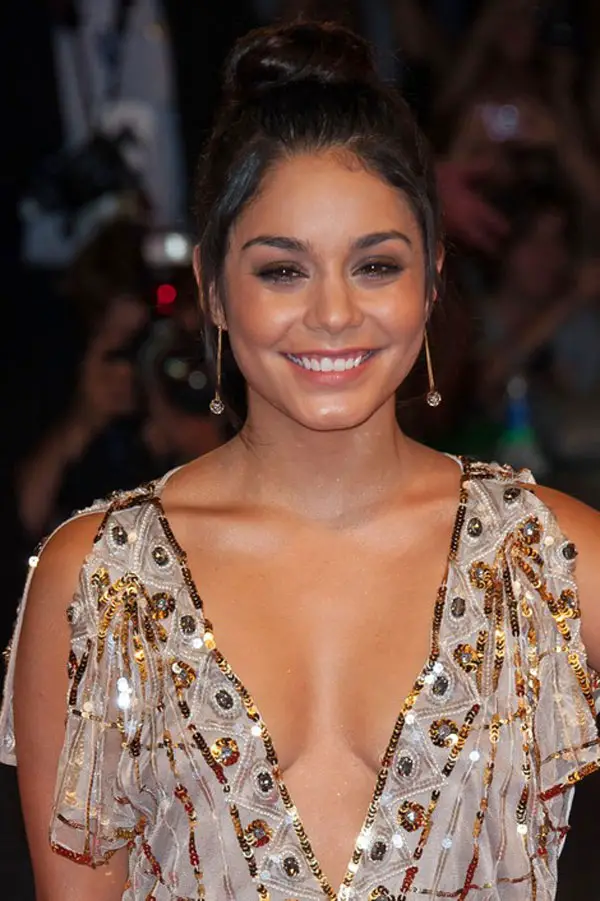 Formal Vanessa Picture
Vanessa pairs her solid blue shaded gown with a pretty collection of necklaces in metal in this formal picture.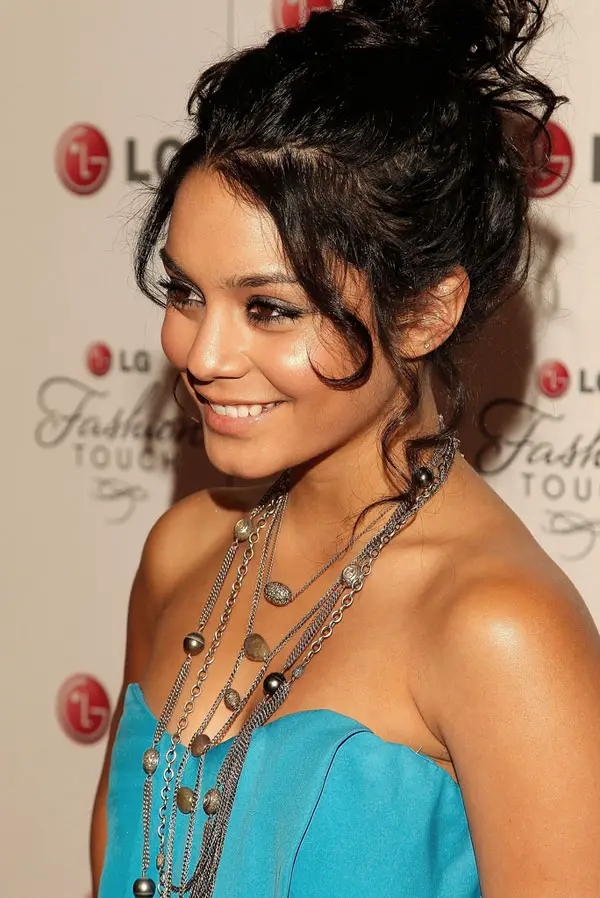 Vanessa Public Picture
With her long hair tumbling down her shoulder Vanessa carries off the white dress with thin straps really well.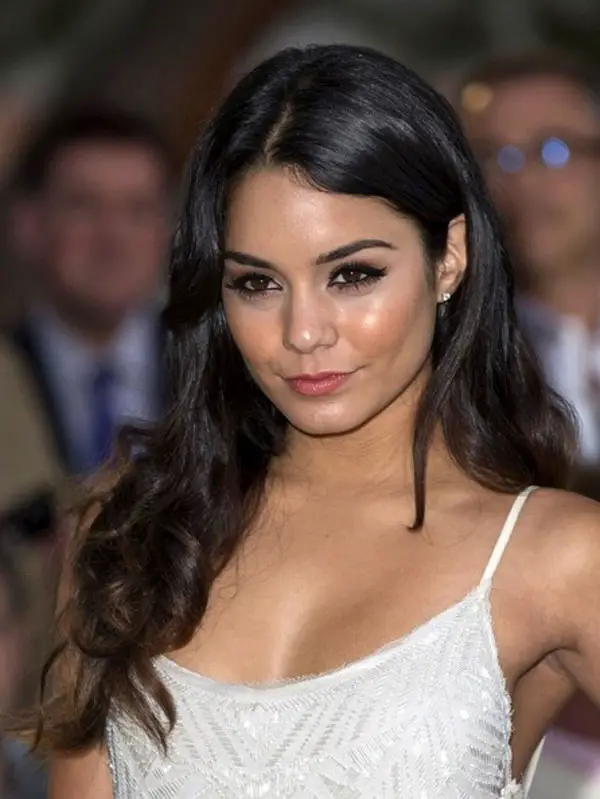 Beautiful Vanessa
This beautiful girl sure loves her bling. Check out the assortment of cute bangles and bracelets Vanessa wears in this picture.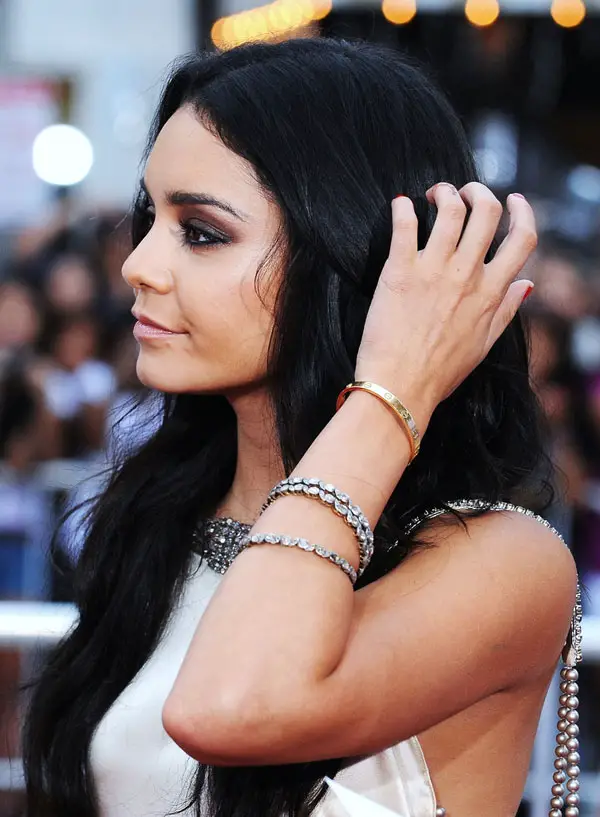 Vanessa Outdoor Picture
Dressed in a cute red sleeveless tee and hotpants Vanessa looks sporty and lean as you see her out on the street.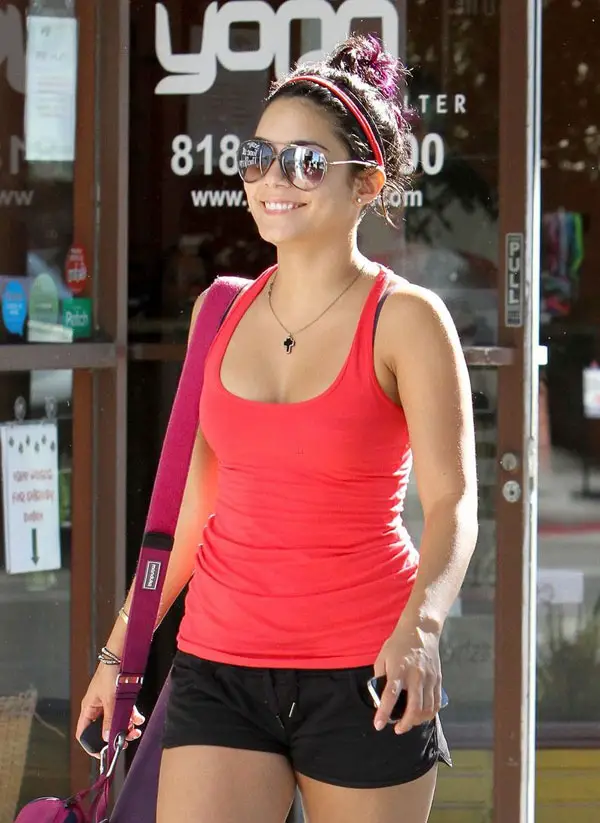 Vanessa Long Hairstyle
Vanessa gets all colorful in a pretty pink top with a shimmering jacket in this picture. Check out the tribal motif pendant at her neck.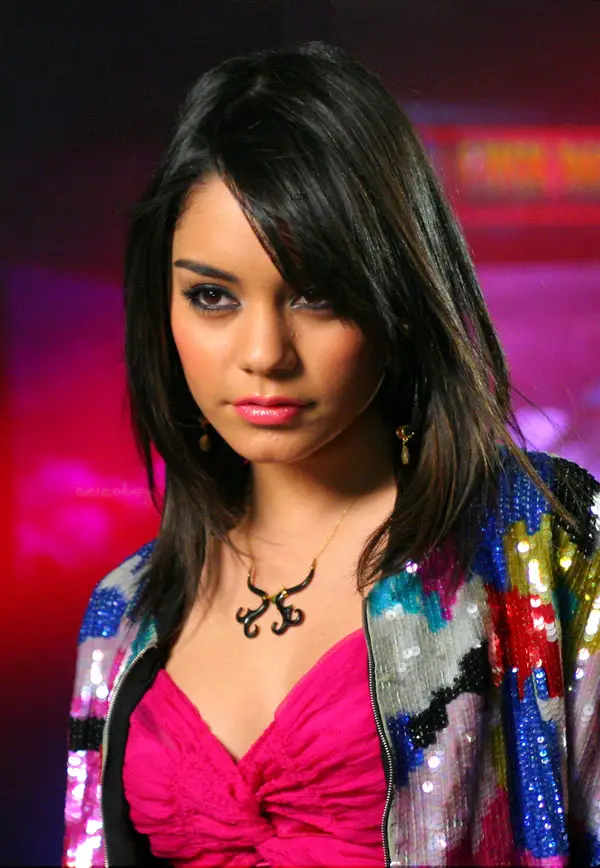 Ponytail Vanessa
This photo of Vanessa Hudgens in hotpants and a black jacket is sizzling enough to make a great wallpaper.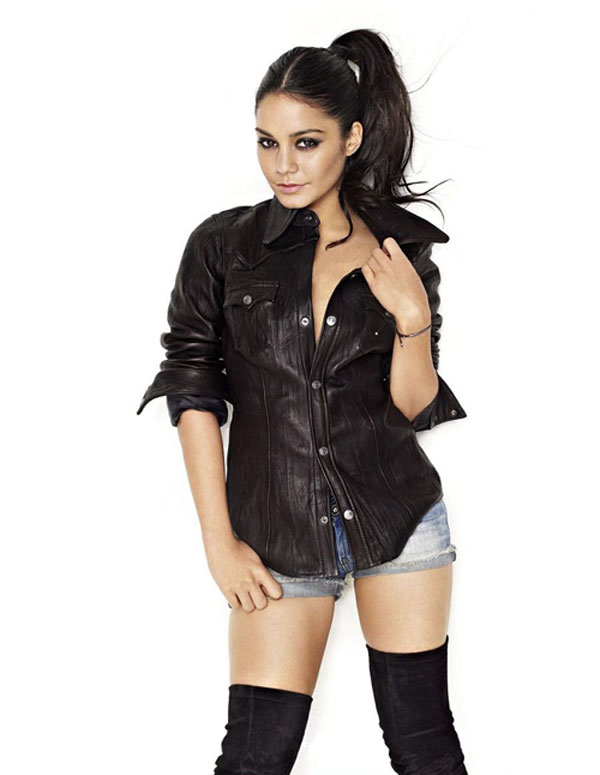 Black Hairstyle Vanessa
Check out the touches of stylish gold bling in Vanessa's hooped earrings and halterneck style outfit in this pretty photo.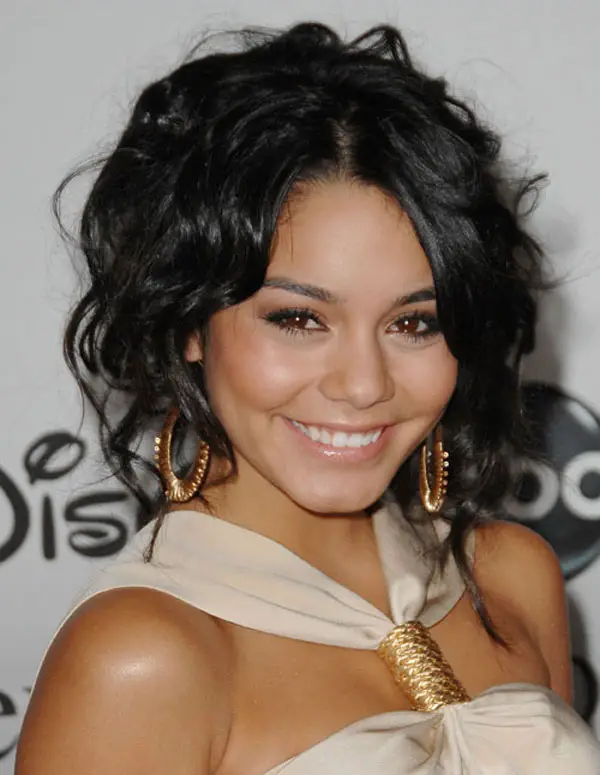 Vanessa Wavy Hairstyle
The silver strapped high heels show off Vanessa Hudgen's long legs to perfection as she poses with a hand on her hip.

Gorgeous Vanessa Picture
You can see Vanessa showing off her beautiful toned back in this stylish backless white gown done up with silver metallic straps.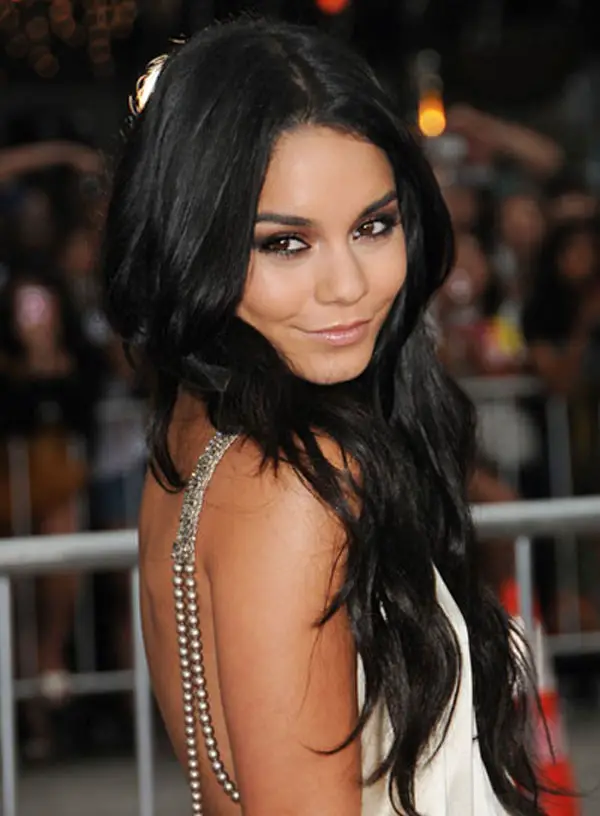 Vanessa Fun Picture
Posing with a white ice-cream cone topped with colorful sparkles Vanessa seems to be really enjoying herself in this cute picture.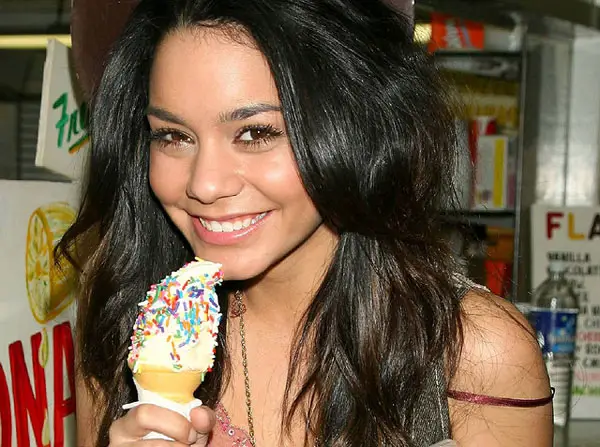 Vanessa Sunny Picture
Vanessa shows off her feminine side in this pretty black sleeveless top worn under a white woven upperwear. Note the black rose motifs in the strap of the top.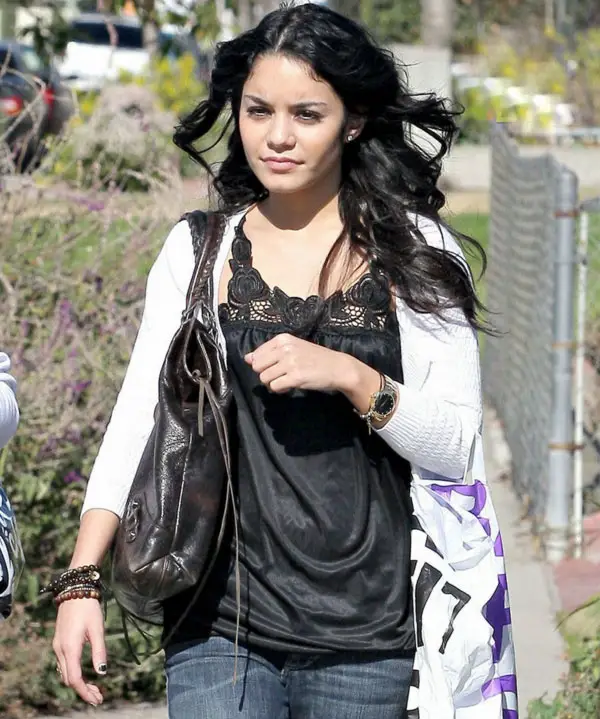 Pretty Vanessa Picture
Vanessa Hudgens carries her winter look with style. Check out her soft woollen gray cardigan patterned with black and white in this picture.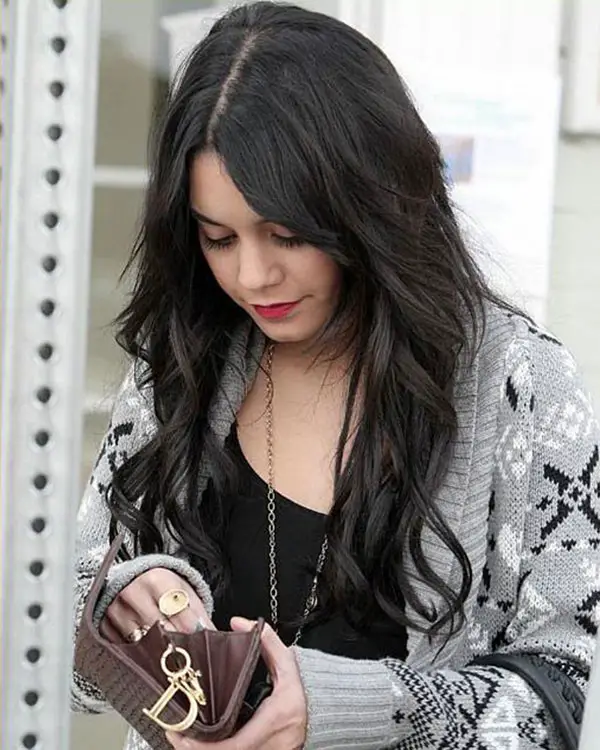 Butterfly Ring Picture
A pretty dark brown butterfly ring sits large and shining on Vanessa's hand as she makes a pose for a closeup picture.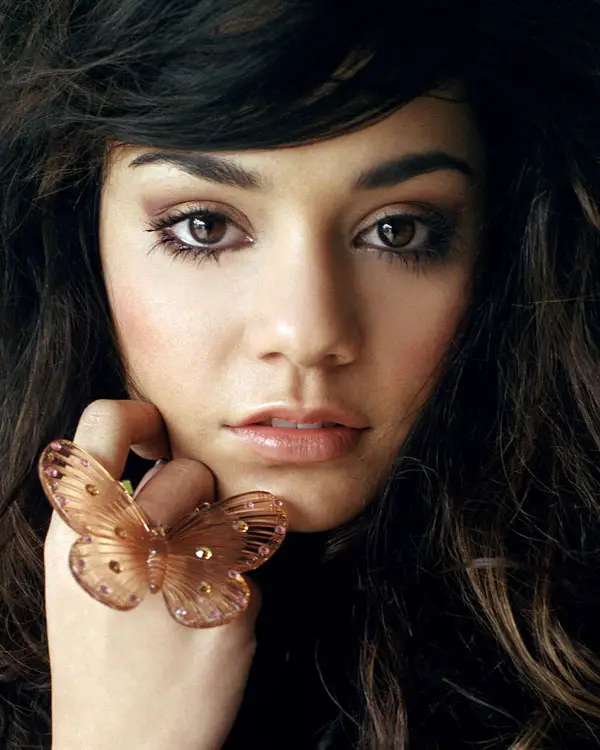 Vanessa Colored Hair Picture
Vanessa Hudgens loves experimenting with her looks. Here you see her with her hair down and a touch of pink hair color adding excitement.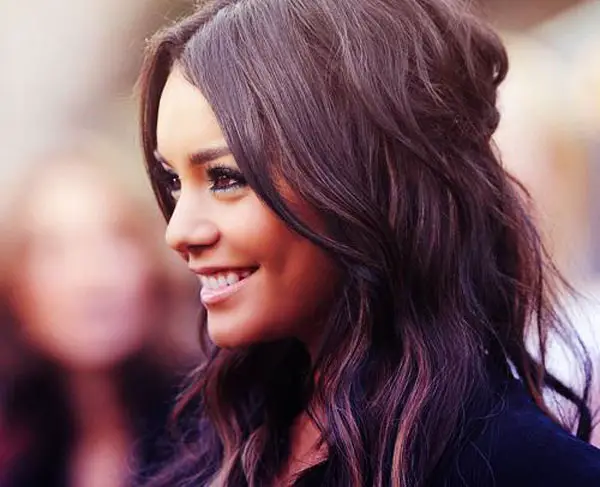 Vanessa Orange Glam Picture
Dashes of silverwork glitter all over Vanessa's sleeveless silk dress in bright orange in this pretty picture.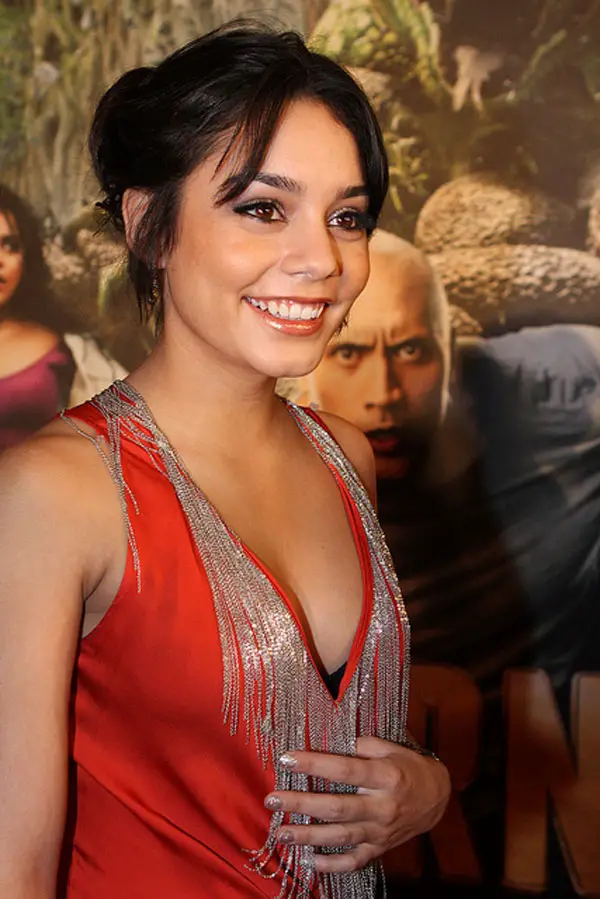 Cute Vanessa Hudgens
The subtle blue eyeshadow highlights Vanessa's lovely eyes in this picture as she makes a cute girly expression while posing in the sun.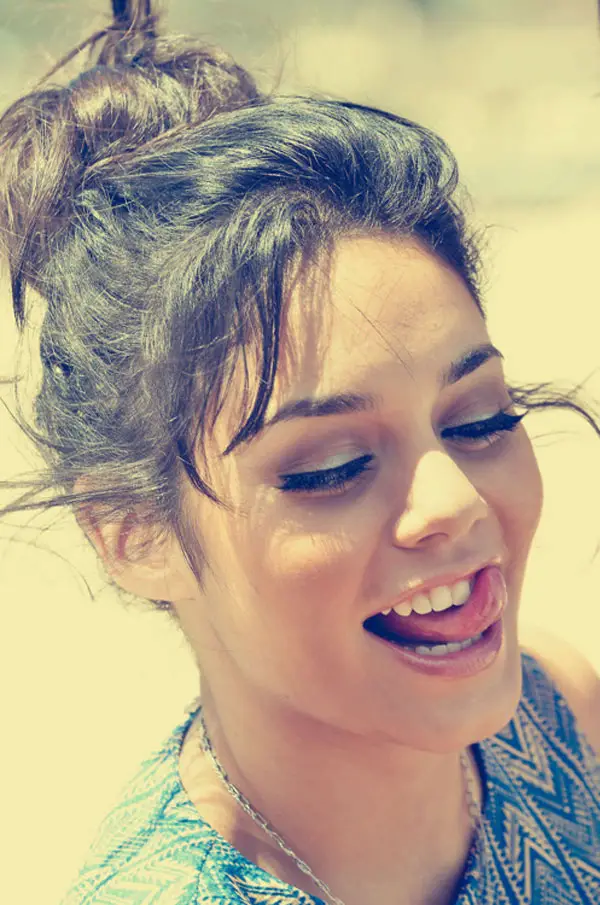 Awesome Vanessa Picture
This black and white picture shows off Vanessa Hudgen's classic good looks as she makes a cute pose, complete with black nail polish and a love band on her wrist.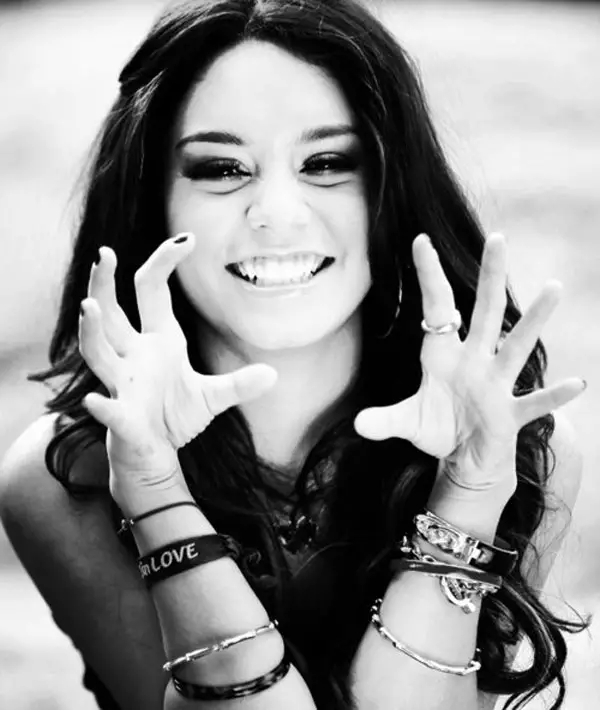 Awesome Vanessa Picture
Vanessa Hudgens Gown
A gown as rich as the midnight sky wraps around Vanessa's shapely frame as she poses at a public appearance.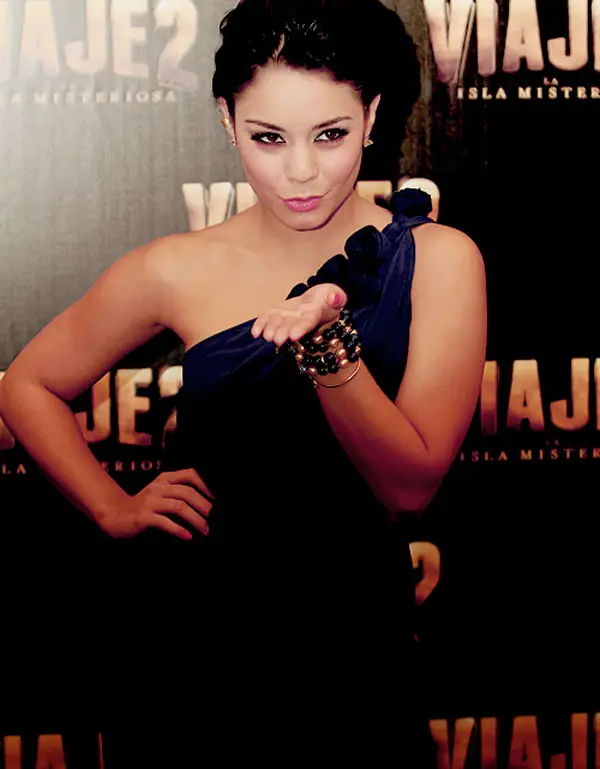 Vanessa Hudgens Cute Hat
The white hat stylishly shades Vanessa Hudgen's forehead in this picture as she poses wearing a warm gray hooded jacket.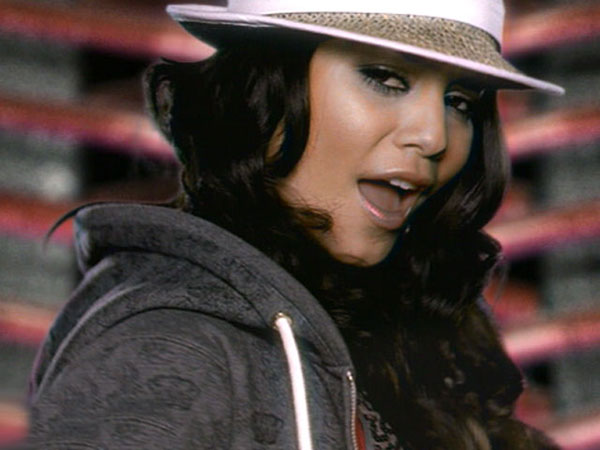 Vanessa Hudgens White Top
Look at Vanessa's glowing beautiful face as she looks all pretty and feminine in a lacey white peasant top in this photoshoot picture.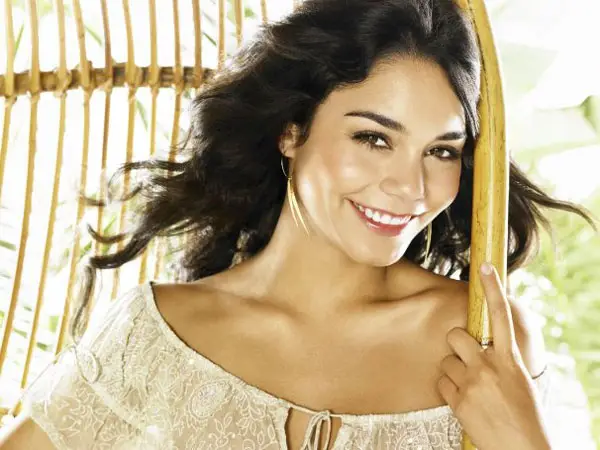 Vanessa Dock Picture
Dressed in a pretty fitted pale camel jacket with a pink teee inside, Vanessa looks pretty as a picture at the docks.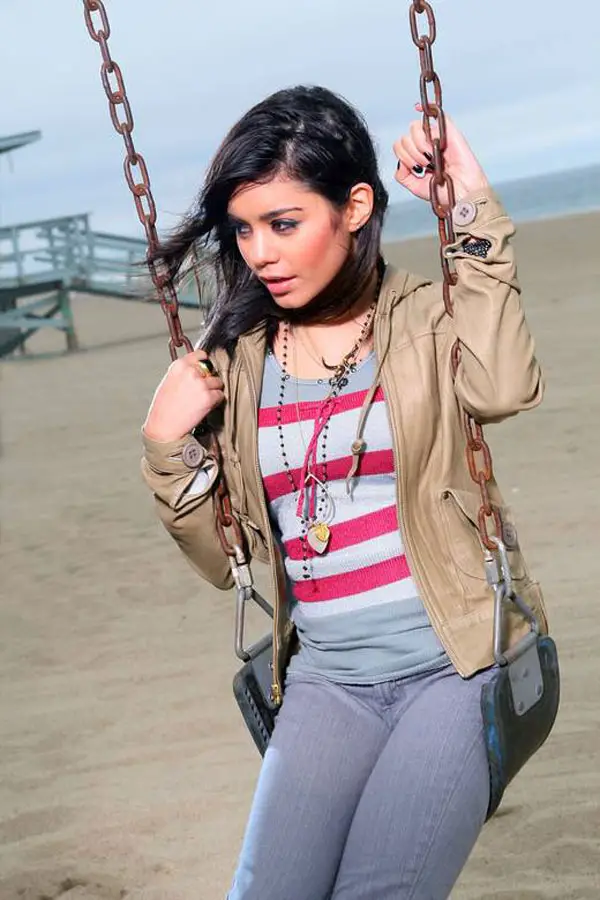 Vanessa Pose Minnie Mouse
Wearing her hair in a long side braid here's Vanessa Hudgens, all smiles as she poses with the adorable Minnie Mouse.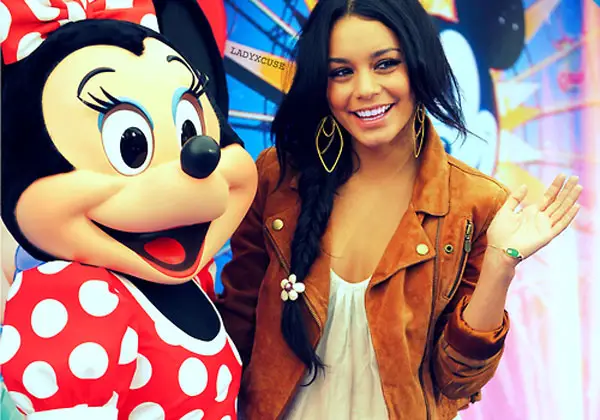 Vanessa Casual Picture
Get to see the pretty Vanessa as she poses with a long open layered hairstyle, wearing a casual white tee.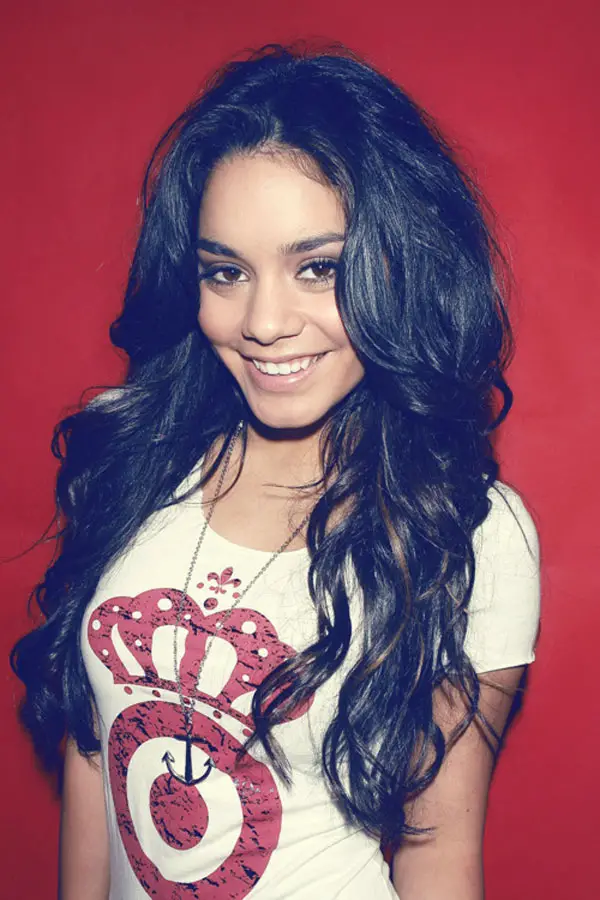 Denim Woman Vanessa
Take a look at Vanesssa Hudgens dressed in denim from head to foot, with even her bags matched in a denim material.