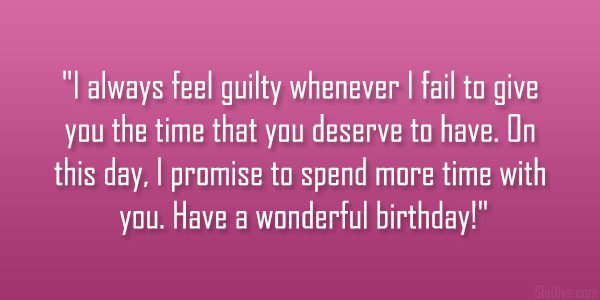 Daughters are special for every parent. Though it is said that fathers love their daughters more than their sons the bond of a mother and daughter is no less strong and deep. Therefore, it might appear that sons get a better deal; it is daughters who ultimately have the last laugh because they are truly valued by both the parents. These lovely fairies, known as daughters, are like a heavenly blessing who fill the life of their parents with joy and love.
Daughter Birthday Quotes
This is why it is the earnest desire of every father and mother to give their daughters the best of everything. Whether it is education or marriage, parents leave no stone unturned to make their princess happy. Buying birthday gifts for daughters are one occasion when the doting parents have a chance to express their feelings to their daughters and these are times when they look for daughter birthday quotes. Now, everyone is not good at crafting cool messages and this is when the birthday quotes for daughter come to their rescue. So, check out some such quotes that we have showcased below. We hope you will like them and select one or two for your daughter too. Enjoy.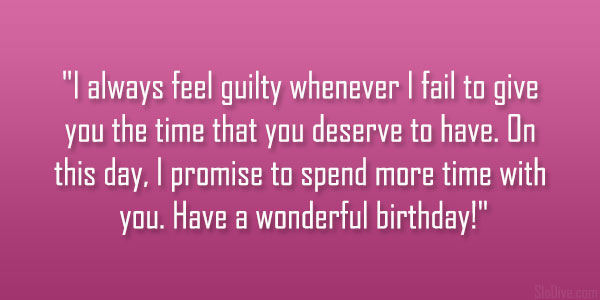 "I always feel guilty whenever I fail to give you the time that you deserve to have. On this day, I promise to spend more time with you. Have a wonderful birthday!"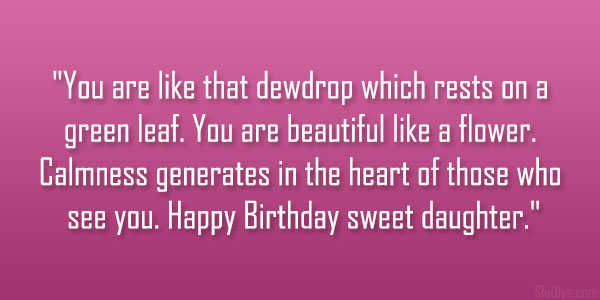 "You are like that dewdrop which rests on a green leaf. You are beautiful like a flower. Calmness generates in the heart of those who see you. Happy Birthday sweet daughter."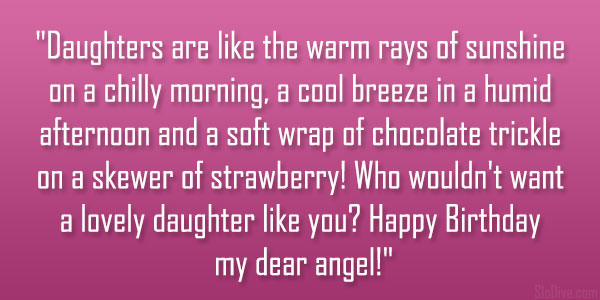 "Daughters are like the warm rays of sunshine on a chilly morning, a cool breeze in a humid afternoon and a soft wrap of chocolate trickle on a skewer of strawberry! Who wouldn't want a lovely daughter like you? Happy Birthday my dear angel!"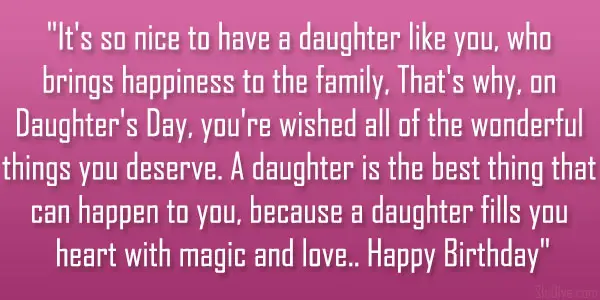 "It's so nice to have a daughter like you, who brings happiness to the family, That's why, on Daughter's Day, you're wished all of the wonderful things you deserve. A daughter is the best thing that can happen to you, because a daughter fills you heart with magic and love.. Happy Birthday"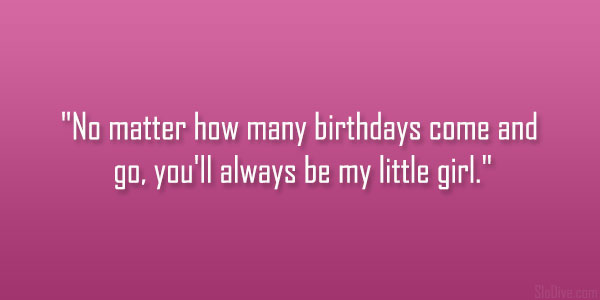 "No matter how many birthdays come and go, you'll always be my little girl."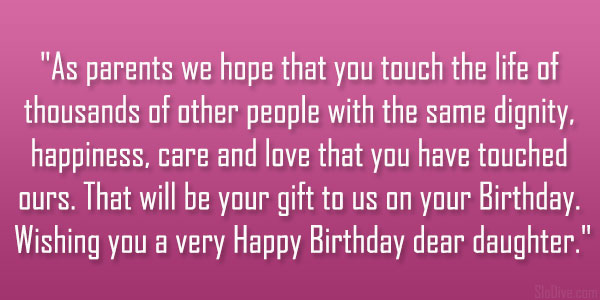 "As parents we hope that you touch the life of thousands of other people with the same dignity, happiness, care and love that you have touched ours. That will be your gift to us on your Birthday. Wishing you a very Happy Birthday dear daughter."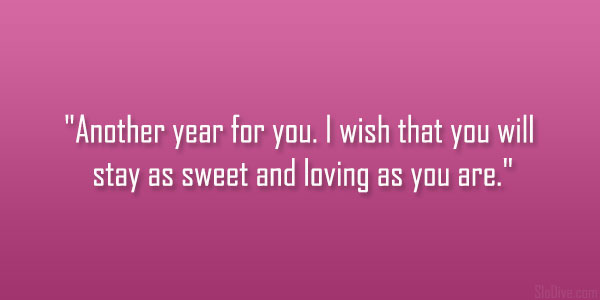 "Another year for you. I wish that you will stay as sweet and loving as you are."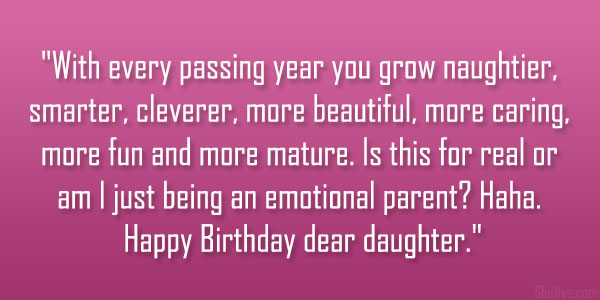 "With every passing year you grow naughtier, smarter, cleverer, more beautiful, more caring, more fun and more mature. Is this for real or am I just being an emotional parent? Haha. Happy Birthday dear daughter."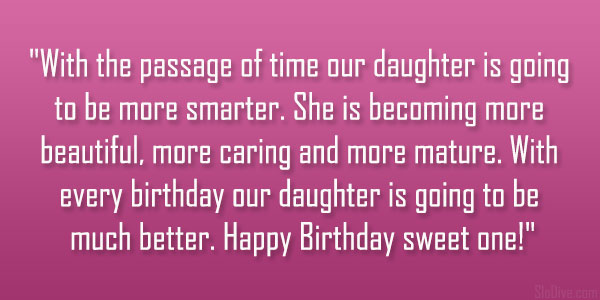 "With the passage of time our daughter is going to be more smarter. She is becoming more beautiful, more caring and more mature. With every birthday our daughter is going to be much better. Happy Birthday sweet one!"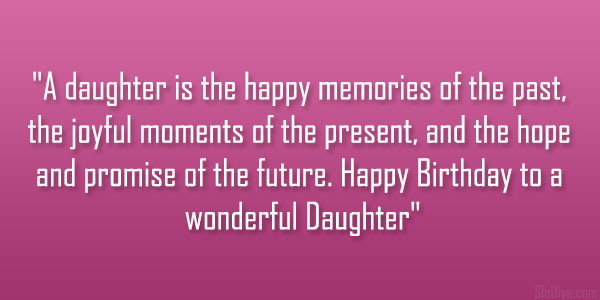 "A daughter is the happy memories of the past, the joyful moments of the present, and the hope and promise of the future. Happy Birthday to a wonderful Daughter"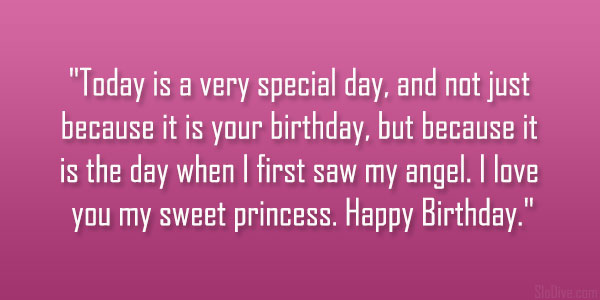 "Today is a very special day, and not just because it is your birthday, but because it is the day when I first saw my angel. I love you my sweet princess. Happy Birthday."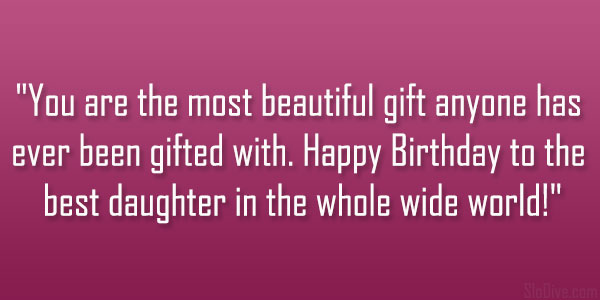 "You are the most beautiful gift anyone has ever been gifted with. Happy Birthday to the best daughter in the whole wide world!"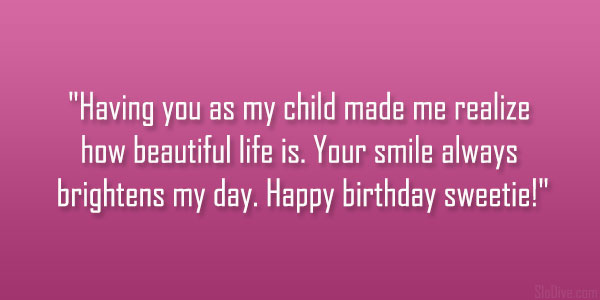 "Having you as my child made me realize how beautiful life is. Your smile always brightens my day. Happy birthday sweetie!"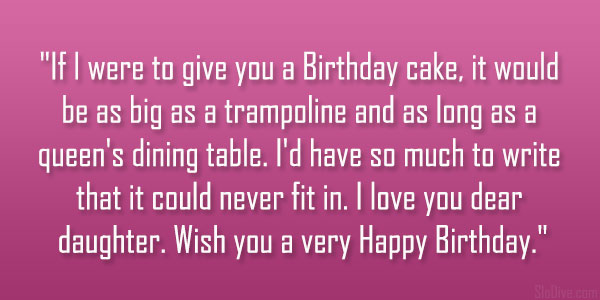 "If I were to give you a Birthday cake, it would be as big as a trampoline and as long as a queen's dining table. I'd have so much to write that it could never fit in. I love you dear daughter. Wish you a very Happy Birthday."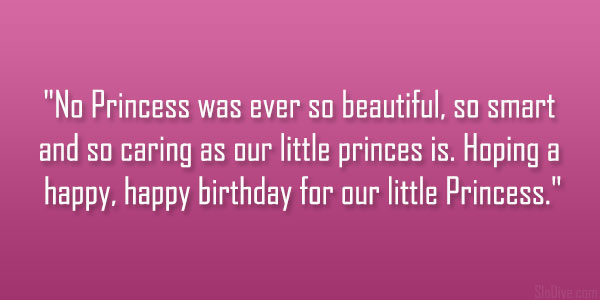 "No Princess was ever so beautiful, so smart and so caring as our little princes is. Hoping a happy, happy birthday for our little Princess."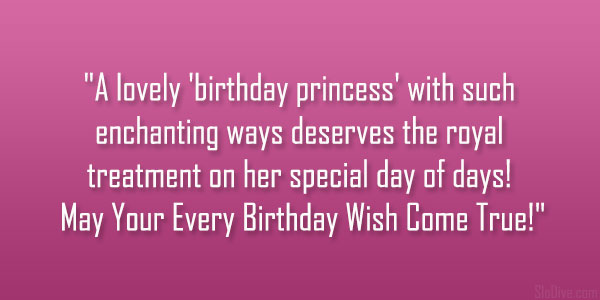 "A lovely 'birthday princess' with such enchanting ways deserves the royal treatment on her special day of days! May Your Every Birthday Wish Come True!"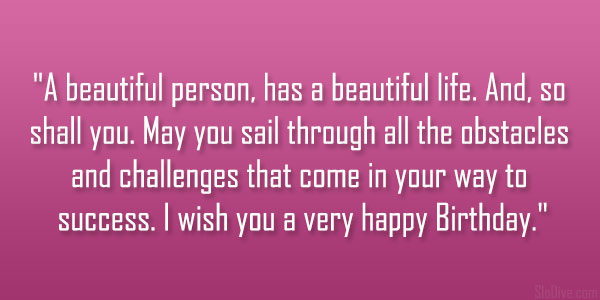 "A beautiful person, has a beautiful life. And, so shall you. May you sail through all the obstacles and challenges that come in your way to success. I wish you a very happy Birthday."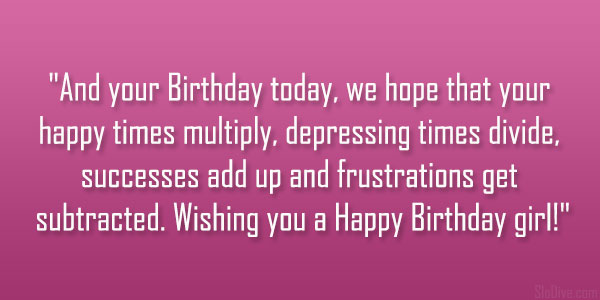 "And your Birthday today, we hope that your happy times multiply, depressing times divide, successes add up and frustrations get subtracted. Wishing you a Happy Birthday girl!"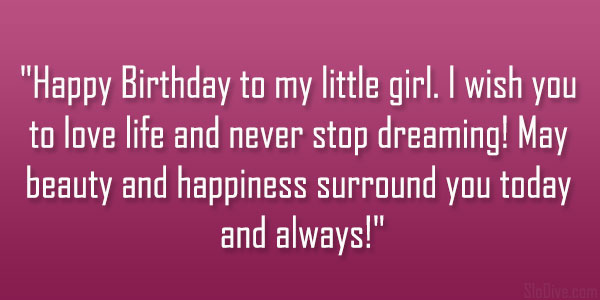 "Happy Birthday to my little girl. I wish you to love life and never stop dreaming! May beauty and happiness surround you today and always!"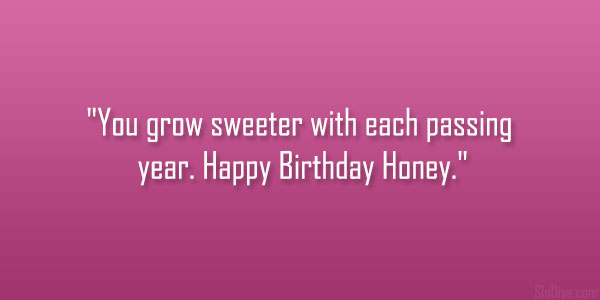 "You grow sweeter with each passing year. Happy Birthday Honey."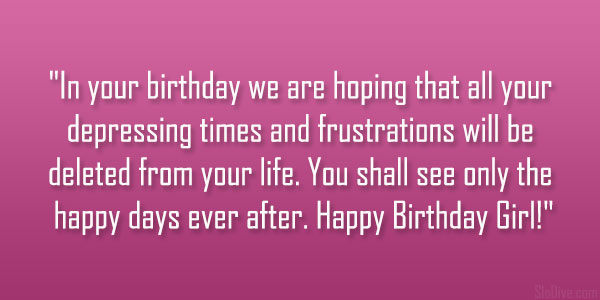 "In your birthday we are hoping that all your depressing times and frustrations will be deleted from your life. You shall see only the happy days ever after. Happy Birthday Girl!"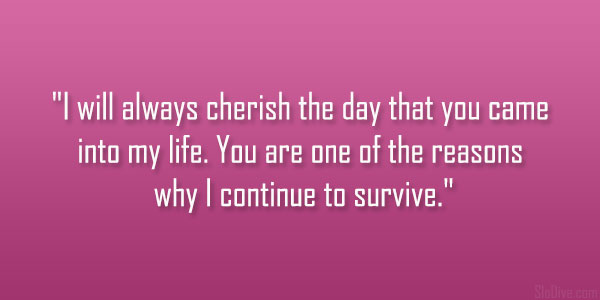 "I will always cherish the day that you came into my life. You are one of the reasons why I continue to survive."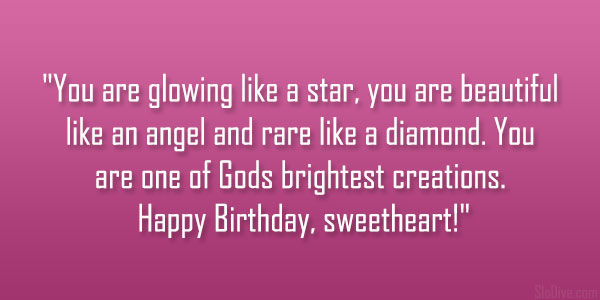 "You are glowing like a star, you are beautiful like an angel and rare like a diamond. You are one of Gods brightest creations. Happy Birthday, sweetheart!"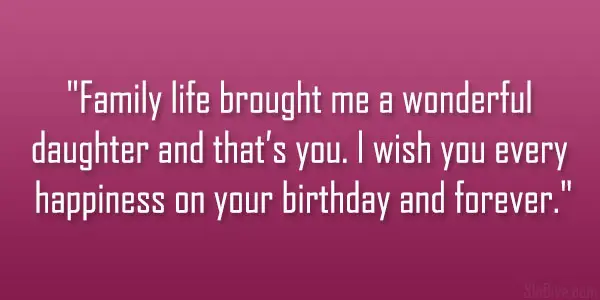 "Family life brought me a wonderful daughter and that's you. I wish you every happiness on your birthday and forever."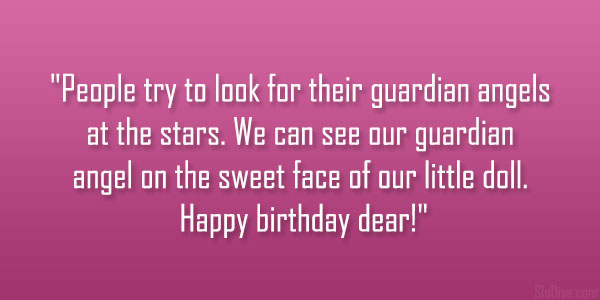 "People try to look for their guardian angels at the stars. We can see our guardian angel on the sweet face of our little doll. Happy birthday dear!"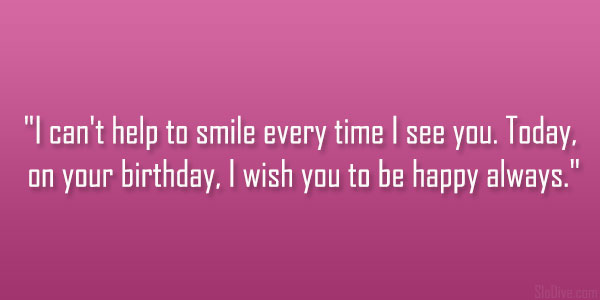 "I can't help to smile every time I see you. Today, on your birthday, I wish you to be happy always."
If you like this article, you might be interested in some of our other articles on  Famous Movie Quotes About Love,  Short Funny Quotes,  Inspirational Quotes About Love  and  Heartbroken Quotes For Girls.