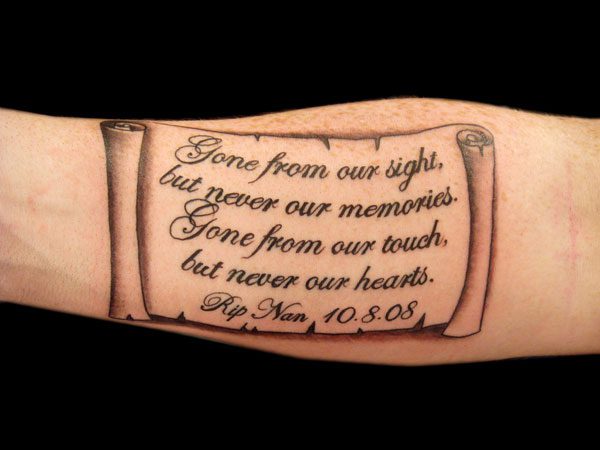 Tattoos come in various shapes and sizes. They can be as tiny as an ant or as big as an elephant. It all depends on the choice of the wearer whether he wants a big and bold one or a small and modest one. The scroll tattoos are one category of tattoos that always manage to make a catchy and cool statement, no matter what their size is. They are worn by men and women on different body parts such as arms, legs, chests, ribs, etc. The tattoos of scrolls mostly revolve around names, quotations, prayers and statements.
The tattoos with scrolls are meaningful. They contain words and lines. Most of them have a literary and spiritual connection. People get prayerful lines and names of their dear ones engraved on the scrolls. Loving memory tattoos also use scrolls lots of times. The style of the scroll tattoo has a lot of variety and one can choose from a wide range of options, from simple to sexy. If you want to check out these options take a look at the collection of 23 scroll tattoos below. We promise these are the best scroll tattoos out there!
RIP Scroll Tattoo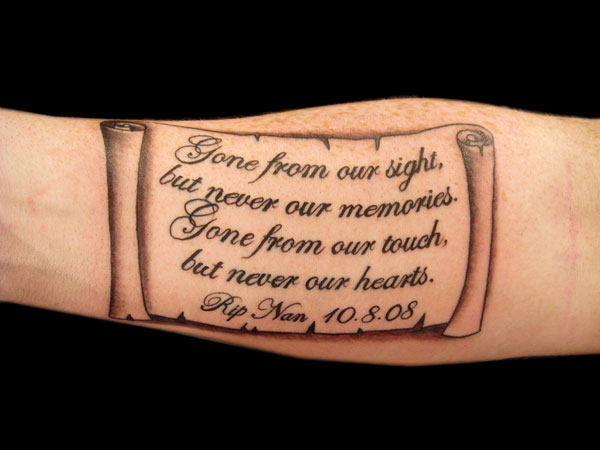 Inked on the inside of the forehand, this scroll tattoo vents out the wearer's loss and love for a dear departed soul.
Slogan On Scroll
Serpentine scroll tattoo sitting on the leg asserts the wearer's dying need to be herself.
Prayerful Scroll Tattoo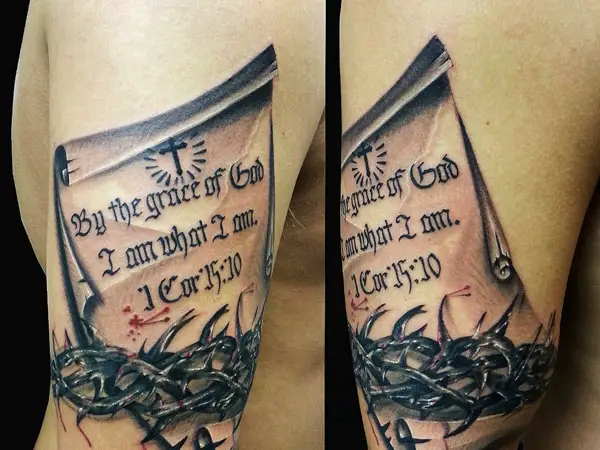 Arm scroll tattoo carved with barbed wires, words and the cross looks very holy. It serves as a source of inspiration and strength.
Chinese Scroll Tattoo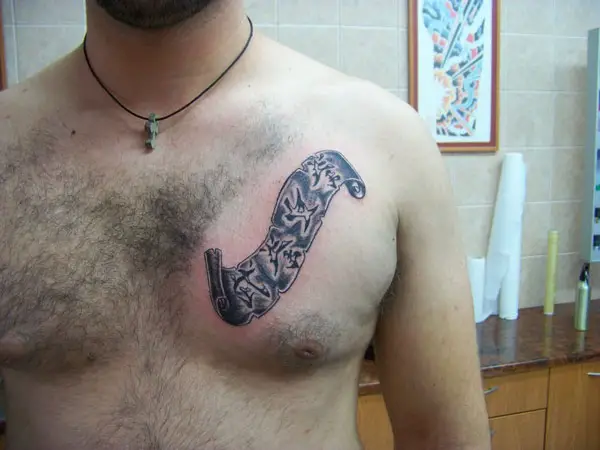 The Kanji letters on this black and white scroll tattoo are a symbol of love for one's country.
Religious Scroll Tattoo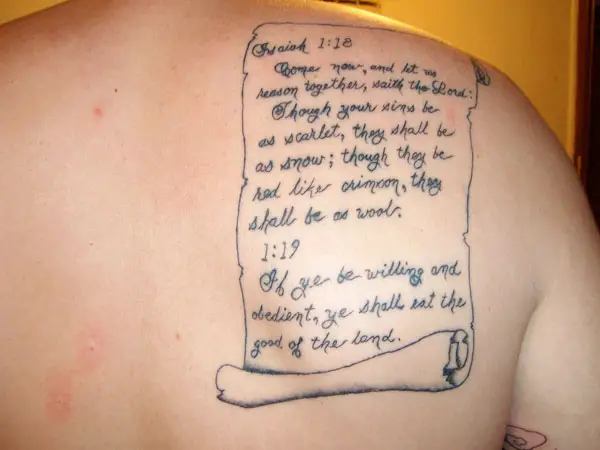 Popular style scroll tattoo created on the upper back is a testimonial of the wearer's faith in god.
Name Scroll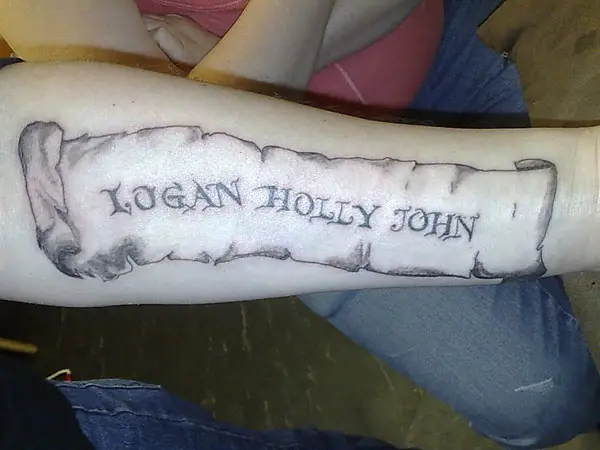 Wearing one's name on a scroll is pretty common among guys and gals. It serves as a cool identity card.
Colorful Floral Scroll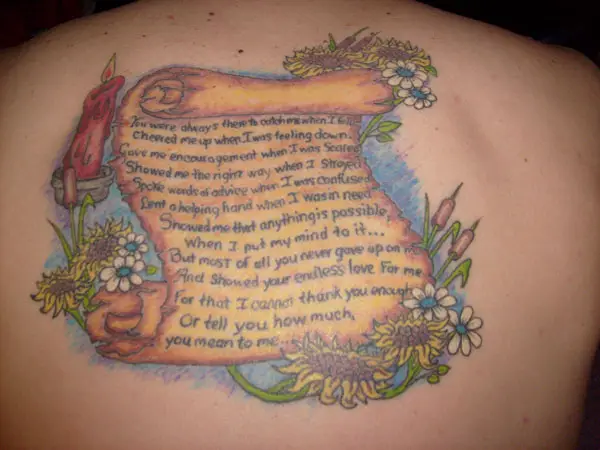 This big and beautiful scroll tattoo on the back pays tribute to the love and kindness of a dear one.
Prayer On Scroll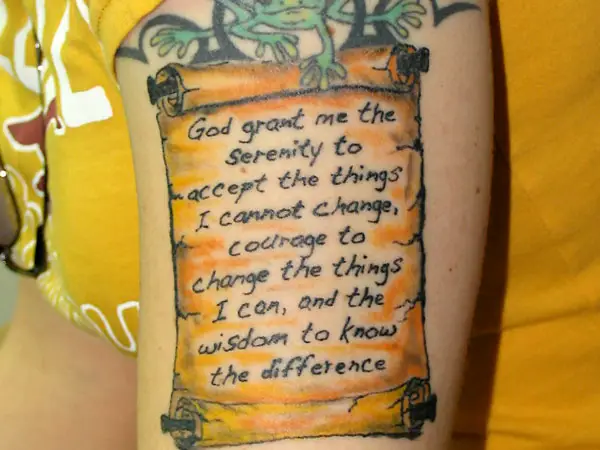 The combination of black and orange works wonders for this scroll tattoo and makes it look very catchy.
Names On Scroll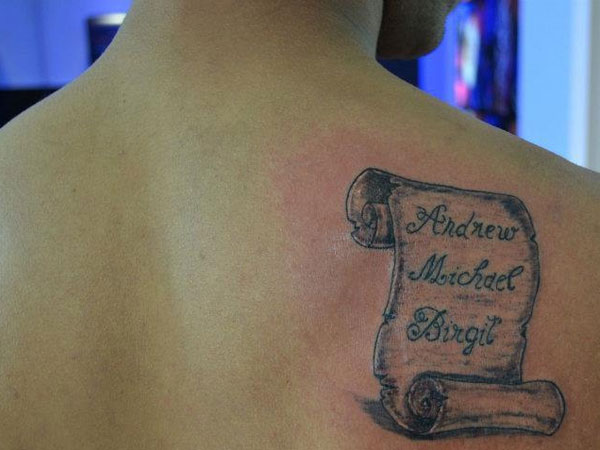 The names of the wearer's family members find a place on this upper back scroll tattoo.
Tribute Scroll Tattoo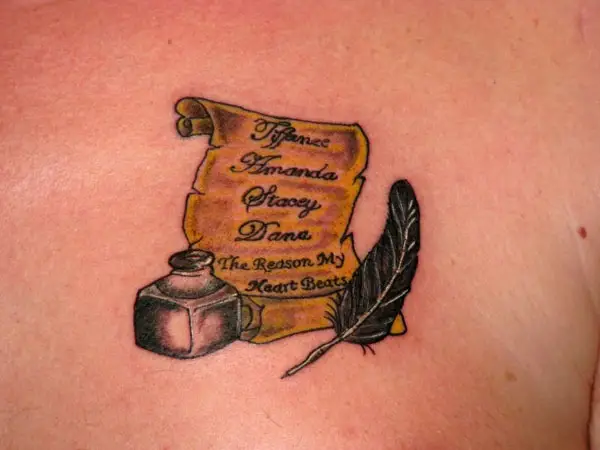 Cute scroll tattoo carved with names voices the wearer's love for the people who are close to his heart.
Seeking Blessings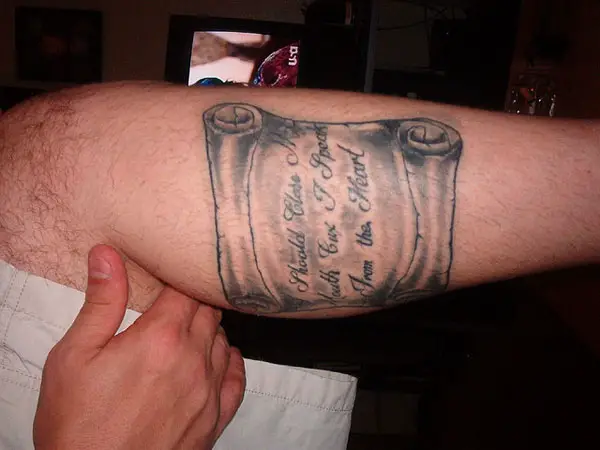 Leg scroll tattoo bears words that show the guy's faith in god.
Long Script Tattoo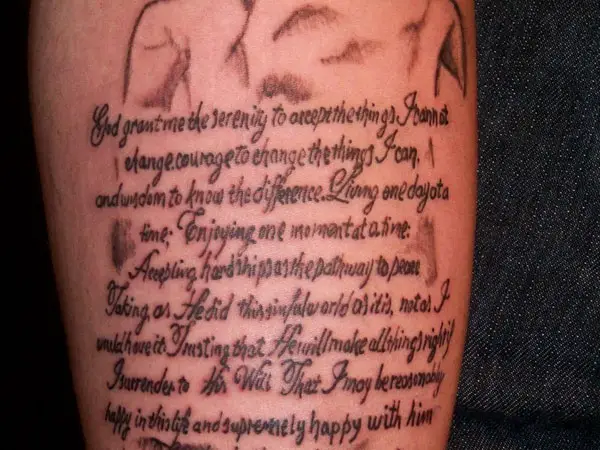 Check out this prayer engraved on the scroll that seeks patience and serenity from the almighty.
Bold Script On Scroll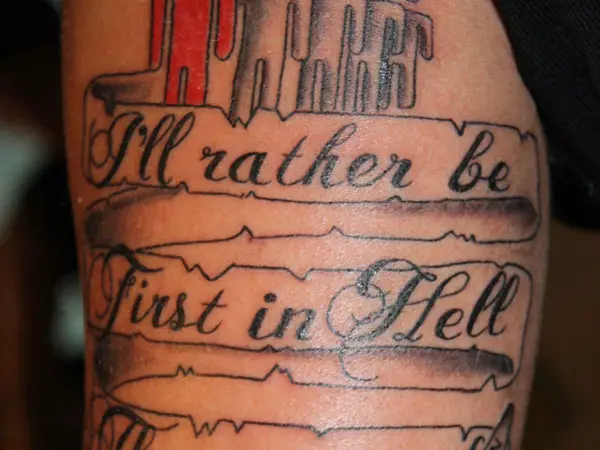 Badass words on the scroll indicate the guy's confidence and his devil-may-care attitude.
Foodie's Scroll Tattoo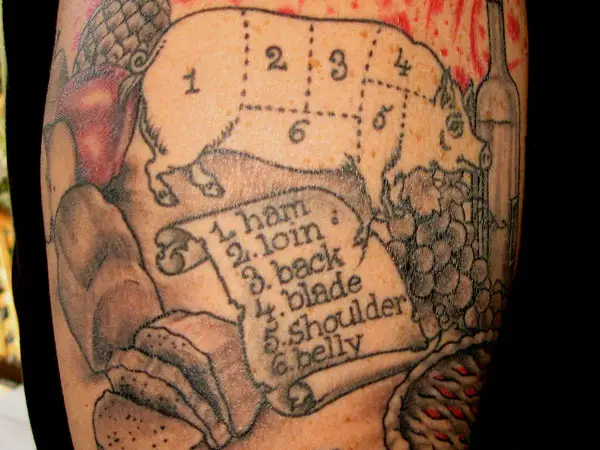 The wearer is crazy for pork and the scroll tattoo on his arm declares his craze for the same.
Inspirational Quote On Scroll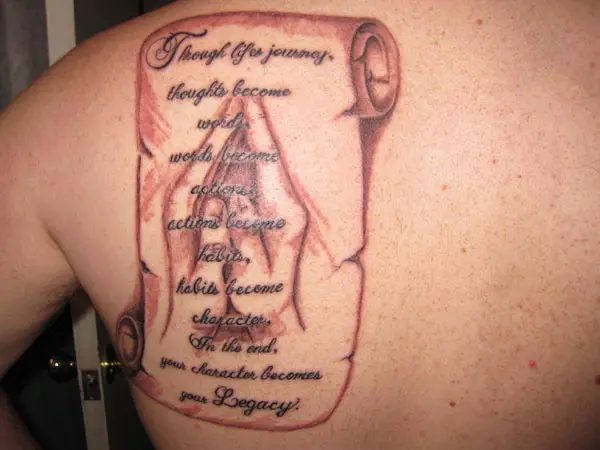 Quotes are quite common on scrolls and this back scroll tattoo bears beautiful inspirational words.
Side Scroll Tattoo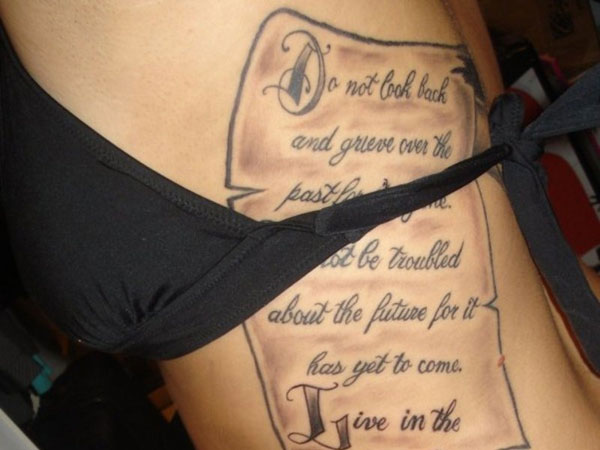 Motivational words engraved on the scroll, asking one to live in the present, keep the girl going.
Lovely Solemn Scroll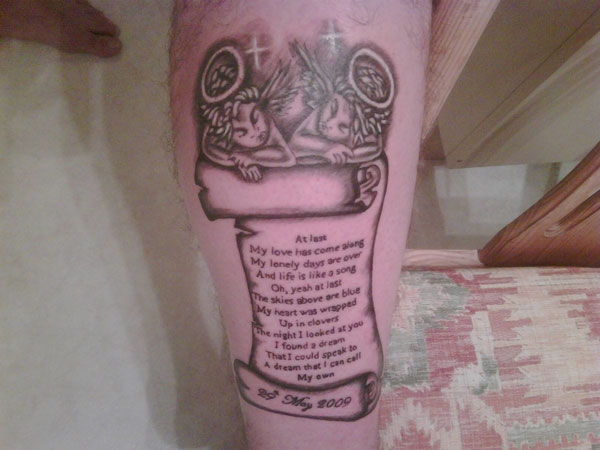 Engraved in the loving memory of a lost child, this scroll tattoo arouses profound emotional feelings.
Tattoo For Friends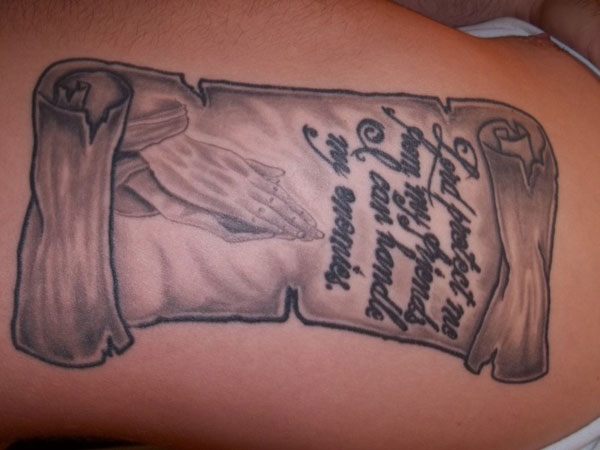 This adorable scroll tattoo shows the deep love and concern of the wearer for his friends.
Lovely & Creative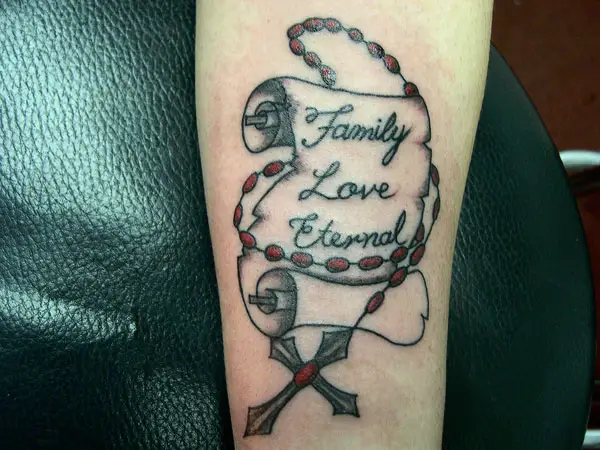 The rosary dangling from the scroll gives it a beautiful dimension. The tattoo is a symbol of love for one's family and god.
Believer's Tattoo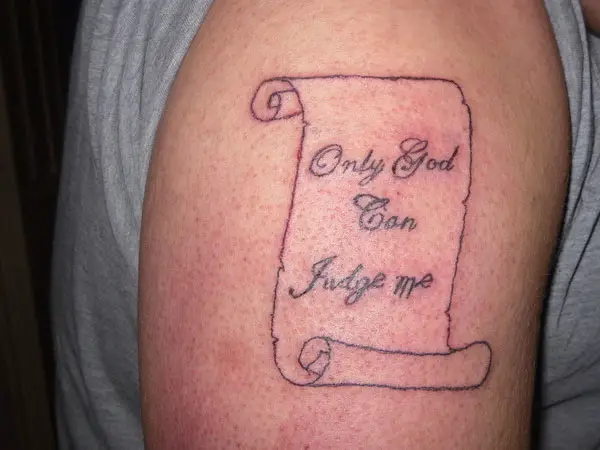 This simple one line tattoo is a statement of the wearer's faith in god.
Family Love Tattoo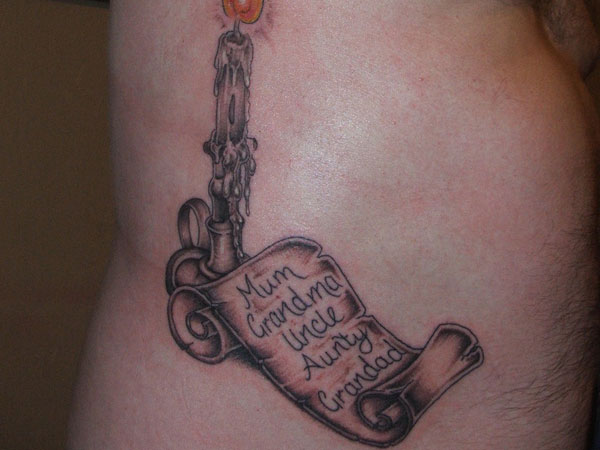 The wearer expresses his love for his family with this realistic looking scroll tattoo engraved on the side of his body.
Encouraging Words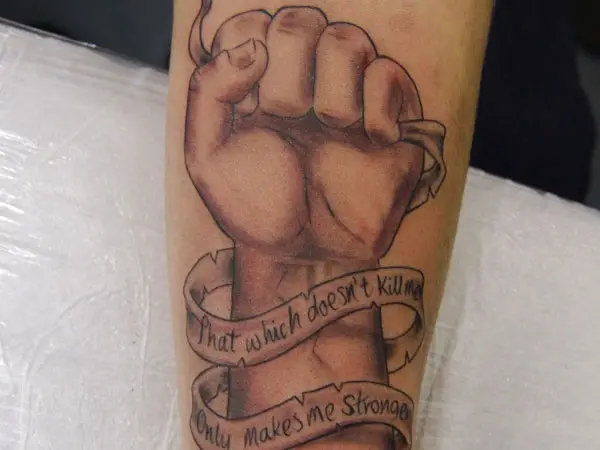 Catchy scroll tattoo created on the inside of the forehand is very cool and inspiring.
Christ Lover's Tattoo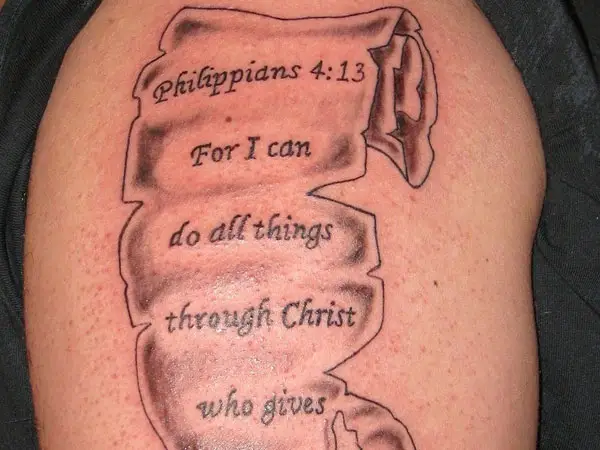 Words of faith, love and belief find an expression in this simple and neat scroll tattoo created on the arm.