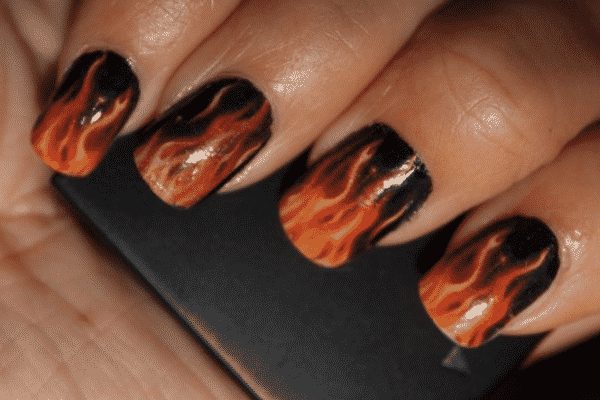 Fire nail designs are super hot and fun designs! You can use fire nail art designs to celebrate a bonfire weekend (like Memorial Day, perhaps?) or just to do something a little different. Classic colors used in fire nail art designs are usually red, orange, and yellow. Black is also often used to make the colors pop or create a little shape to the flames.
However, don't feel limited to these colors alone. Plenty of fire nail designs can be made with just about any colors! Pink fire? Why not? Lime green fire? Sure! Purple glitter flames? Sounds good to me! Your imagination is your only limitation!
If you're looking for some smokin' hot fire nail designs, take a look at what we've rounded up for you today!
1. Simple Flames Nail Art
Simple fire nail designs are easy to create and only require a few nail polish colors and a nail striping brush. To recreate these nails, start with a black base color, and paint small flames with orange and yellow nail polish.
2. Simple Flame on One Nail
A simple flame on one fingernail is also a great fire nail design! Simple, yet awesome.
3. Neon and White Flame Nail Art Design
A neon gradient can be the base of some amazing fire nail art designs, like this one! After the gradient is applied, use a small nail art brush to draw black flames and accent them with white polish.
4. Black, Orange Glitter, and Yellow Fire Nails
A yellow base color is used to start this fire nail art. The orange glitter polish can be applied to the bottom half of the nail, and a dotting tool can be used to apply black polish to give the flames some shape.
5. Glitter Fire Nail Art
Glitter polish makes for some amazing fire nail designs! The nail art effect below can be achieved by swirling still wet polishes together with the end of a pin or orangewood stick.
6. Fire Nail Art Design With Needle Marbling
Needle marbling is a great way to create lots of different types of fire nail designs. Here's another example where a pin was drug up through the orange nail polish into yellow nail polishes to create the illusion of flames. Black nail polish was applied with a nail striper to add to the effect.
7. Water Marble Flames Over White Nails
Many fire nail designs use black to make the flames stand out more, but this example shows that white can look just as stunning! These flames were created with water marbling.
8. Fire Water Marble on Long Nails
Water marbling is a great way to get fire nail art designs. Here's another great example of fire water marble nails. This time, black is also used, and the fire design covers the entire nail.
9. Reciprocal Gradient Fire Nail Designs
You can also use a reciprocal gradient to create fire nail designs. Here's a great  YouTube tutorial  showing you exactly how to get this effect!
10. Flame Nail Stickers
Nail stickers can also be used to create fire nail designs. Just paint your nails with any base color or clear topcoat, and place the nail sticker where you want them. Finish with a clear topcoat to protect the stickers.
11. Gradient Flames With Black Nail Design
A gradient of yellow, orange, and red is first sponged onto the nails in this fire nail design. Tape cut into flame shapes are then applied to the nail and black polish is painted over the tape. Remove the tape while the polish as still wet, and you have some fun fire nail designs!
12. Yellow and Red Fire Nail Designs
Paint your nails with a yellow base color, then use a small nail brush to paint red flames from the sides of the nails to recreate this design.
As you can see, fire nail art doesn't have to be super complicated to look amazing. There are lots of simple and easy fire nail designs to try! Whether you're going for a fun look for a backyard barbecue or just want to try a new nail art design, fire nail designs are definitely a hot idea to try!