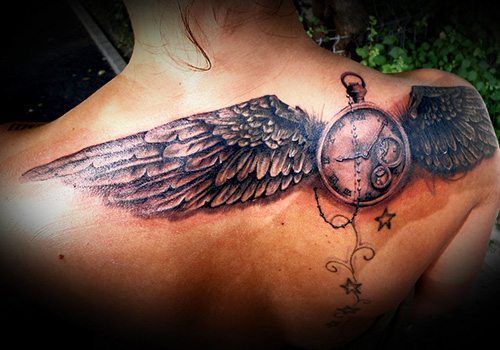 Though they may not be talked about as much as other designs, clock tattoo designs are extremely popular and have been around for quite some time now.
While some clock tattoo designs are simply for aesthetic purposes, others have deep meanings and can be very metaphoric.
1. The Colorless Roman Numeral Clock
Though it is essentially colorless, this roman numeral style clock tattoo is rather bold and stands out very well.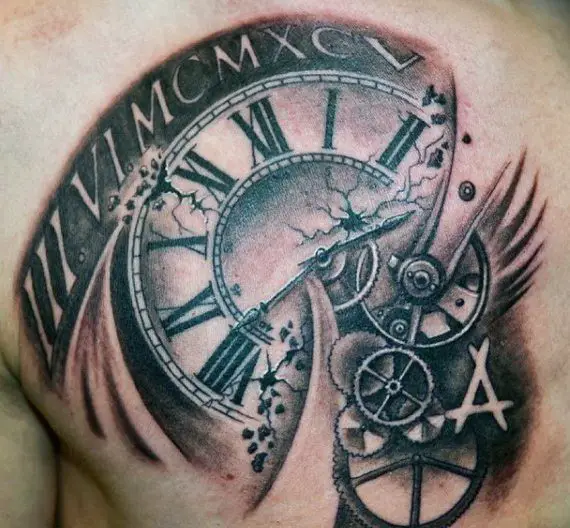 2. This Colorful Pocket Watch Clock Tattoo
Over here on the polar opposite end of the spectrum, are these colorful pocket watch clock tattoo designs.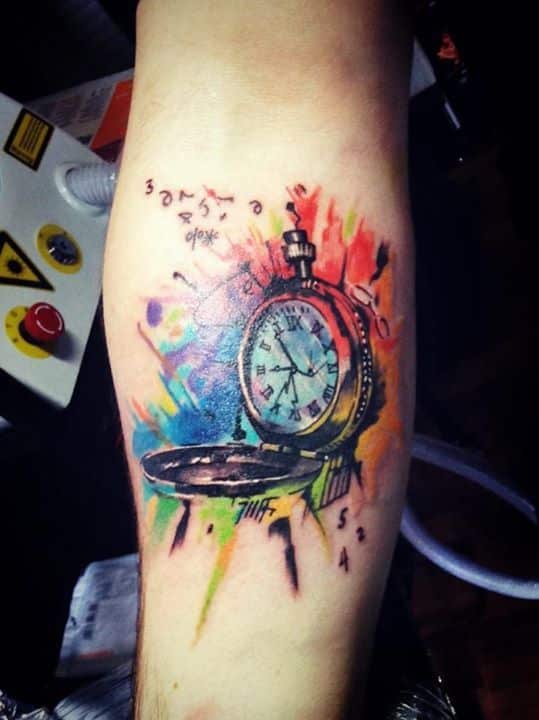 3. This Old-School Clock
It may take a few sessions, but this incredibly detailed old-school clock is definitely worth your time and money.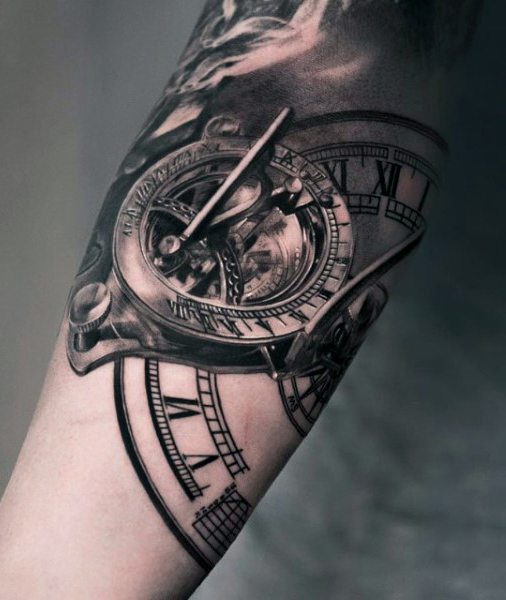 4. This Very Realistic 3D Design
Not only is this clock detailed, but it also realistic. Looking almost like it's coming off your arm, this 3D tattoo design is sure to turn some heads!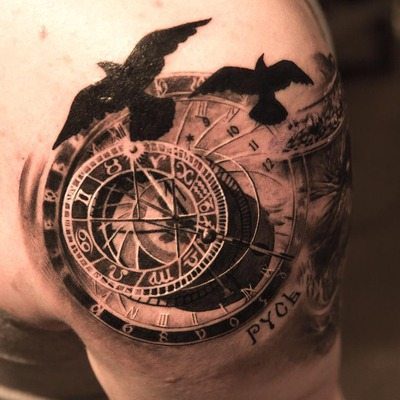 5. The Hand Holding The Clock Tattoo
Reminiscent in many ways of the ability to control time, the hand and clock tattoo design is extremely popular. However, this one also seems to be melting the clock..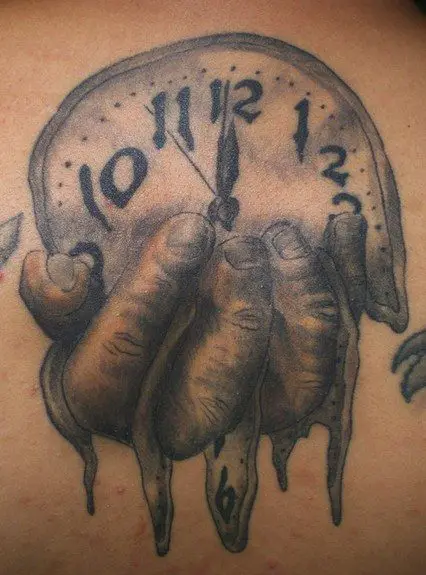 6. This Old-Time 3D Back Piece Clock Tattoo Design
Another extremely realistic, and highly detailed 3D Clock Tattoo.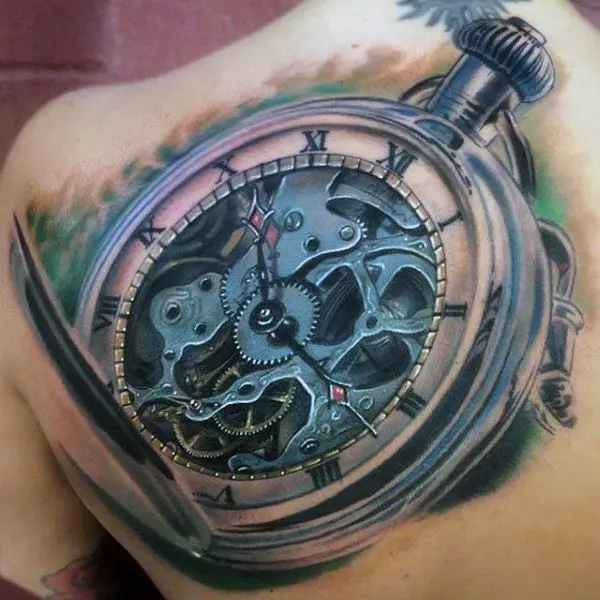 7. Half Lion, Half Clock!
A great choice for those looking to symbolize bravery, power, and loyalty, while also incorporating the element of time.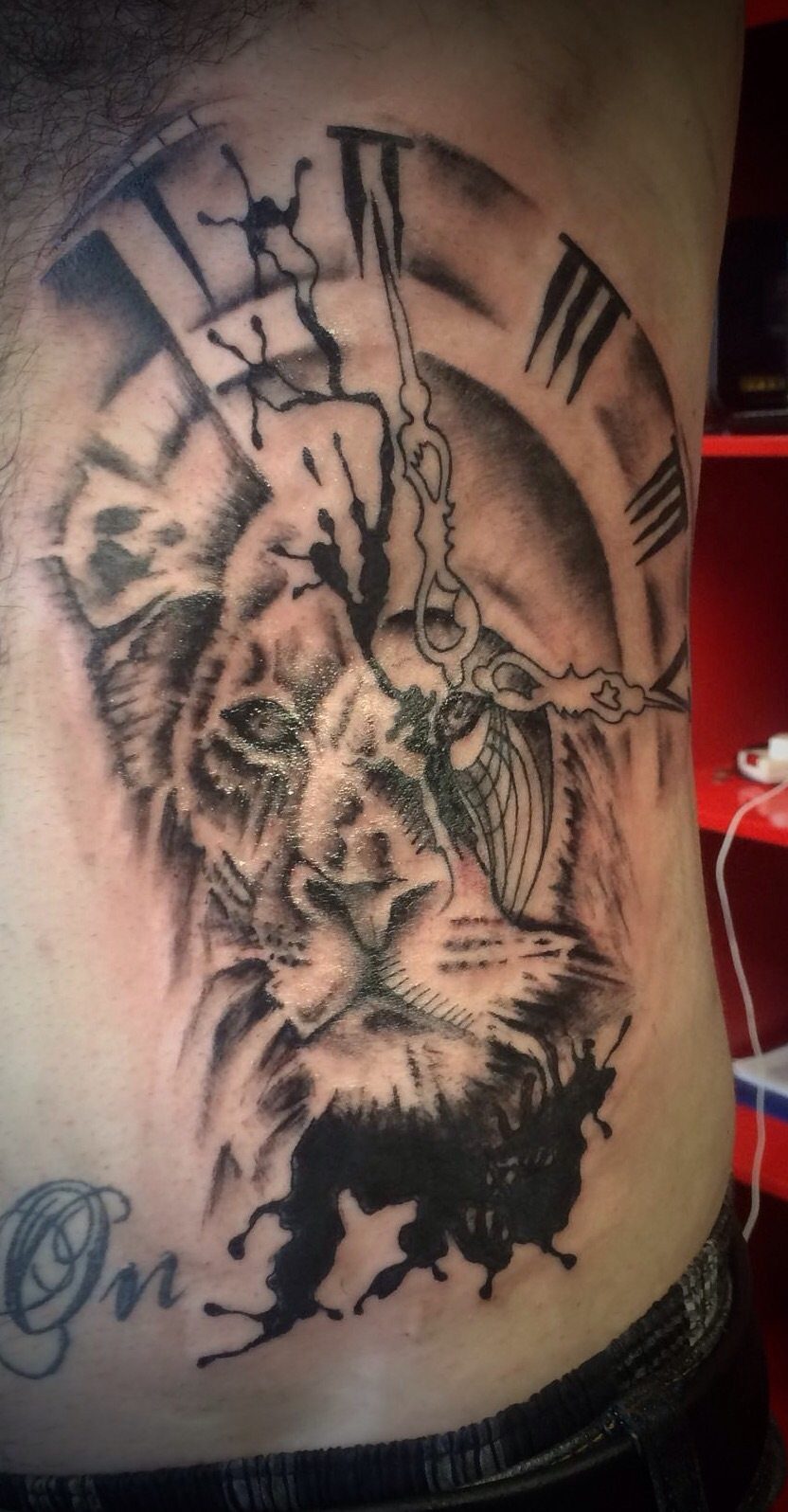 8. Rose and Clock Tattoos
Though they include somewhat feminine flowers, rose and clock tattoos are worn by both men and women.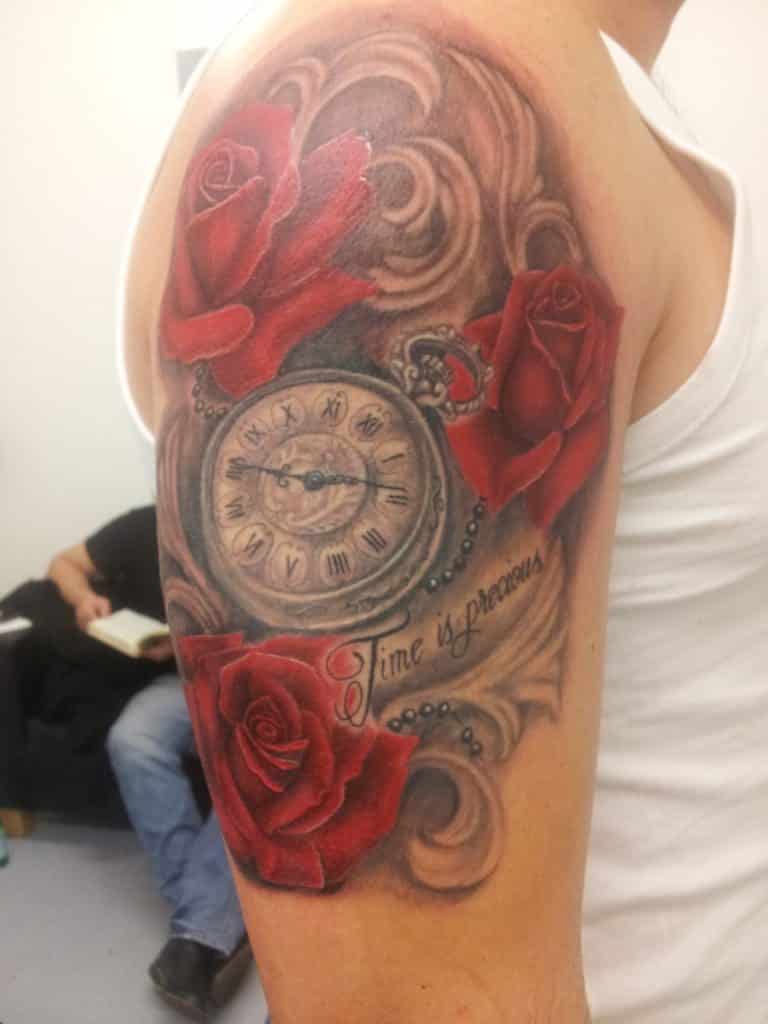 9. Clock Sleeve Tattoos
Serving as perhaps the most noticeable out of any on the list, this clock tattoo is a great choice for those with an entire arm to spare.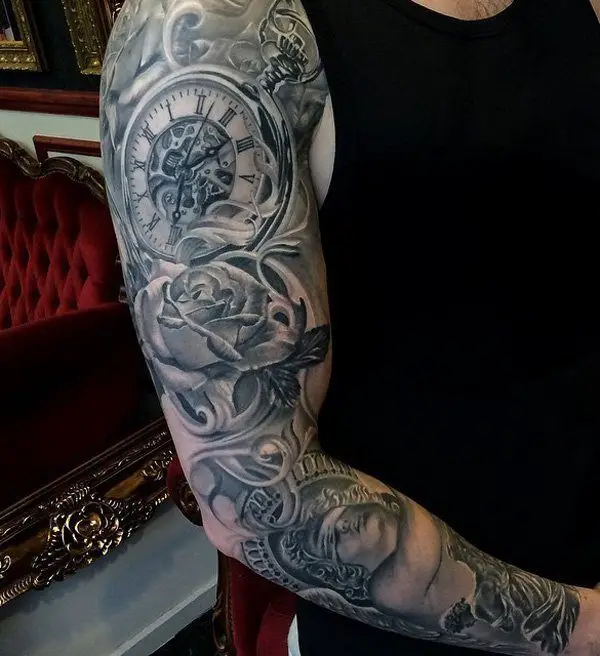 10. Stairs Leading Up To A Clock
There is certainly a metaphoric meaning behind this one..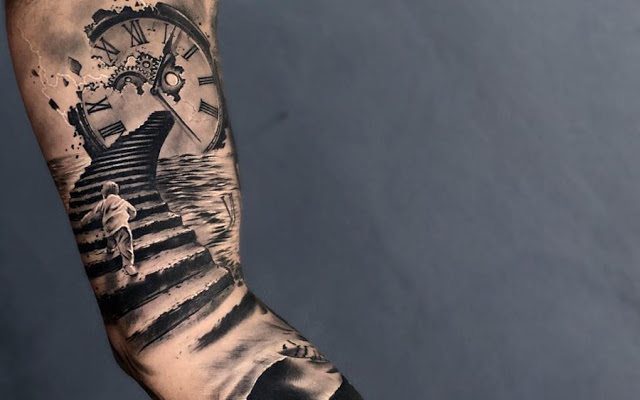 11. Broken Clock Tattoo Designs
What better way to symbolize the passage of time, than by a broken clock.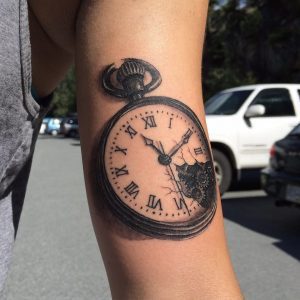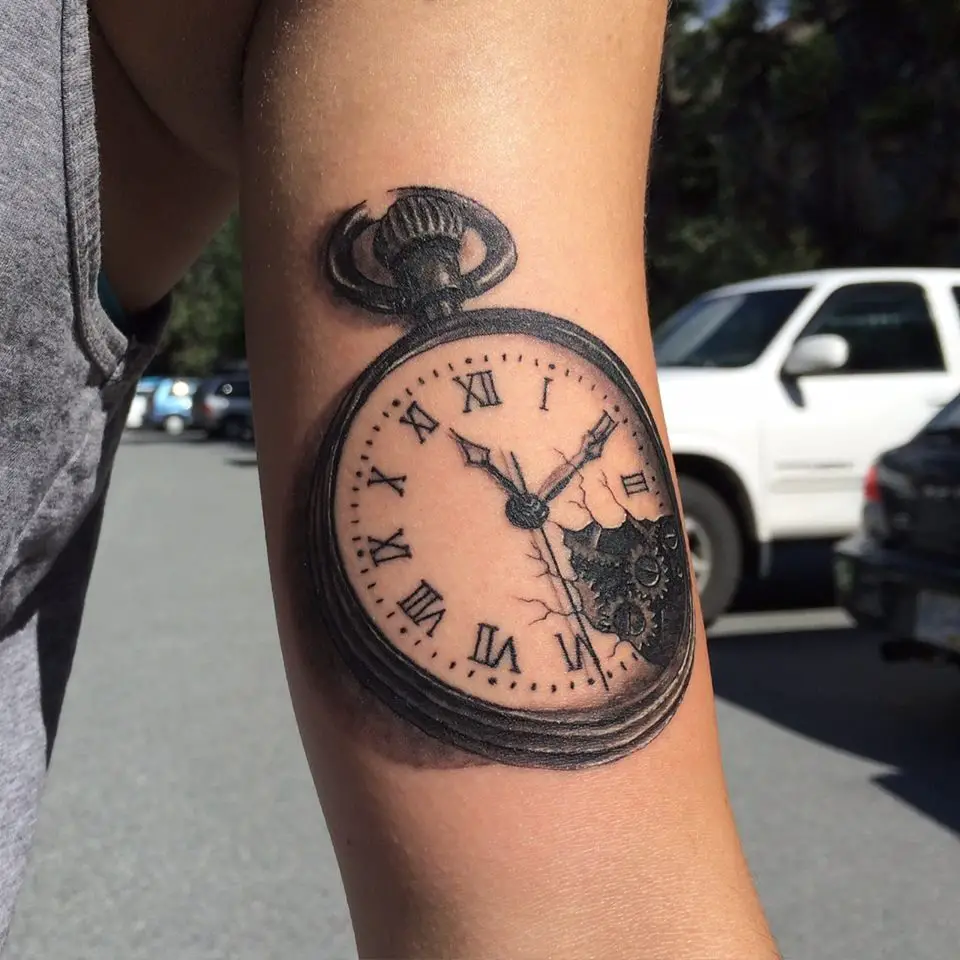 12. The Melting Clock Design Back Tattoo
The melting clock has long been known for it's meaning, which is the disregard for structured passage of time.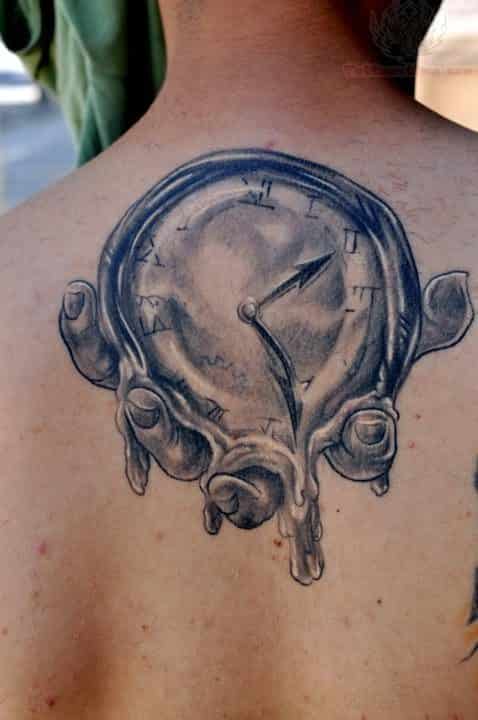 13. Black and Grey Realistic Clocks
Though there is no color included, this design is almost indistinguishable from an actual old clock.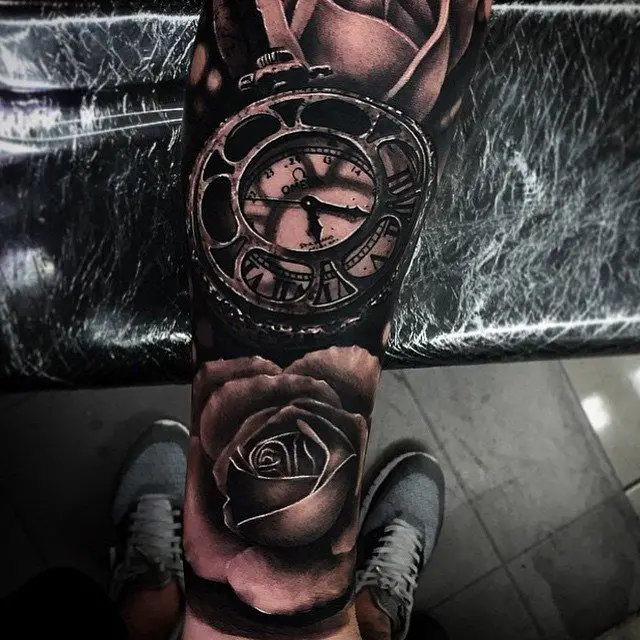 14. This Black and Grey Skull Clock Tattoo
Likely representing death or mortality in one way or another, this black and grey skull clock tattoo is yet another great design.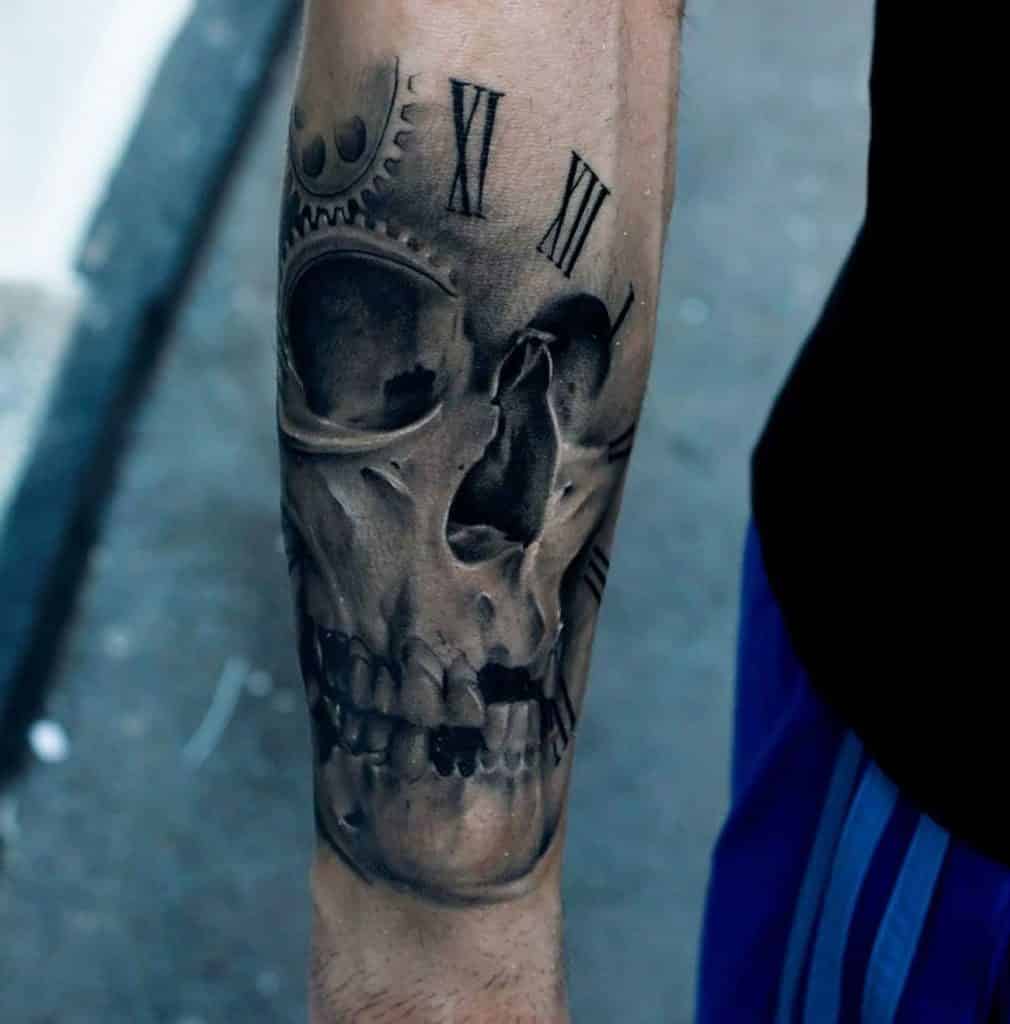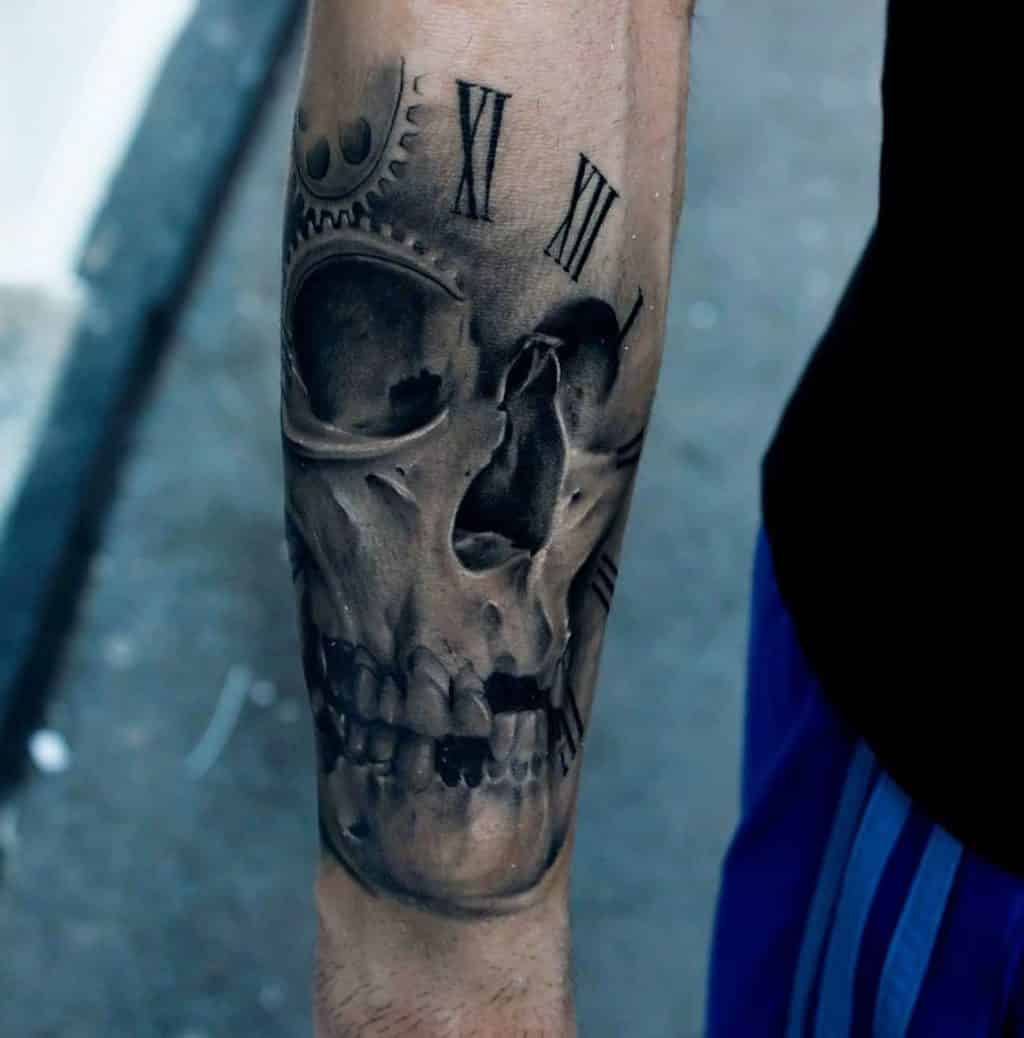 15. The Gears and Sandclock Tattoo Design
Another great old-style vintage clock, likely symbolizing a remembrance of the past.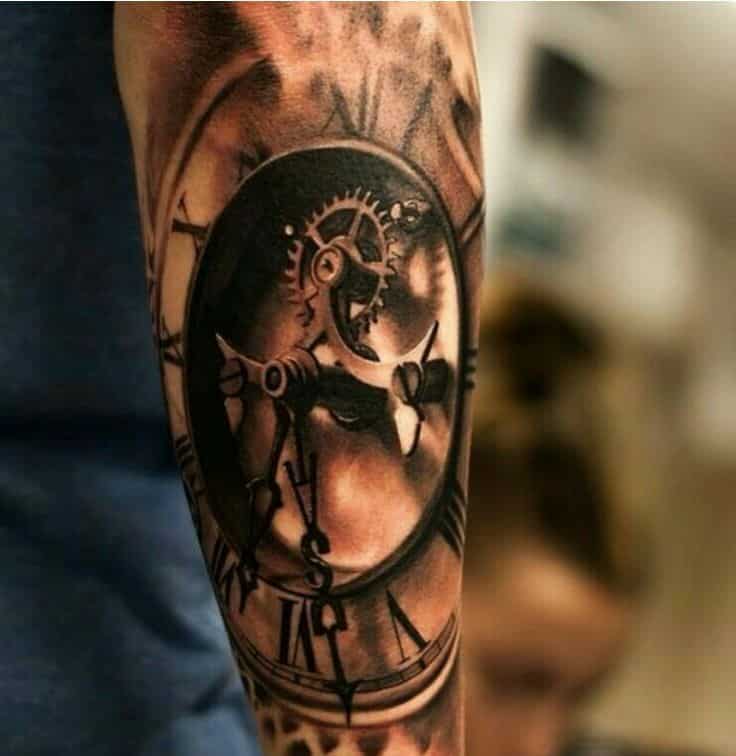 16. Cuckoo Clocks 
Though most people don't have them in their house anymore, cuckoo clocks are still very popular tattoo designs.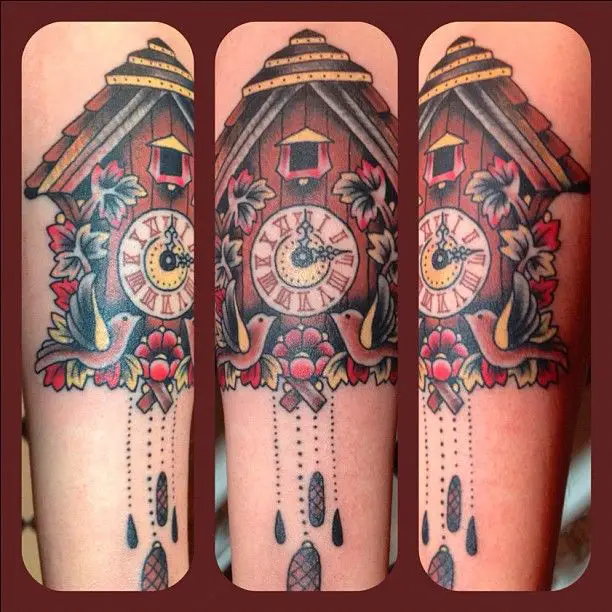 17. This Colorful Rose and Clock Design
Symbolizing love and life, this rose and clock tattoo design caters more towards women.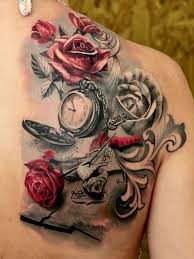 18. This Eye Clock
Always keeping an eye on the time!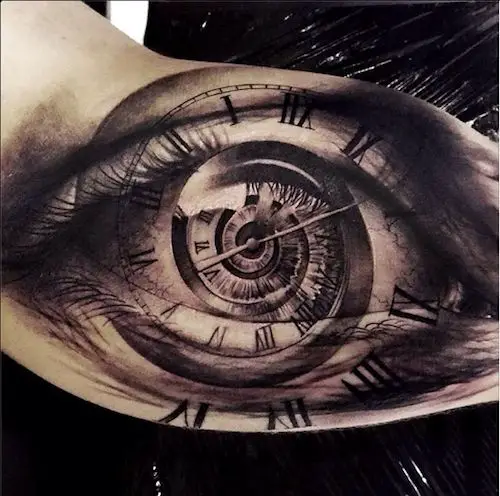 19. Pyramids, Bats, and Clocks!
This design is rather unique, and though the meaning behind it may be unknown to many people, it still looks great!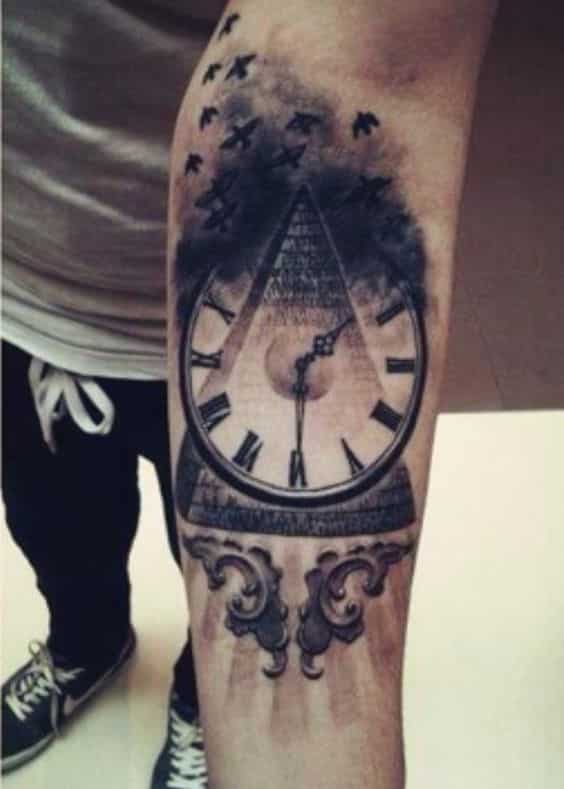 20. This Raven Is Keeping An Eye On The Time
While some associate the raven with death, others believe it symbolizes knowledge. Whatever the case may be, they look great alongside vintage clocks.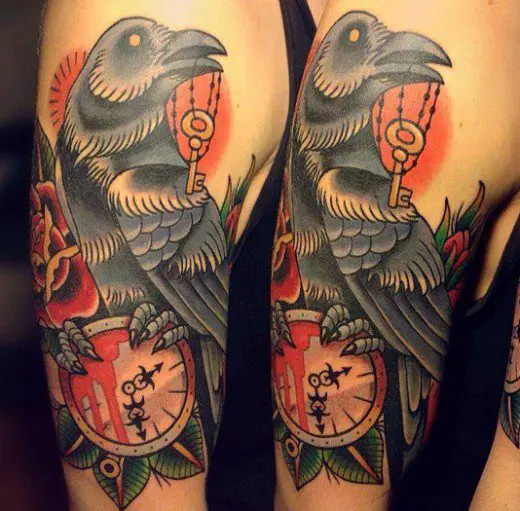 21. Another Incredible Pocket Clock Design
Often used to symbolize passion and desire, pocket clock tattoos are a huge hit with many people.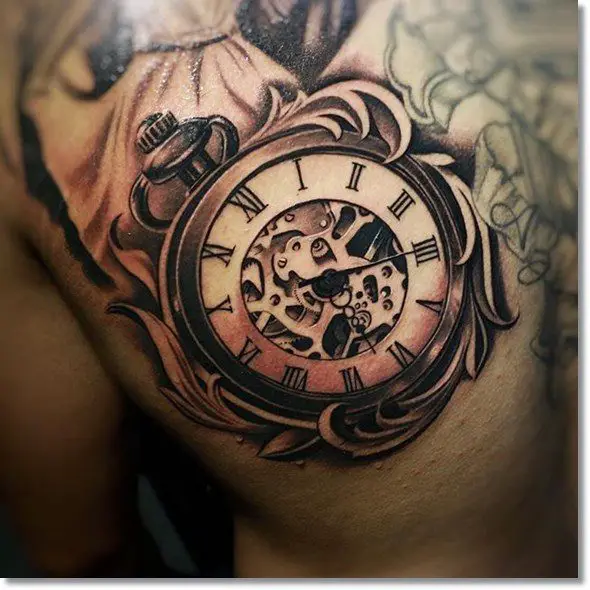 22. This Heart Shaped Owl Clock Tattoo For Women
For the ladies!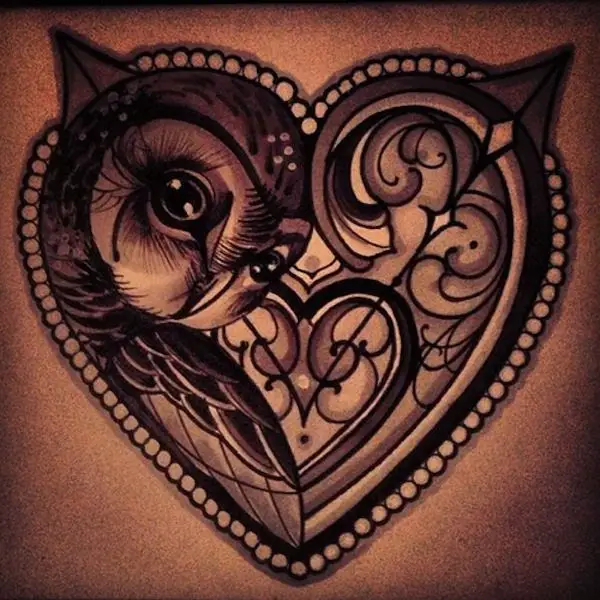 23. Sugar Skull with Eye Clock Tattoo
A skull, and an eye with a tree growing out of it..wow!
Though the skull clock tattoos listed look relatively similar to one-another, they are all categorized differently. For instance, this design is considered to be a sugar skull, while the others listed are considered to be custom skulls.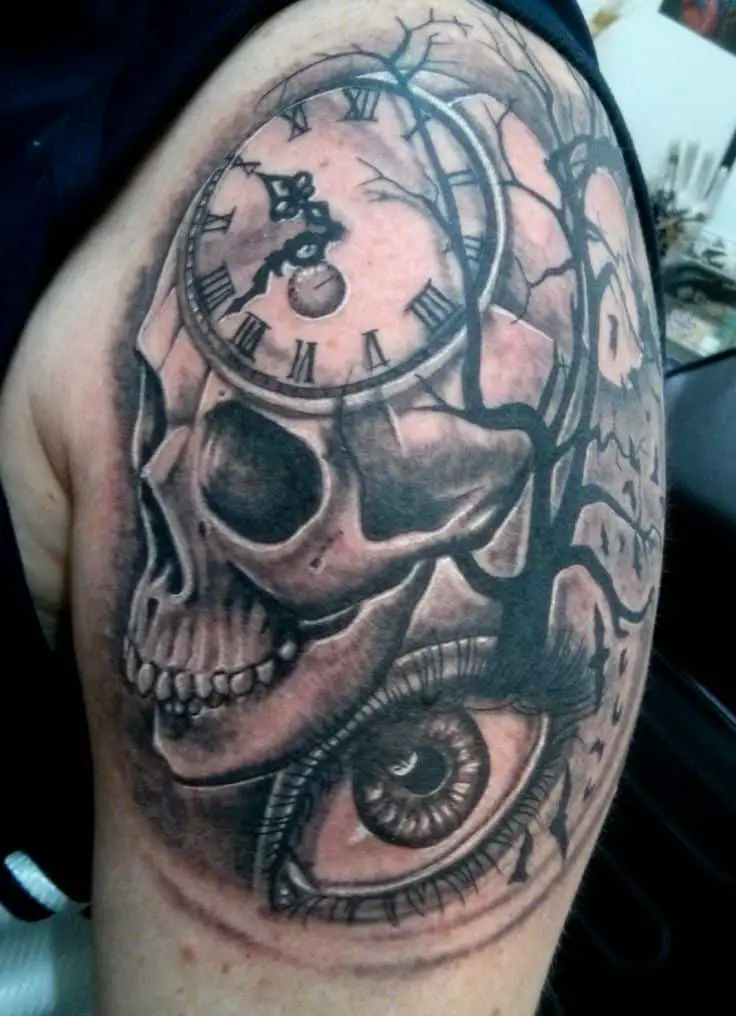 24. The Grey Ink Melting Clock
Perhaps the saddest looking clock tattoo on the entire list..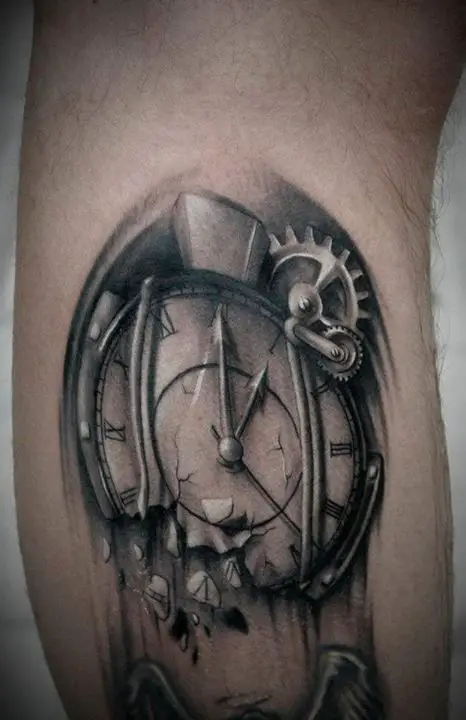 25. This Unique Steampunk Golden Clock Design
Believe it or not, golden clock tattoo designs are actually not too popular, which is rather surprising, considering how great they look.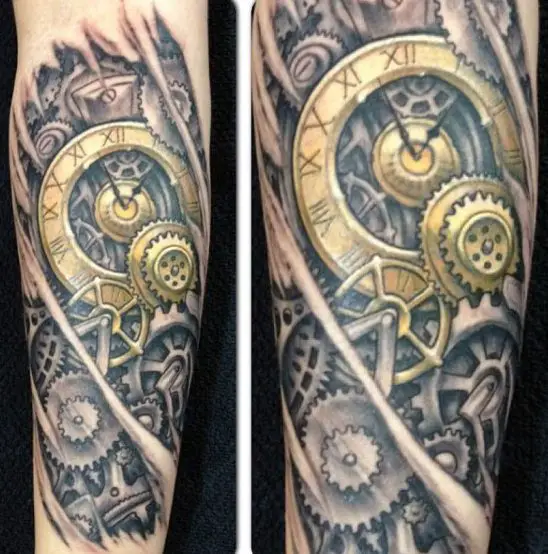 26. Day Of The Dead Girl Clock
If you are looking to add a cultural twist or meaning to your clock tattoo, why not have it resemble day of the dead?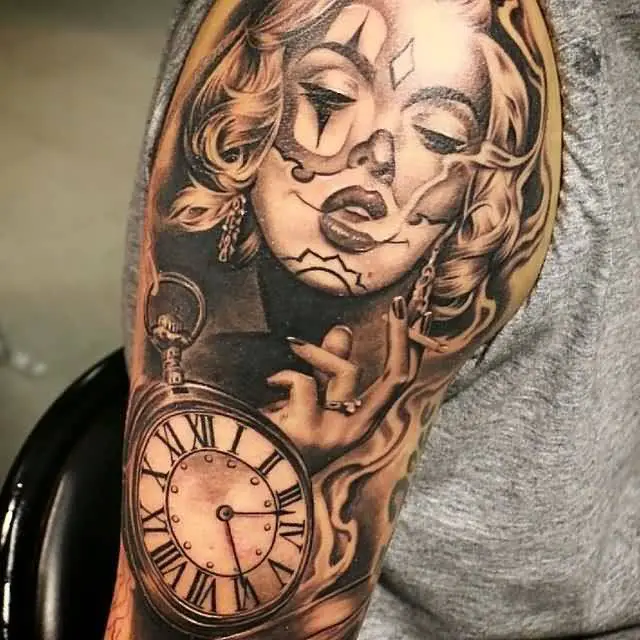 27. This Time Twisting Clock Back Tattoo
Maybe this person is interested in time travel.. or procrastinating.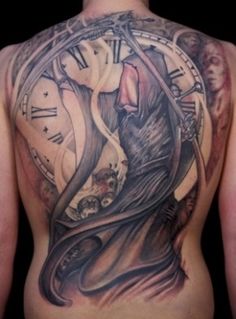 28. The Classic Hand Clock Tattoo Design
If you are not a normal 9-5 employee, and if you are ok with your tattoos being completely unhidden, then the classic hand clock tattoo design would suit you well.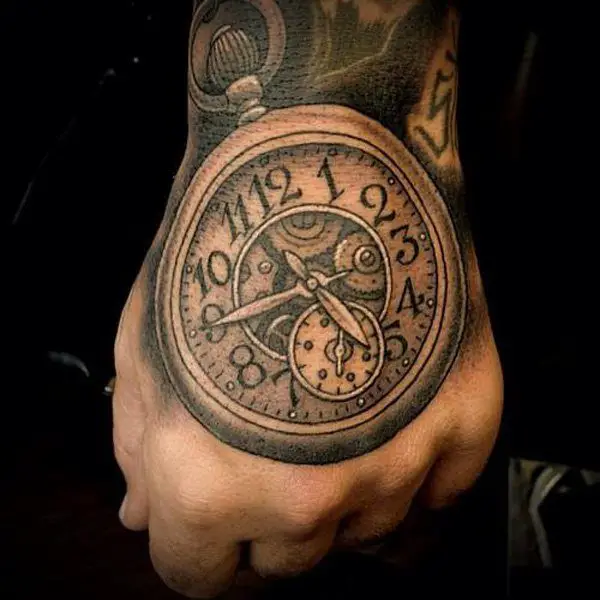 29. Train and Clock Tattoo
Driving right through time itself!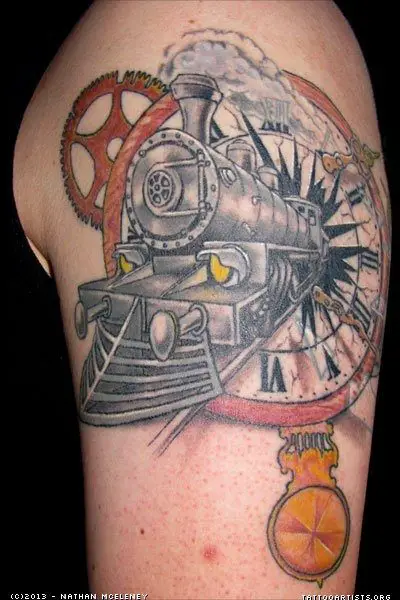 30. This Old-Style Clock With Wings
Not too hard to figure out the meaning behind this one! Time flies!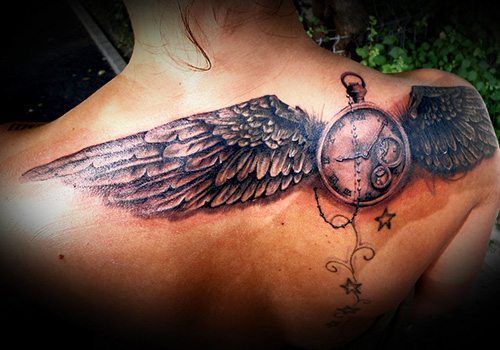 Though there are many different clock tattoo styles and designs, they all symbolize something different and have a powerful meaning behind them. While some may represent death and darkness, others may represent life and love.