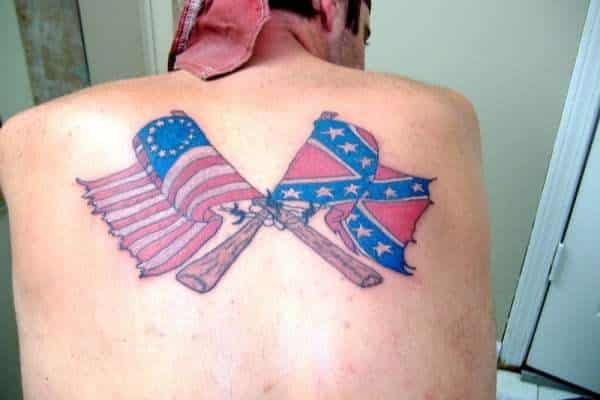 The confederate flag is steeped in history, and it's one of the most controversial icons in the United States today. Some people despise the flag, believing that it stands for hatred and slavery. Others, however, stand firmly for the belief that the confederate flag is a symbol of southern heritage and pride, as well as rebellion. Despite the controversy surrounding the confederate flag, it remains on of the most popular tattoo designs out there. And, perhaps because of the controversy, it will remain a popular tattoo design for years to come.
Most people consider a confederate flag tattoo for one of a handful of reasons. One of the most common reasons a person might choose a confederate flag tattoo is to show his or her heritage. It's not uncommon for people to be proud of their roots, and southerners are no different. Confederate flag tattoos are also popular among rural individuals, who may lovingly refer to themselves as "rednecks". Finally, over the years, a confederate flag tattoo has also come to symbolize a rebellious streak or nature.
Both men and women might opt for a confederate flag tattoo, and they won't be at a loss for great confederate tattoo designs! Here's just a sampling of some of the amazing confederate tattoo designs out there!
1. Confederate Flag Heart and Crown Tattoo
Shaped like a heart, this confederate flag tattoo design is perfect for a sweet rebel girl.
2. Tinkerbell With Confederate Flag Wings
Cute little Tinkerbell turns rebel with the addition of confederate flag wings!
3. Stars and Confederate Flag Tattoo
The decorated stars in this confederate flag tattoo are feminine and fancy; perfect for a lower back tatoo for women.
4. Whiskey Girl Confederate Flag Tattoo
Show your fun loving side with a Confederate flag tattoo design that labels you a "Whiskey Girl"!
5. Confederate Flag Bird Tattoo
This confederate flag bird tattoo is simply breathtaking and beautiful! But, it also shows the world that you have a rebel within.
6. Lily Confederate Flag Side Tattoo
These are no ordinary lilies. They are decorated with a confederate flag design and the resulting side tattoo is simply amazing!
7. His and Hers Confederate Flag Tattoos
Matching couple confederate flag tattoos are a great option for couples with southern pride! Show your southern pride and your country pride with these matching confederate flag deer tattoos!
8. Confederate Flag Deer Tattoo
Here's another great example of a confederate flag deer tattoo, this time just for the guys.
9. Taz Confederate Flag Tattoo
Show your wild rebel side with a Taz tattoo with confederate flags in the background.
10. Confederate Flag Praying Grim Reaper Tattoo
The angel of death can even benefit from a confederate flag makeover. His red, white, and blue wings are stunning.
11. Confederate Flag Pirate Tattoo
Confederate flags and pirates definitely go together, and this tattoo depicts that nicely.
12. Stag Skull and Confederate Flag Tattoo
A stag skull and a confederate flag make for a masculine and colorful tattoo for country boys.
13. American Eagle and Confederate Flag Tattoo
The rebel flag is a part of American history, and adding an eagle to a confederate flag tattoo makes sense, especially if you're a patriotic sort of person.
14. Eagle and Confederate Flag Tattoo
Another eagle and confederate flag tattoo design idea.
15. Eagle Clutching American and Confederate Flag Tattoo
Southern patriots may prefer to add the eagle and both flags to their tattoo design, perhaps with the regal bird clutching both.
16. Confederate and Original American Flag Tattoo
The first American flag with 13 stars in a circle joins the confederate flag on this back tattoo.
17. Confederate Flag Memorial Tattoo
If you're looking for memorial and confederate flag tattoos, this is a nice option to combine both.
18. Cross and Confederate Flags Tattoo
Show off not only your southern pride and rebel side, but also your faith with this confederate flags tattoo design.
19. Ford Confederate Flag Tattoo Design
Show your love for your heritage and your favorite truck by combining the Ford logo with the confederate flag. Of course, this would also work with the logos of other vehicles as well.
20. "Don't Tread on Me" Confederate Flag Tattoo
It's difficult to see from this image, but this tattoo combines two very famous flags in United States history—the confederate flag and the Gadsden flag, or "Don't Tread on Me" flag.
21. Southern Heritage Confederate Flag Tattoo
This is what confederate flag tattoos are all about—southern heritage and pride. Never forget where you came from!
22. Civil War Tattoo
This tattoo pays homage to the Civil War, a huge turning point in American history.