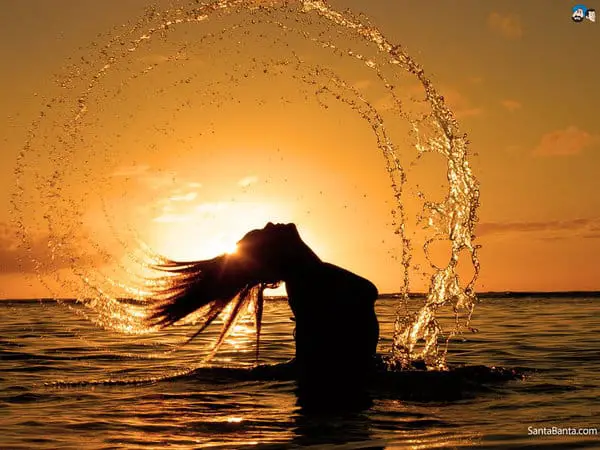 Every morning the sun rises, and every evening, the sun sets. There are some people that love to watch both events so much that they have captured them on film to save forever. With that in mind, here are 18 Stunning Sunsets that will make you truly love watching the sun go down.
If you love watching the sun set every night, then you need to scroll down now! Let's begin shall we?
Island Sunset
The sun setting on a tropical island is amazing because for some reason, the color of the setting sun seems brighter and more brilliant.
Dolphin at Sunset
Some creatures love the sunset, and that also includes fellow inhabitants of the earth. This dolphin jumped out of the water just to see the sun go down.
Woman at Sunset
There is nothing as amazing as swimming in the ocean as the sun is setting. A photographer captured this woman coming up out of the water with the setting sun behind her.
Sunset in British Columbia
British Columbia is in Canada, and a photographer took this stunning sunset picture. The sun is going down, and there are so many amazing colors in the sky that its almost like a rainbow.
Giraffes at Sunset
The continent of Africa is the home to a lot of animals in the wild like giraffes. This photographer snapped a photograph of a pair of giraffes enjoying the sun going down for its well-earned rest.
Dog at Sunset
Even man's best friend can stop and enjoy watching the sun go down, and this picture proves thawt dogs love to watch the sun set as much as people do.
Horse at Sunset
There are herds of wild horses that still roam around as free animals, and this lucky photographer just happened to capture one right at sunset.
Lighthouse Sunset
The ocean at sunset can make some amazing colors, and with the lighthouse in the background, this is a stunning sunset!
Stormy Sunset*
There is something mystical about seeing storm clouds begin to roll in just as the sun starts to go down. The sky can look like its on fire, and this picture proves how amazing it can be when a few clouds roll in as the sun is setting.
Sunset Through Tree
The sun going down can be photographed at the best times, and this lucky photographer just happened to capture it through a tree for a stunning sunset photo.
Jumping Person at Sunset
There are times in our lives when we just want to jump for joy, and being witness to a stunning sunset can make one so happy that they literally do jump.
Sitting Man at Sunset
Sometimes people need to stop and smell the roses, and sometimes people need to stop, sit down, and enjoy the sunset!
Beach Sunset
This lucky photographer managed to capture the sun as it was setting and waves crash on the sand at the exact same time to make for a beautiful picture.
Red Sunset Palms
The sky is on fire with this amazing red sunset picture, and it just happened to be captured through a group of tall palm trees.
Grassy Field Sunset
Sunsets can be amazing on beaches, but they can be equally magical over a field of beautiful yellow grass, and once you mix in some clouds, the picture is even more beautiful.
Sunset Through a Wave
Talk about a stunning sunset picture, and the person that did this has a lot of skill to be able to capture a wave crashing at just the right moment to grab the sunset too!
Boat Sunset
A single boat mixed in with the setting sun can make for a beautiful and haunting picture at the same time.
Sunset Ride
The magic of riding a horse through the surf if something no one ever forgets, and someone captured this horse and rider on the beach right when the sun was setting.
Beautiful sunsets right? Did these sunsets really touch you? If you liked what you saw be sure to leave us a comment below. However, there are many more amazing lists to check out, and all you have to do is click one! Let's get started!
If you liked this list of 18 Stunning Sunsets, then check out 33 Lively Fireplace Ideas, 26 Unbelievable Glass Kitchen Cabinet Doors, and 31 Different Bridal Shower Decoration Ideas.