The more she grows older, the more she gets graceful. This is what some people would say about older women out there. Though, middle aged or older women can carry themselves better than any of their younger counterparts, a lovely short hairstyle for older women might easily highlight their flaws. Therefore, older women have to be very careful when it comes to getting a short hairstyle. They have to take things into consideration such as their body type and facial features. If they don't take these things into consideration they could potentially end up with a very poor hairstyle that doesn't look good on them.
Short hairstyles for older women
Hairstyles for older women come in a variety of styles and they are all suited different occasions. However, older women know how to carry themselves well, so they can easily wear the right hairstyle for the right occasion. If you have any questions about your hairstyle, you should talk with your hairstylist and they will be able to help you make a more informed decision. Check out the list below and you will find a slew of different short hairstyles to choose from. If you decide that you like multiple hairstyles you can ask your stylist which style they think would look best on you.
My Head Feels Lighter
Nice front view hairdo for thinned hair.
Cool Hair Cut
Neat evenly cut short hair and great texture attained with proper care.
Wow Hair Style
Posh hairdo for short hair to carry a perfect matured look suiting the personality.
Beautiful Hair Style
Asymmetrically cut hair for a perfect old blonde look.
Meedhoo Short Hairstyle
Beautiful rustic styled hairdo with a bit puff added on top.
Italy Woman's Short Hairstyle
Simple yet elegant loosely tied hairstyle with middle partition.
Short Cute Hair Style
Sweet layered hairstyle with softly falling side bang.
Short Cute Hair Style
Short Pined Hairstyle
Cool loose opened hair with soft curls and swirls.
At The Ocean Grill In Galveston
Perfect and most comfortable well-trimmed short hair, left grey.
At The Ocean Grill In Galveston
Cool Blue Hair
Simple even cut with a bit of styling adding blue streaks.
Trendy Short Hair Style
Cool blonde look with simple and short layers inspired from Cate Blanchet.
Undoing Top Wrap Hairstyle
Gorgeous, puffed hair with two thin side locks left loose to fall below the ears.
Bushy Hairstyle Women
Venture for a striking bushy hairstyle and simply let yourself loose.
Soft Fringes
Lovely hairdo for hair with less volume, set with soft fringes and side bangs.
Cabocla Hairstyle
Very graceful grey curls done by half back tie.
Sakura Hair Style
Awesome pointed front and back bangs for short hair.
Tribal Style Hair
Adorable messy hairdo, short bangs and the lovely grey effect.
abc
Grey Short Hair Style
Sheik grey hairdo for extreme short hair styled as a stiff, little elevated bangs.
Short Haircut Female Silver Color
Extreme short grey layers set like terrains.
Short Haircut Female Silver Color
Lovely Bird Tail Hair Style
Stylish back spikes and sharp side bang like a bird tail.
Mature Women Short Hairstyle
Simple wavy hairstyle, left loose and free without overdoing much.
Nice Old Lady Hairstyle
Cute evenly cut straight hair, short length and tucked with a pin from front for a neat look.
My Short Hairstyle
Heavy front fringe covering the forehead can work a great deal in accentuating your eyes.
German Tourist Hairstyle
Simple, casually made bun for a sporty look while on an adventurous trip.
Hanging Bun
Humble hanging bun and loose locks at the sides – beautiful simplicity.
My Mom Short Hairstyle
Nice blow dried short hair with softly falling fringes on the forehead.
Evening Hair Style
Perfect evening hairdo with loose curls falling like swirls.
Grey Old Meets Dark Haired Younger Woman
Short grey hair with little enhanced side locks from the back. The dark hairstyle on the other hand sports front fringes parted from the middle and long locks falling on both sides.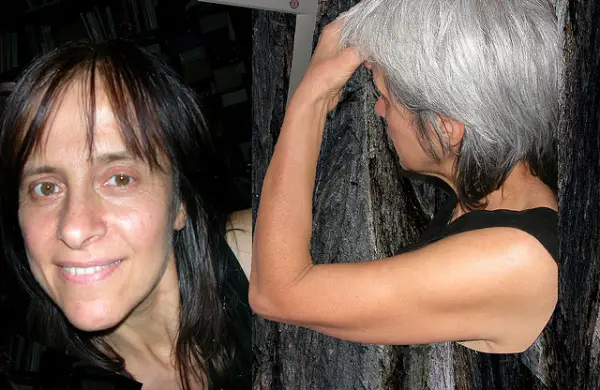 Grey Old Meets Dark Haired Younger Woman
Short Blonde Hairstyle
Cool breeze like blonde waves putting up an immense volume and high spirit.
Oldies Short Hairstyle
Classy hairdo perfect for red carpet events.
Short Backlash Hair Style
Nice backlash hairstyle balancing the thin hair to put up a superficial volume and styling at the same time.
Short White Fringes
Easy and simple short hair cut reflecting the experience of ages.
Bob Hair Style
Uber cute bob hair do and naturally rolled curls.
Now that we've come to the end of this list, we hope that you've enjoyed the short hairstyles for older women that we've placed in front of you. Now, be sure to check out other lists at the links below and let us know what you think. We value your opinion greatly. Thanks again!
If you like this article, you might be interested in some of our other articles on  Hairstyles For Fat Women,  Hairstyles For Medium Length Hair,  Cute Hairstyles For Medium Hair, and  Wedding Hairstyles For Medium Hair.